FullBlast Digicomms Inc, the brains behind the MnlToday.com with their sister company Themeactive collaborated for a Planning and Team Building in Tagaytay last October 22, 2020. The main objective of this trip is to work on the camaraderie of the team while being safe and practicing safe protocols.
Despite the tropical storm Pepito, the trip went smoothly.
One of the places the team visited is Sonya's Garden. This hidden spot in Cavite near Tagaytay City has gained a lot of visits because of its relaxed ambiance and delicious and healthy choices of foods. Sonya's Garden has a lot to offer. They do have their own panaderia in which you can buy their delicious baked goods. They also have different types of garden that houses different types of their edible flowers! They do also offer bed and breakfast. I mean who would not want to spend a day in this heavenly place right? And of course, they offer spa treatments. Unfortunately, the team was not able to go around the place since it was raining pretty hard.
Upon arrival, we were greeted by the warmth accommodation from the staff of the garden. The garden has their own safety protocol; therefore, we must strictly abide to it.
After filling up our contract tracing forms, one of their staff ushered the team to one of their function rooms. Their function is really breathtaking. Its rustic homey vibe definitely made the team comfortable. The function room is spacious that it can accommodate more than 15 people. We are only 9 in the team therefore we had a lot to space to practice physical distancing.
While waiting for our food, we started with our planning and alignment of our projects and other accounts.

Lunch came by and the team were served with Classic Buffet of Sonya's Country Fare. For appetizer, we had Garden green salad with some bread and dips.


For the lunch, they served us 2 choices of pastas which are, creamy chicken sauce and sun dried tomato sauce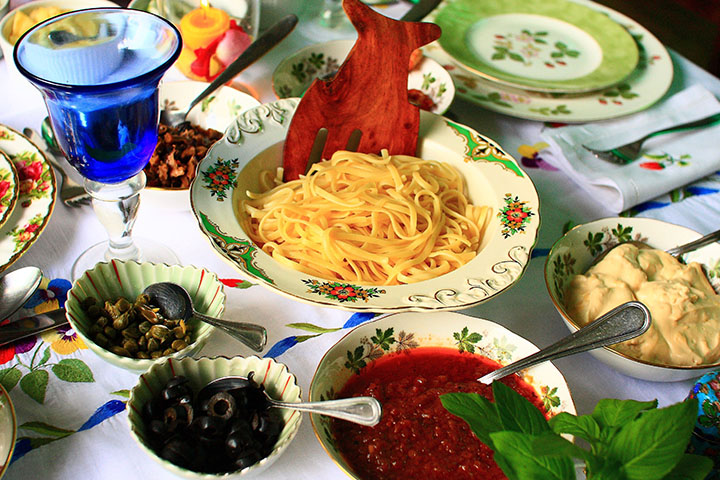 For our dessert, we had glazed sweet potato , banana rolls with sesame and jackfruit, and their sinful homemade chocolate cake from their Panaderia. They also served us Tarragon tea which is surprisingly refreshing and tastes good.
We left the place with such a warm heart and happy tummy!
The prices of the food may be a bit on the medium level, but honestly, the relaxation, the breath of fresh air, and the heartwarming treatment of their staff is more the price you pay.
This place is definitely a breath of fresh air.
To know more about them, you visit https://sonyasgarden.com/
Photo source: Sonya's Garden, Mnltoday.ph – Mika Crisostomo and team & Appetizing Adventure