Photo: news.mb.com.ph
Many Decembers ago, back from Bangkok just two days before Christmas, I marvelled at the sight of Roxas Boulevard at 10 in the evening. The country's premier road was illuminated by the breath-taking decorations adorning various buildings and the multi-colored parols hanging from lamp posts.
I told my companions in the car that a foreigner arriving for the first time in the country would be doubly impressed and may declare that Manila is one of the best places in the world to visit. Local tourists may no longer want to return to their provinces.
Just last week, honoring an invitation at the Bonifacio Global City, I marvelled anew at what may be considered the country's premier city. Center islands were decorated in twinkling lights, street signs can be clearly read from afar, high-rise buildings were a sight to behold, expats were enjoying themselves at night, business establishments were throbbing, pedestrians were taking long walks to cross at designated places.
One of my companions said: "Para tayong nasa ibang bansa! Kaya pala hanggang ngayon, pinag-aagawan pa rin ng Makati at Taguig ang BGC." (Seems like we've been transported to another country. It explains why Makati and Taguig are still engaged in a tug-of-war over BGC.
Just a few days later, while driving with my mom who had just arrived from the US, I expected to be regaled anew by the sights at Roxas Boulevard. To my dismay, however, only a few buildings heralded the coming of Christ. Street lights were devoid of parols. Christmas decor came few and far between. The night seemed dull, no revelry going on, just the headlights of vehicles illuminating the boulevard.
The next morning, I sent a text message to a friend working at the Manila City Hall and inquired who's supposed to decorate the streets of the city at this time of the year. The answer was short, devoid of emotion: City Engineer's Office, dre. Merry Christmas! My friend at least remembered that it's Christmas time.
After digesting his answer, I asked myself: Is the city of Manila proclaiming something, commiserating with the families of more than 5,000 victims of extrajudicial killings since last June, when the administration's war against illegal drugs went into high gear? The drab atmosphere, at least in Manila's portion of Roxas Boulevard, seemed to say it best – it's Christmas mourning in these parts!
We end this piece with a gem from Bob Dylan: "Ours is not the task of fixing the entire world all at once, but of stretching out to mend the parts of the world that is within our reach. Any small, calm thing that one soul can do to help another soul, to assist some portion of this poor suffering world, will help immensely. It is not given to us to know which acts or by whom, will cause the critical mass to tip toward an enduring good."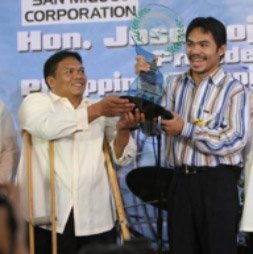 About the Author Jimmy A. Cantor is the deputy managing editor and concurrent sports editor of Malaya-Business Insight. A former three-term president of the Philippine Sportswriters Association (PSA), he now contributes to MNLToday.ph. He started as a sportswriter, which has taken him to the four corners of the globe. He also dabbles in darts, billiards, chess, scrabble, and other board games. He likes to belt out a few tunes, and believes he can dance the night away! Disclaimer Comments do not represent the views of MNLToday.ph We reserve the right to exclude comments which are inconsistent with our editorial standards. For comments and suggestions, you may e-mail the author at [email protected]