Supermarket retailing is a highly dynamic industry. Hundreds of products are introduced and delisted week to week. To remain relevant to its customers, Robinsons Supermarket needs to ensure it offers the right products, at the right place, at the right time, and at the right price, and turned to JDA Software Group, Inc. Robinsons Supermarket – a JDA customer for almost two decades – recently upgraded its JDA® Merchandise Management System and JDA® Space Planning footprint to improve and streamline its database management capabilities and automate its relevant operational processes.
Robinsons Supermarket is a subsidiary of Robinsons Retail Holdings Inc. (RRHI), the second largest multi-channel retailer in the Philippines with $2.1 billion in net sales in 2016. Founded in 1980, RRHI operates six business segments, with nearly 1,600 stores and an additional 1,912 franchised stores of The Generics Pharmacy as of December 2016.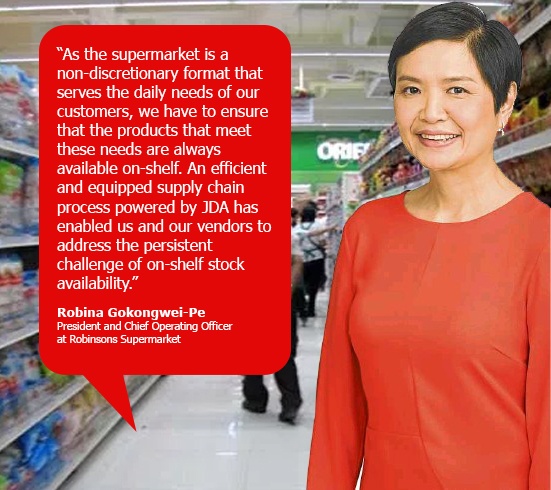 Targeted expansion to different regions in the Philippines coupled with strong organic growth, has ushered in an increase in the volume of transactions, vendors, SKUs, and database records. As Robinsons ventured into three more sub-formats under the trade names of Robinsons Easymart (minimart), Robinsons Selections (premium supermarket), and Jaynith's (discount supermarket), it required a scalable ecosystem of solutions that could proactively handle the ever-changing and increasing demands of the business. More than ever, Robinsons needed to view its stores, customers, and SKUs through different lenses to create more customized and engaging programs for shoppers. This upgrade enables Robinsons Supermarket to address the changing needs in price, promotions management, analytics, database management, back-end processing and record management.
Robinsons operates an integrated ecosystem of solutions from stores to a central office where JDA Merchandise Management System serves as its core transactional and operational system handing PO management, price and cost, transfer, and database management, rebate and adjustments as well as warehouse management. Its point-of-sale (POS) solution sends data to JDA Merchandise Management System, where a customized auto-replenishment system generates suggested orders that are pushed to vendors via a supplier portal. Deliveries to the distribution center (DC) and stores are also handled in JDA Merchandise Management System. JDA Space Planning is used to create generic planograms which are incorporated with display guidelines to help stores execute the proper and equitable display of the items on-shelf.
Robinsons can now create purchase orders with larger amounts and quantities to cater to growing consumer requirements, attach unlimited attributes to SKUs and stores to help provide a deeper analysis of data, and assign longer reference series to transactions to avoid constant purging of records. It also provided improved back-end processing of data and transaction management capabilities, allowing Robinsons to focus on its customers. Planogram visualizations created from JDA Space Planning made display guidelines easier to understand and follow, and has improved the compliance with plans and strategies in stores.
Moving forward in the coming years, , Robinsons plans to improve and upgrade its category management capabilities by implementing JDA Assortment Planning, JDA Floor Planning, and JDA Space Planning Automation solutions.
"With this solution, Robinsons can address its highly segmented customer base, each with different demands," said Vishal Dhawan, Vice President, Sales, ASEAN & India, JDA. "We are pleased to work with a customer such as Robinsons for so many years and see their evolution take place in line with market shifts, helping them keep pace with consumer needs and allow them to focus on its core business."
JDA Business Solutions is distributed here in the Philippines by Genietech Philippines, Inc.
To know more about business solutions and JDA, visit www.gti.com.ph
PHOTOS FROM: http://www.xentromalls.com, https://www.tetrapak.com, https://www.pressreader.com