Good things come to those who wait and that's what Puma gave its basketball fans.
This writer has been playing basketball since my childhood days but the only Puma shoes that I know of are the suedes commonly used by those into skateboarding and BMX bikes. The brand became very familiar especially since a good friend of mine, Ferdie Lacanlale is an "endorser" of Puma. Mainly because his Dad works in the company.
But like everyone else, it was the Nikes, Adidas and Reeboks that was our usual basketball shoes.
Not until NBA Stars Kylze Kuzma, Danny Green, Marcus Smart, Michael Porter, Jr. Demarcus Cousins, Rudy Gay and Terry Rozier have been seen sporting Puma basketball shoes. It piqued the interest of many to own one including yours truly, a frustrated basketball player.
Thankfully, I have a reliable and legit hard-to-find sneaker seller, CHUCKS QC (Please link his FB as well). When I saw the Puma Clyde Court Title Run (Metallic Gold colorway), I knew that I needed to own one.
The Puma Clyde Court Title Run is Puma's first basketball sneaker in 20 years and it's a real eye-catcher. The traction is inspired by the original Clyde sneaker and takes a while to break in and could offer more consistency.
The foam-based cushioning is very comfortable and provides a nice mix of responsiveness and impact protection. The most outstanding feature of this hoops shoe is the good-looking, comfortable, and very supportive knit upper.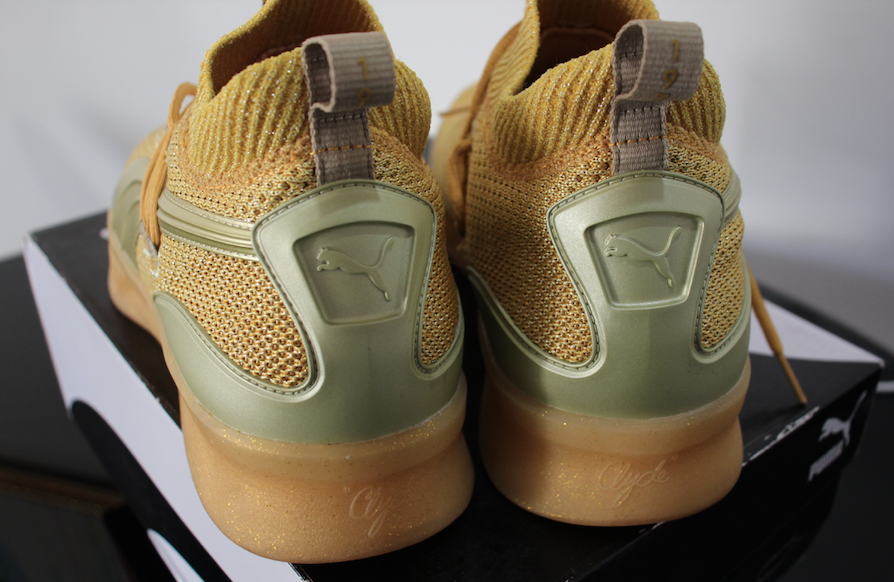 I was able to use this bad boy in a hardcourt as in cement type, hardwood and in multi-purpose surface and so far the Puma Clyde Court performed well for me. I guess it all depends on the kind of game you have. The cushioning technology offers the highest level of energy return and comfort. My feet felt comfortable as I do my usual perimeter shooting, running the breaks and some defense. Lateral and forward movements can be easily done without any discomfort.
The shoes had maximum grip for sharp cuts and sudden stops when it required me to do so. Dynamic lacing and fit system with anchor points on the collar and through forefoot game me security and it avoided unnecessary tying of shoelaces every now and then during games. The fully knitted upper provides comfortable support and fit Dynamic lacing system provides a secure sure-footed feel.
Overall, the Puma Clyde Court Title Run is a very solid shoe that brings a breath of fresh air to the world of performance basketball shoes. I can't wait to use this again when basketball games will be allowed by the IATF. Or who knows, I might be able to use this when I get the chance to play in FINMAN Basketball Court or in Dr. Tams.
Crossing my fingers for this to happen.