President Rodrigo Roa Duterte and his economic team formally opened the new Skyway Stage 3 expressway last January, a game-changing infrastructure project by San Miguel Corporation (SMC) that is seen to provide a major boost to the country's post-pandemic recovery.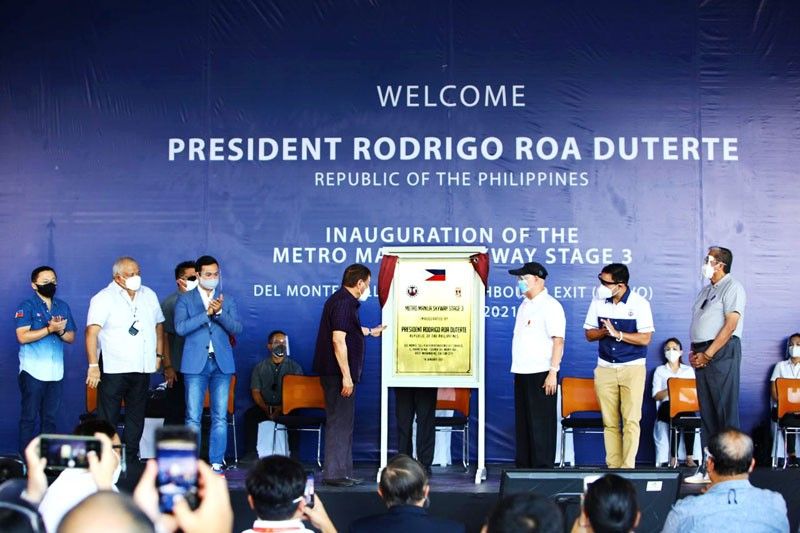 Duterte, together with SMC president Ramon S. Ang, led the ceremony to officially open all seven lanes of Skyway 3, which seamlessly connects the South Luzon Expressway (SLEX) and North Luzon Expressway (NLEX), via 18 kilometers of elevated toll road, the longest in the country. It is also expected to significantly decongest EDSA and other major Metro Manila roads.
Duterte was joined by Executive secretary Salvador Medialdea, finance secretary Carlos Dominguez, public Works and highways Secretary Mark Villar, transportation secretary Arthur Tugade, budget and management secretary Wendel Avisado, presidential spokesperson Harry Roque and National Task Force against COVID-19 deputy chief implementer Vince Dizon.
Ang credited President Duterte for his strong leadership and political will, which he said played a significant role in settling right-of-way issues that delayed the massive infrastructure project for years.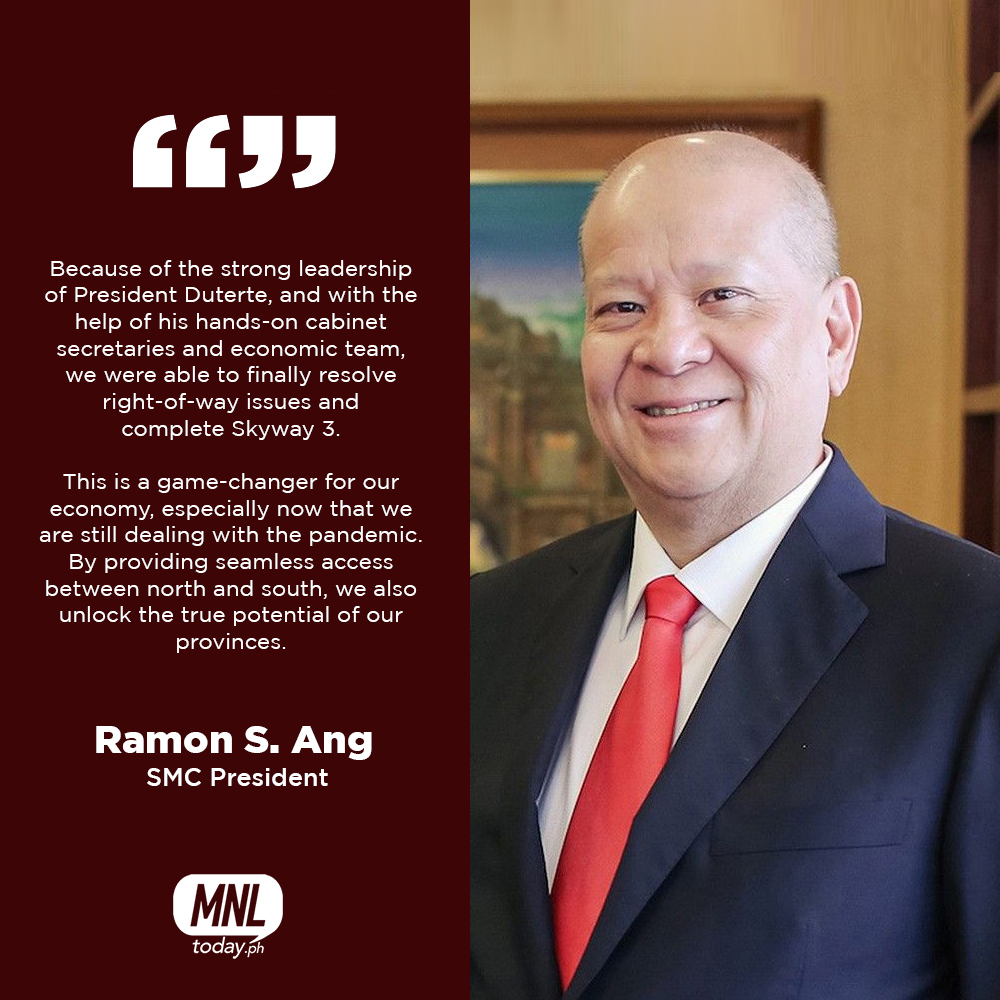 With the full opening of all seven lanes of the 18-kilometer Skyway 3 from Buendia, Makati to NLEX, ang Ang said that a huge number motorists will now have an alternative to EDSA.
Since its soft-opening last December 29–free to the public until Feb. 1—some 71,000 vehicles per day have been passing through Skyway 3, using only four lanes initially opened.
"At full capacity, with 7 lanes available, Skyway can easily handle 50% of Edsa traffic, or 200,000 vehicles per day. Together with the existing Skyway 1 and 2, the Skyway system now has 38 kilometers of elevated expressway with 36 on- and off-ramp access points. This will greatly contribute to decongesting Metro Manila traffic," Ang noted.
To fastrack construction, SMC purchased all the properties along the project's right-of-way, in order to meet the owners' requirements. The company also funded the re-construction of three bridges, the San Juan Bridge, Concordia Bridge, and Sevilla Bridge. Though not part of Skyway, these old bridges near its alignment had to be demolished and rebuilt as they had deteriorated over time and had become a safety hazard.
Ang committed to Duterte that SMC's efforts to help the country and the economy, will not stop with the Skyway Stage 3 project.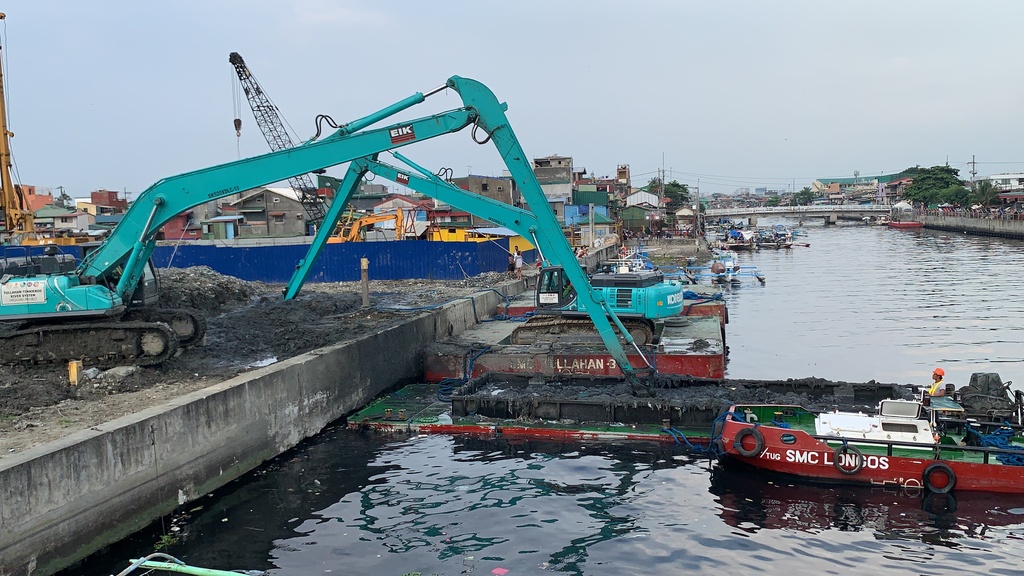 "We will continue work to further decongest Metro Manila by linking east and west of the metropolis, through the Pasig River Expressway (Parex) project,"Ang said.
The Pasig River Expressway project is a 19.4-kilometer, six-lane elevated expressway along the banks of the Pasig River that will complete the north-south, east-west link, connecting R-10 in Manila, Edsa, and C5 and decongesting Rizal, Cainta, and Marikina. It will provide faster, alternative access to the business districts Makati, Ortigas, and BGC. He said the project can be completed by 2023.
Meanwhile, Ang said work has also started for the construction of the Manila International Airport project in Bulacan province, a sustainable solution to decongesting air traffic congestion in the country.
Touted as the single-largest investment ever in the Philippines, the airport project will connect to major thoroughfares in the metropolis. It will have four-parallel runways and modern, world-class facilities.
Ang set the opening date of the massive airport project for 2025. Two major expressways connecting to the airport will also open by 2023.
Meanwhile, the ongoing Skyway Extension project, which will extend Skyway's reach in the south, to Susanna Heights, Muntinlupa, is set for completion this year. Both the Parex and Bulacan airport projects are to be connected to the Skyway system, further extending the country's infrastructure network.
Ang also highlighted the job-creating capabilities of new, major infrastructure projects. Apart from the workforce required to build them, they also give rise to many smaller industries and boost local economies.
Image Sources: philstar.com, goodnewspilipinas.com, autocar.com.ph