It was really late when Pops-our senior graphic artist, Sir Air-our supervisor, and I-the content writer had dinner. It was a place called JT's Manukan Grille, JT's Grille for short.
Located at Granada Street, Quezon City; JT's Manukan Grille is a simple-looking open resto chocked full with pictures and movie posters.
Just from the name alone, you can tell that the restaurant is owned by a movie star. Actually, Joel Torre owns the establishment. Ever heard of him? Well, he's just a simple actor that one some awards or two(Best Actor Award at the 17th Puchon International Fantastic Film Festival).
Joel Torre and his wife Cristy Azcona-Torre decided to open up a restaurant. The couple decided to share the taste of home through their resto. And what better way to feature Joel's hometown than to flaunt Bacolod's most famous recipe: the chicken inasal?
So with the infodump finished, let's go to the food review, shall we?
Upon reaching the restaurant, what struck me the first is the ambiance. It's like a retro-shrine of movie stars! There are a LOT of posters and pictures lining the walls.
We found ourselves some seats and was approached by a cute waitress. (Too bad, there's no picture of her, huhu.) We ordered the food and chatted a bit. Some time passed and the food has finally arrived.
Lo and behold! We ordered dinuguan, otherwise known as Filipino pork blood stew, some kansi bulalo, chicken isol, and some chicken inasal.
I first tasted the dinuguan. It tasted real good. The blood stew doesn't feel rough like some dinuguan I've tasted. The sourness was just right. The dinuguan was just right.
Next on the list was the chicken inasal. Firstly, the chicken was grilled to perfection. Some parts were burned but that's just the way I liked it. The burned parts give the dish an authentic inasal look. The marinade also complemented the chicken. I could just eat it all day long.
Then comes the kansi bulalo. The kansi bulalo is the Illongo version of the bulalo. The broth was thick. It was really savory. Plus it had interesting sago.
After the bulalo are chicken isol or chicken bottom. Yeah, you read that right. I WAS eating chicken butt! The meat was tender and was juicy, though. Suffice to say, that butt was delicious!
To sum it all up, I can wholeheartedly say that our dinner at JT's Manukan Grille was a good one. I can definitely recommend it as one of your Foodie Travel Destinations. So, if you're in the area, don't be shy and visit JT's Manukan Grille!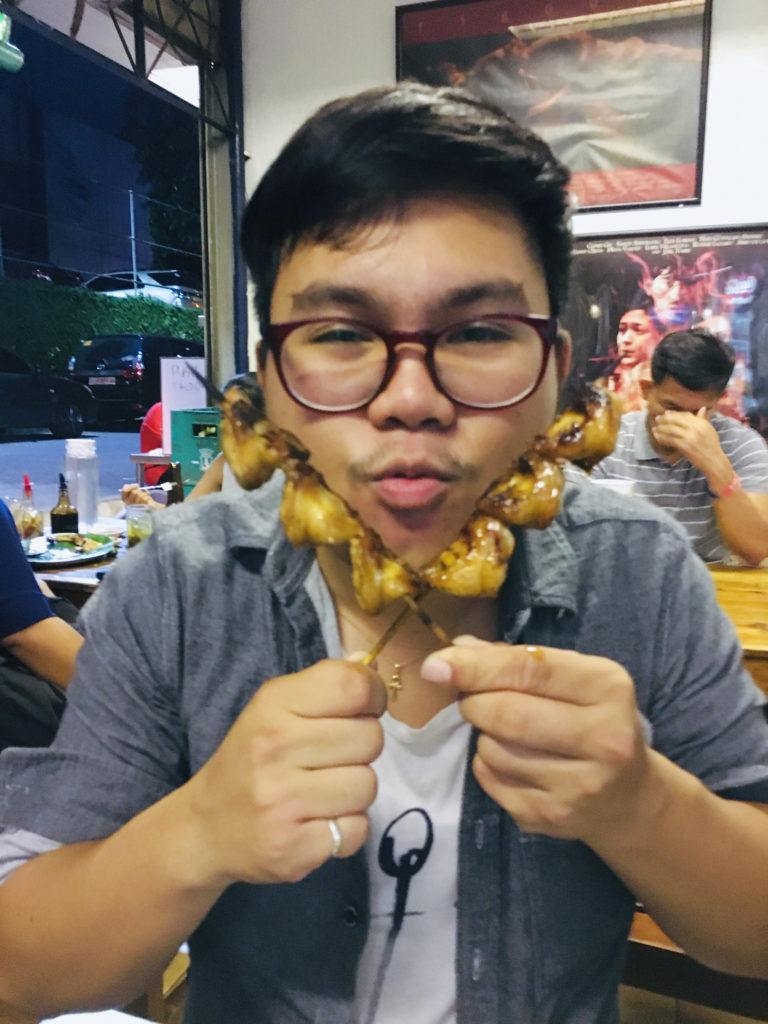 To know more on JT's Manukan Grille you may contact them through the following:
+63 2 253 1990 | +63 2 253 7532
[email protected], [email protected], [email protected]
JT's Manukan Grille FB Page, JT's Manukan Grille IG Page
Photo Source: Brandon Neil Sison, Lester Castro