GCASH, operated by Globe Fintech Innovations, Inc. (Mynt), an affiliate of Globe Telecom, Ant Financial (an Alibaba Group affiliate), and Auala Corporation, partnered with Asia United Bank (AUB), one of the country's fastest-growing publicly listed banks. 
AUB is the pioneer Philippine QR Partner of e-wallet giants WeChat Pay, AliPay and UnionPay.
QR payment acceptance enabled close to 7,000 merchant outlets in the country to accept QR payments from Chinese tourists in a span of 1 year.  It launched the AUB PayMate, a mobile app, a web portal and an API that allows AUB to service merchants operating in different payment acceptance environments, whether self-employed, small & medium businesses or large retail chains.
Manuel Gomez, AUB President said: "AUB is now poised to tackle the local QR payment acceptance from Filipinos customers and what better way to do this than partner with GCash, the biggest e-wallet provider in the country with more than 20 million customers."
This technology-driven initiative enables AUB to utilize technology and introduce QR innovation to the local market.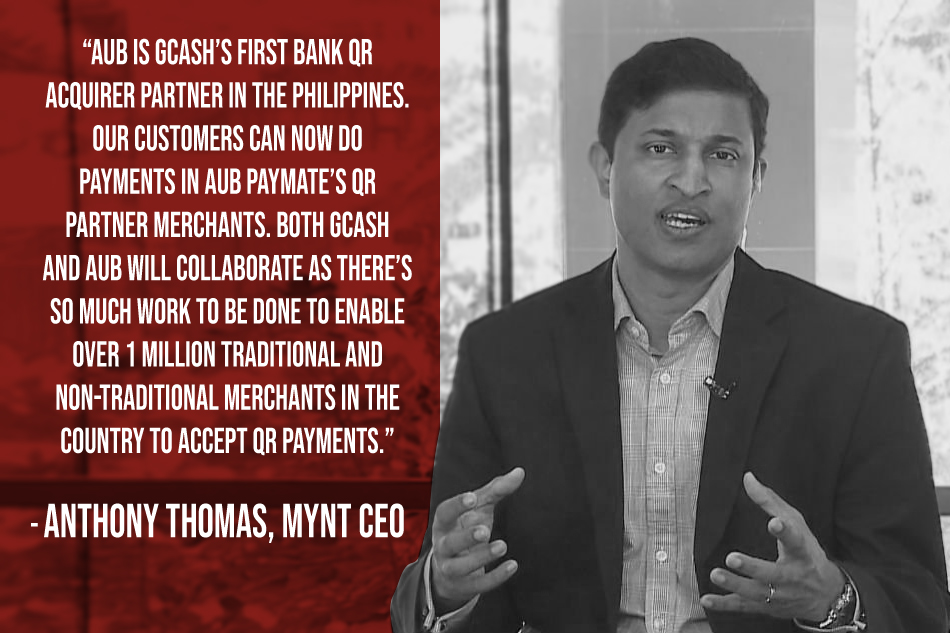 "With the AUB and GCash partnership, our existing and potential AUB PayMate merchants can generate more sales revenue from payment transactions of GCash users, providing more value to our AUB merchant customers," said Mags Surtida, first vice president and AUB head of cards and acquiring a business. The AUB and GCash partnership demonstrates a union of highly innovative companies with the goal of providing better financial service to Filipino customers through digital technology while envisioning an inevitable cashless economy.
With additional reports: The Manila Times
Photos from:
https://s3-ap-southeast-1.amazonaws.com/asia-first/Fintech%20062819.jpg
https://3.bp.blogspot.com/-RZ11c-OdeMI/XNzVtzYSYfI/AAAAAAAAd_8/6KPwDIofvSQ5ONjTgfiS3abebbgWLMDkgCLcBGAs/s1600/transfer%2Bfunds%2Bfor%2Bfree%2Bwith%2Bgcash%2B-%2BGcash%2B-%2Bcash%2Bin%2Bfrom%2Bbanks%2B-%2BBacolod%2Bblogger-%2Bcash%2Bin%2Bfrom%2Bbanks.jpg