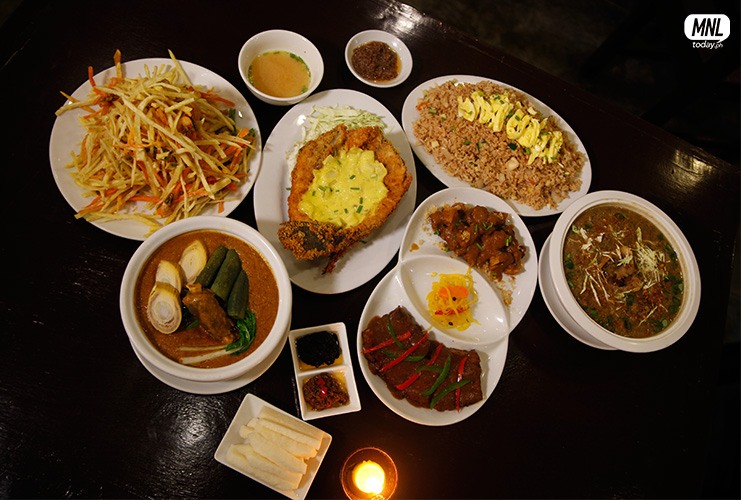 Filipinos love to eat.  Even the simplest occasions is enough reason for us to celebrate. Indeed, food is one of the things that bring people together. The joy of celebrating with food not only brings families and friends together, it also makes social bonds stronger
Food also defines regional and provincial boundaries and highlights the richness of our culture.
Bagoong Club opened its first branch back in January 2008. Its location was a converted ancestral home located Sct. Lazcano in Tomas Morato. The venue reflects the richness of Filipino décor as it showcases the influence Spain has had on us. A classic bahay na bato that serves as the ideal backdrop to the local cuisine the restaurant serves.
"Since bagoong is our national condiment, gusto naming magkaroon ng twist ang home-cooked food namin to make it uniquely for Bagoong Club Restaurant."
Why Bagoong?
Using bagoong as the key ingredient in all its dishes, Bagoong Club offers sumptuous selection of dishes that reflect and showcases the richness of Filipino cuisine.
Bagoong Club champions its 'bagoong game' with their 7 types of bagoong:
Bagoong Lipunan – classic bagoong alamang
Bagoong Umaga – bagoong alamang with siling labuyo
Bagoong Pag-ibig – bagoong alamang with pulang asukal
Bagoong Europa – bagoong alamang with pesto sauce
Bagoong Asya – bagoong alamang with pandan
Bagoong Buhay – bagoong alamang with coconut milk
Bagoong Club Special – bagoong alamang with taba ng talangka
"Most of our customers here are groups of people like families, yuppies, and even mga balikbayans na nagbabakasyon kasi gusto nila matikman ang pagkain namin."
Home-cooked food with a twist
For starters, Ukoy, one of the restaurant's best-sellers, is a mix of shredded fried sweet potatoes (kamote), Baguio beans, squash (kalabasa), and shrimps presented in the shape of a pyramid. Truly, a feast for the eyes as well as the stomach.
Generous servings of Bagoong Club's traditional kare-kare, a dish made of ox tripe and tail cooked in peanut sauce with simmered string beans, eggplant, pechay, and puso nang saging makes for a hearty, heavy meal. This is best enjoyed with bagoong on the side or with bagoong rice for a little dash of whimsy.
Bulalo sa Monggo, one of the restaurant's best sellers,  is a beef broth made from boiling beef marrow as the base for the munggo. This is a soupy dish worth falling head-over-heels for.
Binagoongan Combination – Grilled Pork Binagoongan and Crispy Pork Binagoongan are pork classics that seem to always go well with bagoong.
Bursting with rich flavors, Ginulat na Tilapia is a refreshing surprise – its specially blended mango and silantro sauce poured all over the juicy fried tilapia lends the perfect balance to the dish.
"We really want to reach out to our kababayans abroad, tayo na yung pupunta sa kanila."
Bagoong Club in the coming years
Because of its success, Bagoong Club now has two more branches located in Tagaytay and Antipolo. With expansion being planned in the forseeable future, Bagoong Club aims to cater to foreign tourists and homesick balikbayans.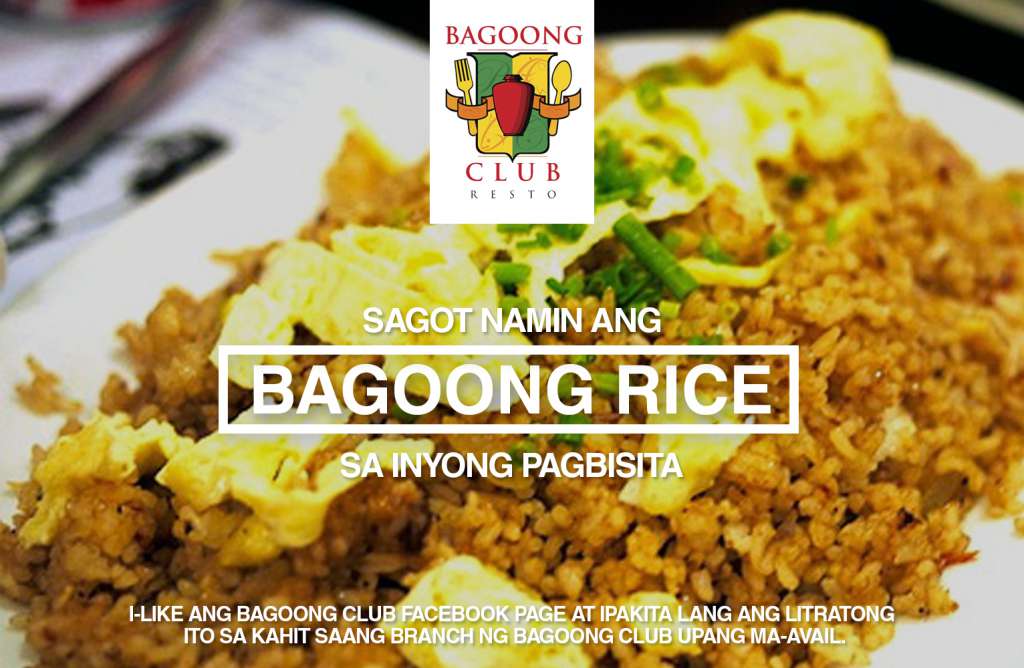 Like Bagoong Club's Facebook Page!
Save the photo above and show it to any Bagoong Club branches to avail free Bagoong Rice on your visit!
Bagoong Club Sct. Lazcano Tomas Morato
Store hours: 7am-3pm resumes 6pm-11pm
122 Sct. Dr. Lazcano St, Diliman, Quezon City, Metro Manila, Philippines
Bagoong Club Tagaytay
Store hours: 10am-9pm
Unit II Lower Ground, Twin Lakes, Brgy. Dayap Itaas Laurel, Batangas
Bagoong Club Antipolo
Store hours: (Sun. – Thurs.) 10am-10pm (Fri. – Sat.) 10am -11pm
Mille Luce Phase 2- GF Unit 8 26 & 27 Mille Luce Village Center, San Roque, Antipolo City