Robinsons Retail Holdings, Inc. delivered another solid performance in 3Q2022, with net income attributable to equity holders of the parent company (NIAT) increasing by 60.8% year-on-year to ₱1.7 billion. Earnings were underpinned by double-digit topline growth across most segments, gross margin expansion, better operating leverage, and foreign exchange (FX) gains. Earnings per share (EPS) rose at a faster rate of 66.0% year-on-year to ₱1.13 as a result of the company's ongoing share buyback program. Meanwhile, core net earnings (net income excluding FX, interest income from bonds, equitized net earnings from Robinsons Bank, and others) surged by 91.4% to ₱1.4 billion for the quarter.
Net sales in 3Q2022 accelerated by 19.3% to ₱44.7 billion, ending the period above pre-pandemic levels. Topline growth was driven by robust Same Store Sales Growth (SSSG) of 15.1%, a dramatic turnaround from minus 1.3% in 3Q2021. Higher transaction count due to improved mobility particularly from back-to-school trends, return-to-work mandates, and increased travel & tourism boosted SSSG.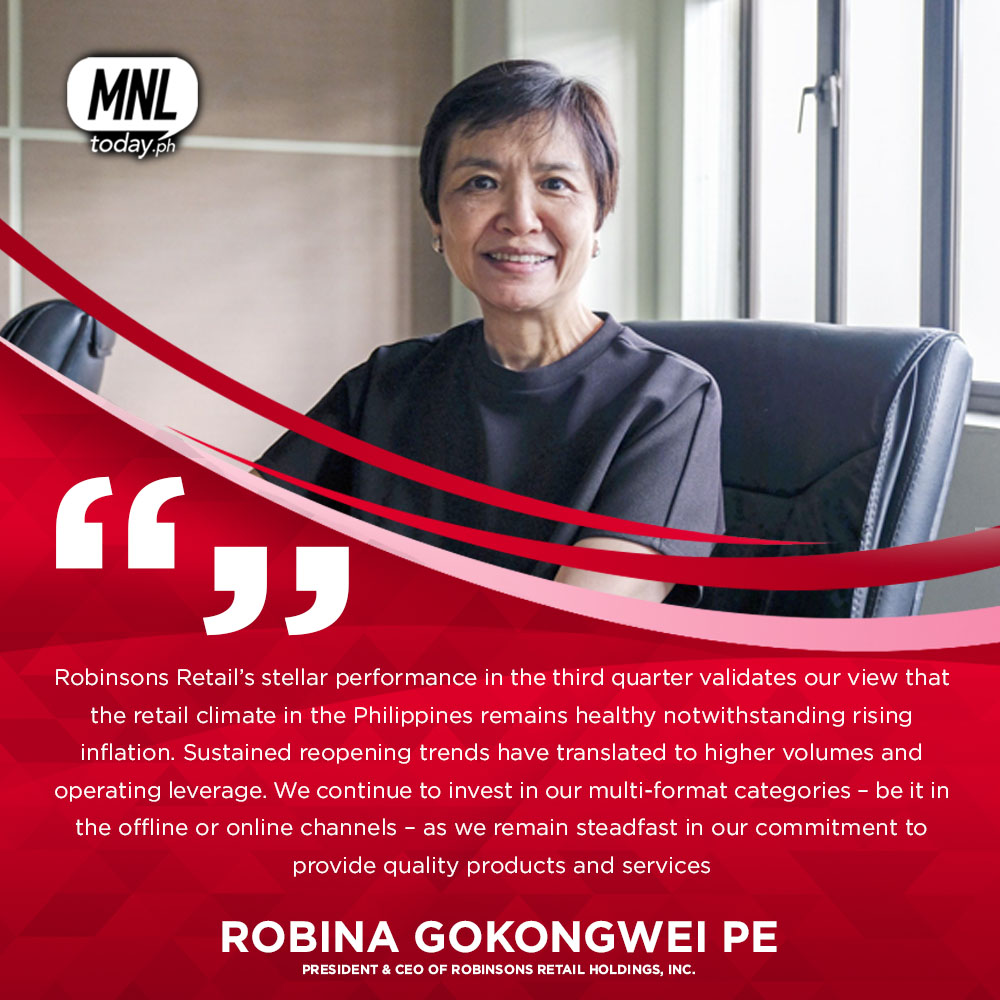 Gross margin in the third quarter expanded by 120bps to 24.0% driven by better product mix. Meanwhile, EBIT climbed by 53.5% to ₱2.3 billion, with margins expanding by 110bps to 5.1%. Operating expenses as a percent of sales were kept steady due to deliberate cost controls.   
Unaudited Financial Highlights: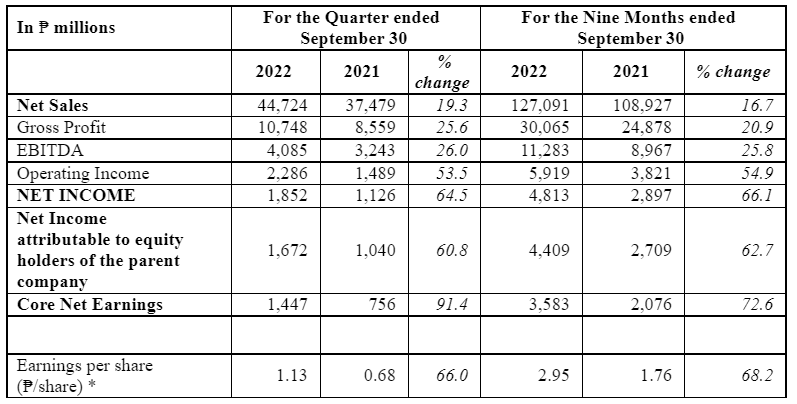 The strong performance in 3Q2022 brought year-to-date 9M2022 NIAT to ₱4.4 billion, up by 62.7%. EPS climbed at a faster clip of 68.2% to ₱2.95. Core net earnings increased by 72.6% to ₱3.6 billion.  Net sales for the nine-month period rose by 16.7% to ₱127.1 billion, with blended SSSG coming in at 11.8%. Gross margin improved to 23.7%, higher by 80bps. Meanwhile, EBIT jumped by 54.9% to ₱5.9 billion, with margins expanding by 110bps to 4.7%.