The Department of Education has ordered the return of in-person enrollment for school year 2022-2023 in preparation for full face-to-face classes in November.
Vice President and concurrent Education Secretary Sara Duterte has issued Department Order No. 35 setting enrollment that started last July 25, and will end up to August 22, the official start of classes for 2022-2023 school year
Under the order, in-person enrollment is allowed regardless of the alert level where the school is located, with parents and legal guardians adhering to minimum health standards such as wearing of masks, temperature checks upon entry, and physical distancing.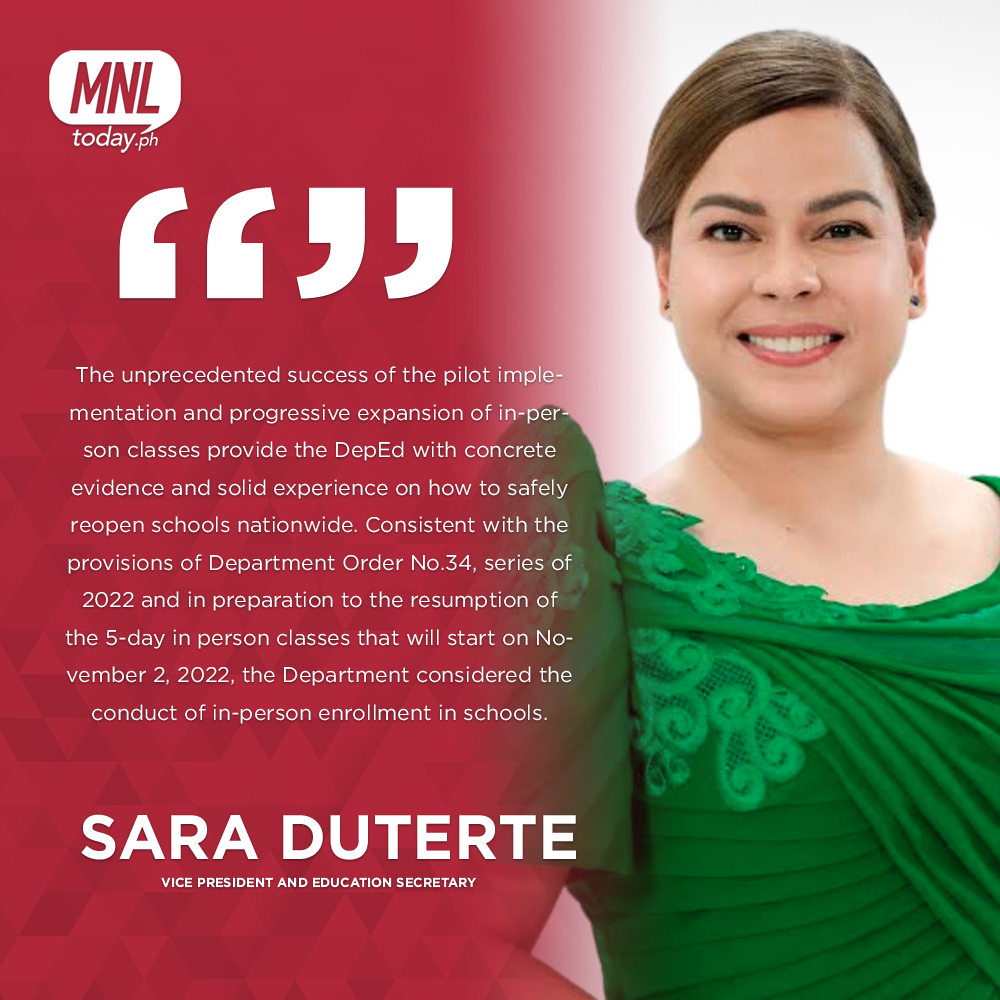 However, remote enrollment, which is part of the "enhanced enrollment procedures" amid the pandemic, will still be implemented, the DepEd order said.
Remote enrollment has been the norm since the pandemic began more than two years ago. Enrollment through the use of drop boxes is also part of the remote enrollment procedures.
Learners can be enrolled through phone calls, text messages, online messaging through Facebook messenger, Viber and email messaging. Drop box enrollment was also one of the options given to parents and/or legal guardians who have been affected by the alert levels implemented in the various parts of the country.
Last year, DepEd data showed that 28,033,530 enrolled nationwide from kindergarten to senior high school, up from 26,826,387 in 2021.
Last month, before she stepped down, DepEd Secretary Leonor Briones said more than 80 percent of all public schools in the country are now compliant not only with the physical distancing requirement for face-to-face classes but also in the provision of handwashing facilities and proper ventilation of their classrooms.
Image Source: https://www.careerdevelopmentcentre.com.au/wp-content/uploads/2018/02/enrol-student.jpg
WITH ADDITIONAL REPORTS: Malaya Business Insights, Ashzel Hachero