The Metropolitan Manila Development Authority (MMDA) is proposing two more number-coding schemes that will greatly reduced the number of vehicles traveling the busy roads of the National Capital Region (NCR).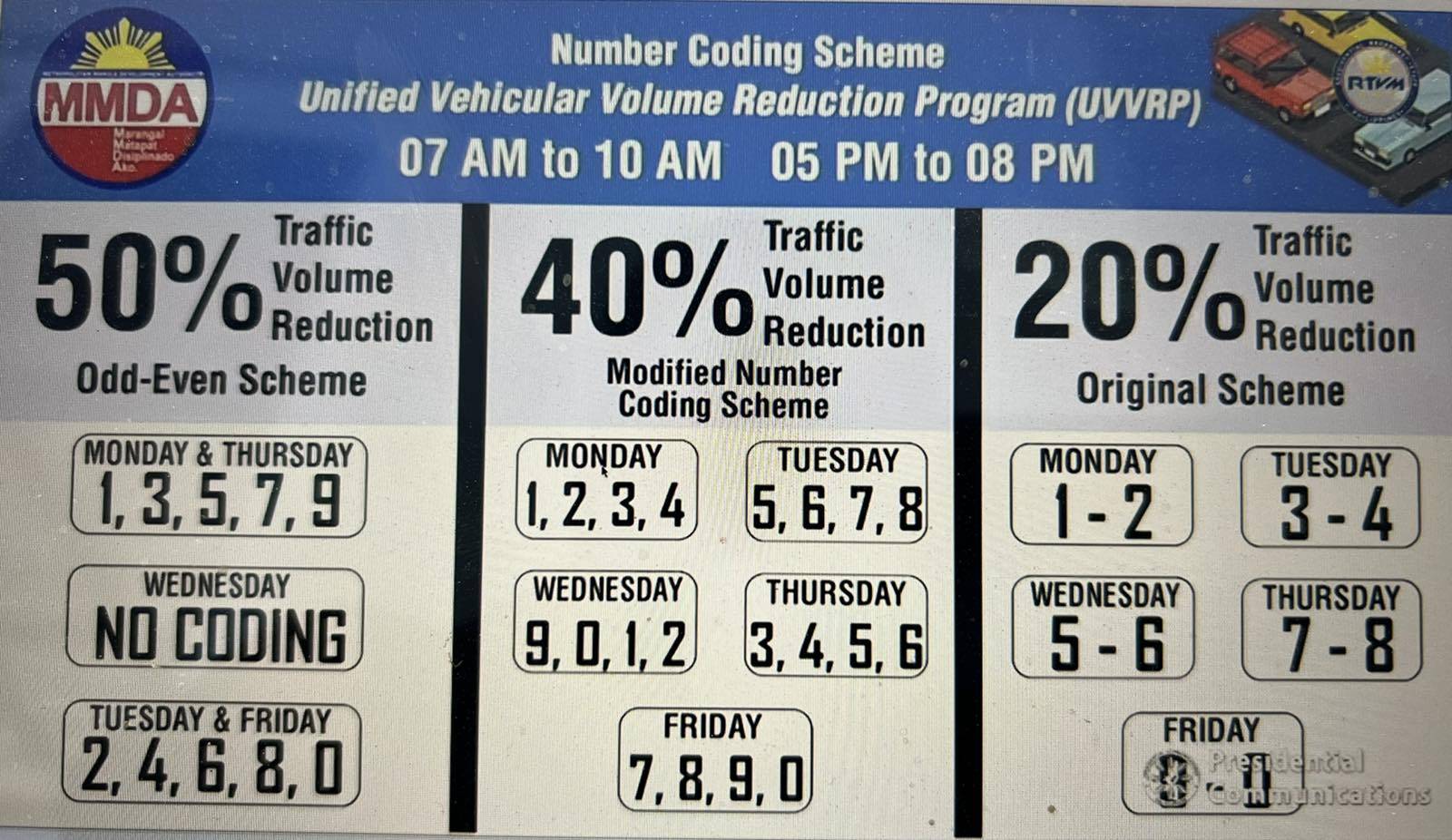 MMDA chairman Romando Artes said the pre-pandemic and current number-coding scheme– vehicles with plate number ending in 1 and 2 are banned on Monday, 3 and 4 on Tuesday, 5 and 6 on Wednesday, 7 and 8 on Thursday and 9 and 0 on Friday– only reduces the vehicle volume by 20%.
With the new two(2) new number-coding schemes would reduce the number of vehicles by 50% and 40% respectively.
1st Proposal – Odd-Even Scheme
Under the first number-coding scheme presented by Artes to President Duterte, vehicles with license plates ending in 1,3,5,7 and 9 are prohibited to travel on Metro Manila roads every Monday and Thursday while those ending in even numbers–2,4,6,8 and 0– are prohibited every Tuesday and Friday.
Based on this scheme, there is no coding every Wednesday.
"Under this scheme, the number of vehicles traveling in Metro Manila is projected to be reduced by 50 percent," said Artes.
2nd Proposal – Modified Number Coding Scheme
The second proposal, the Modified Number Coding Scheme, will be implemented based on this scheme:
Monday: Vehicles with license plate ending in 1,2,3 and 4 will not be allowed;
Tuesday: Vehicles with license plate ending in 5,6,7 and 8 will not be allowed;
Wednesday: Vehicles with license plate ending in 9,0,1 and 2 will not be allowed;
Thursday: Vehicles with license plate ending 3,4,5 and 6 will not be allowed;
Friday: Vehicles with license plate ending 7,8,9 and 0 will not be allowed.
Artes said this scheme projects vehicle reduction in Metro Manila by 40 percent. Both schemes will be implemented during rush hours– from 7 a.m. to 10 a.m. and from 5 p.m. to 8 p.m.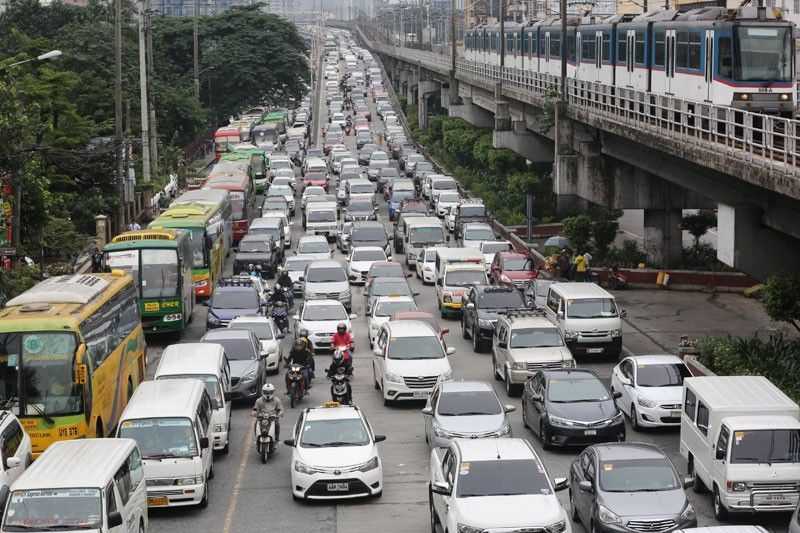 Daylight Saving Time
They also came up with another recommendation to greatly reduced the number of vehicles in Metro Manila. Dubbed as Daylight Saving Time, Artes is proposing that all government works in Metro Manila should start by 7 a.m. and ends by 4 p.m. from Monday to Friday.
The logic behind this proposal, according to Artes, is for all government employees not to be added in the traffic congestion woes during rush hours in the morning and in the afternoon.
By allowing government workers to go to work early and go home early, Artes said this would mean reduction on the vehicles traveling Metro Manila streets during rush hours.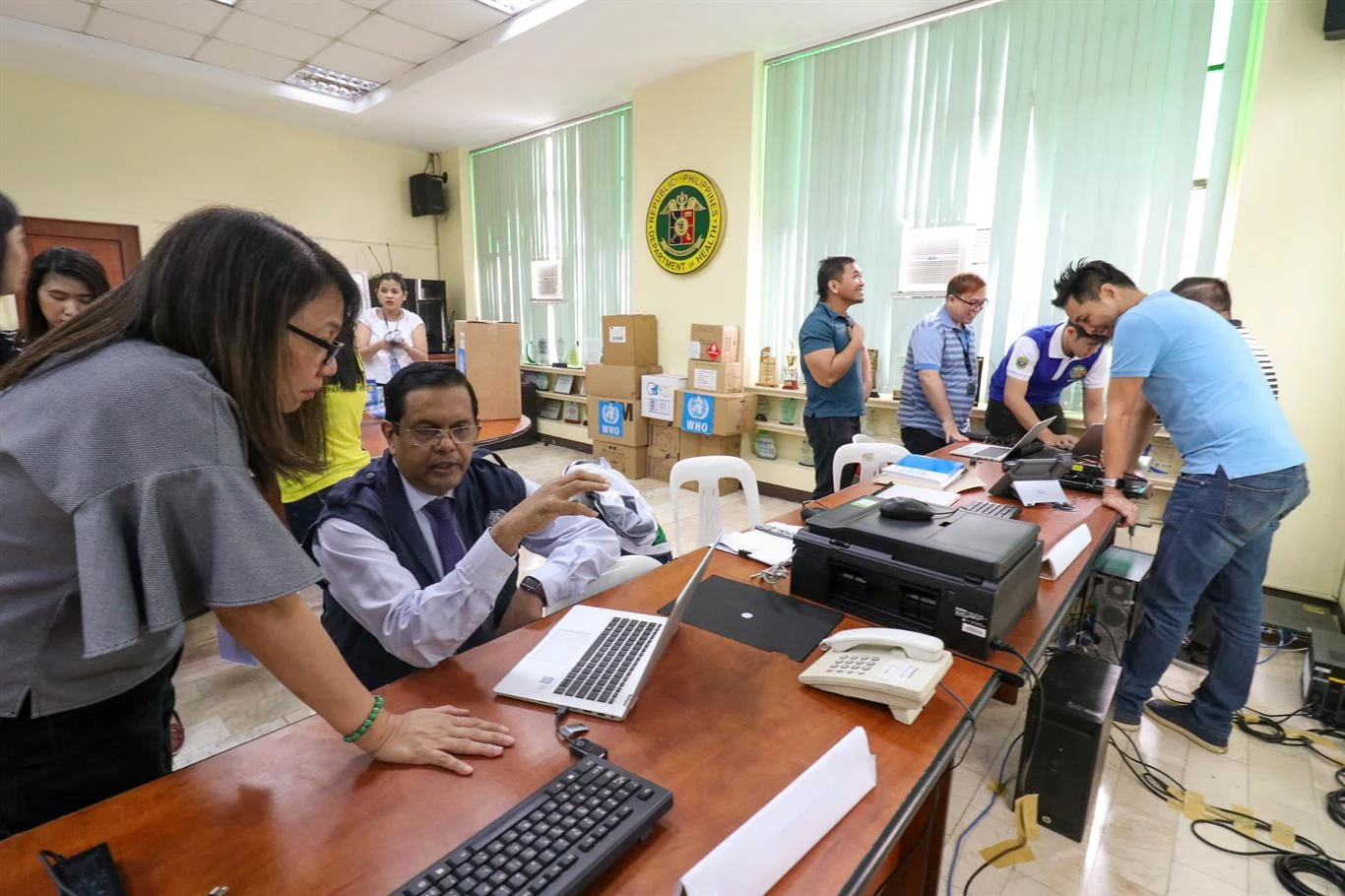 4-Day Work Week
Artes also proposed for a four-day work week under two variations.
First is 10-hour four working days while the second one is four working days and work-from home arrangement once a week.
Drastic Change
Artes explained that in coming up with the four proposals, what they intend to achieve is to immediately address the perennial problem of traffic woes in Metro Manila.
"Based on the study of JICA (Japan International Cooperation Agency), we are losing P3 billion a day. But beyond the money wasted is the time that is being lost to traffic. Instead they are spending their time with their family, our kababayan is stuck in traffic for several hours," said Artes.
"This is what we want to change," he added
Review ASAP
For his part, President Duterte said all the proposals of the MMDA should be reviewed immediately by concerned agencies.
"Sana kung puwede tong programming ito ay mapag-aralan kaagad (I hope that this program be studied immediately), reviewed by competent authorities whose job is connected with… especially with the traffic problem in greater Manila," said Duterte.
Sources: mb.com.ph
Image Soruces: mb.comph, philstar.com, who.int