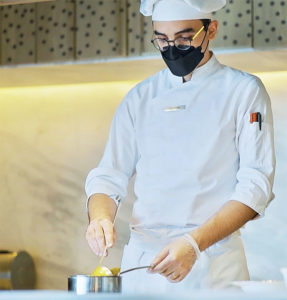 Grand Hyatt Manila invites guests to experience the best of theatre and dining combined in an immersive culinary journey at The Peak, starring Le Petit Chef. The world's smallest chef of French descent, who recently made his debut last 1 March 2022, will take patrons on a two-hour unique dining adventure featuring sensational cuisines and cinematic entertainment, alongside the stunning views of the city.
Revel in an exquisitely curated 6-course set menu as Le Petit Chef comes to life from the virtual realm for an animated whimsical performance projected right on the dining table.
Le Petit Chef will be performing two shows per night –6 p.m. to 8 p.m. and 8:30 p.m. to 10:30 p.m., every Tuesday to Saturday at The Peak's Veranda Room, which offers a table sharing experience and can accommodate 16 people per session.
Price starts at PHP 5,800 net per person for the six-course Classic Menu which features Italian burrata, bouillabaisse with fresh premium seafood, smoked chicken foie gras ballotine, char-grilled Australian beef tenderloin, mascarpone crème brûlée, and homemade baked Alaska. For patrons who opt for an Australian wagyu beef in the steak course, they may upgrade to the Premium Menu priced at PHP 6,300. The First Class Menu at PHP 6,800 features premium set and switches the tiger prawns for lobster tails in the bouillabaisse course. A special 6-course set menu is available for kids.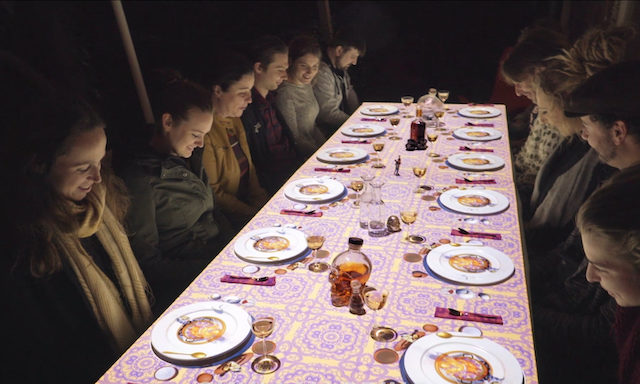 Le Petit Chef 'comes to life' with technology developed by a Belgian-based company, Skullmapping. This innovative dining experience delivers using 3D projection mapping, the story of a small animated chef onto diners' plates, where he proceeds to 'cook' their food in front of the diners. With the help of overhead projectors, the dining table transforms into an immersive theatre where the tablecloth, plates, and utensils become backdrops for the little chef to show off his culinary prowess.
Visit Le Petit Chef to take a sneak peek of the Le Petit Chef multisensory dining experience.
Follow Grand Hyatt Manila on Instagram @grandhyattmanilaph and Facebook, www.facebook.com/GrandHyattManilaPh for updates in its latest promotions.
Sources: malaya.com
Image SOurces: malaya.com, skullmapping, spot.ph