When I get the cravings for Japanese food, nowadays, it is Botejyu that usually comes to mind. I first get to experience the authentic Japanese traditional cuisine in Robinsons Galleria. 
BOTEJYU was established in 1946 in the gourmet city of Tamade, Osaka by Eikichi Nishino.  BOTEJYU, was coined from the rhythmic cooking sound of okonomiyaki. The first part of the name, "BOTE" comes from the flipping sound of the okonomiyaki and the second part of the name, "JYU", represents the sizzling sound as it cooks on the teppan grill. 
It was the Viva group, the same people managing Viva Films via their Viva International Food & Restaurants Inc. 
Their business expansion in the food business provided me a glimpse of how entrepreneurs grab opportunity the moment they see a potential on a business venture. And what's not to love and be confident, Botejyu is a good investment because it is a truly authentic Japanese cuisine that is sure to be a hit in every Filipinos. 
Japanese food has been recognized by the world as a sophisticated cuisine. There are many distinctive features of Japanese cuisine such as "the quality of the ingredients", "healthiness", "beautiful presentation" and "hospitality". Japanese food has become popular around the world as people appreciate these qualities. Japanese food is an important part of our culture that represents the long history of our country. And I consider the arrival of Botejyu here in the Philippines as something very special because of its authentic Japanese taste.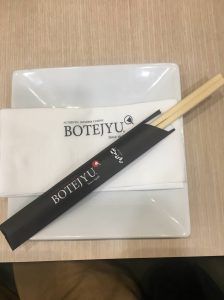 You have to give it to the Viva group for discovering a "gold mine" in the field of food and restaurant business. As of late, Botejyu has already eight branches and counting. In SM Mall of Asia, Megamall, Robinsons Galleria, Ayala Mall Cloverleaf, Ayala Malls Vertis North, Festival Mall Alabang, Ayala Malls Feliz and SM Pampanga.
So the next time you get that Japanese food craving, Botejyu can be the answer to your yearning. 
To know more about Botejyu, you may visit www.botejyu.com.
Photo credit: fb.com/botejyuph
Video credit: botejyu.com.ph