STI returns to profitability in the first half of fiscal year (FY) 2021-22, or the six-month period ended December 31, 2021, from the P113.9 million net loss for the same period in the previous year.
The firm's FY starts on July 1 of every calendar year (CY) and ends on June 30 of the following CY. Being in the business of education, the Group's FY follows that of its school year (SY).
STI Holdings, owner of one of the country's largest networks of schools, reported a net income of ₱241.2 million in the third quarter of its fiscal year (FY), or the three-month period ended March 31, 2022 — a 192% increase from or almost thrice the ₱82.6 million it posted in the same period last year.
Operating income was at ₱271.6 million, or 137% up from the ₱114.5 million recorded previously. Gross revenues for the same period, meanwhile, went up by 35% to ₱793.8 million from ₱589.9 million year-on-year.
The figures are based on the Group's disclosure to the Philippine Stock Exchange.
For the nine-month period ended March 31, 2022, STI Holdings' net income registered a huge turnaround to ₱297.2 million from a net loss of ₱31.4 million in the same period last year. The group registered an operating income of ?408 million, an increase of 325% from or more than four times its ₱96 million figure year-on-year. Gross revenues, meanwhile, were at ₱1.92 billion, up by 26% from the ₱1.52 billion recorded previously.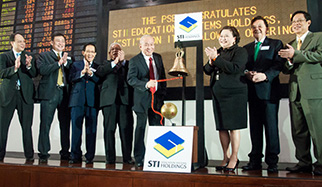 The Group's improved performance comes on the back of an 18% increase in its overall enrollment to 82,629 students for School Year (SY) 2021-2022 from 70,223 in SY 2020-2021. In the enrollment mix, enrollment in programs regulated by the Commission on Higher Education (CHED) increased to 68% in SY 2021-2022 from 57% the previous SY.
STI Holdings has gradually started to implement limited face-to-face classes for schools in areas under Alert Level 1 for identified high-stake tertiary courses and selected subjects beginning February, March, and May for STI Education Services Group (STI ESG), Bacolod City-based STI WNU, and Makati City-based iACADEMY, respectively,
STI ESG offers associate and baccalaureate degrees and technical-vocational programs in the fields of Information and Communications Technology, Business and Management, Hospitality Management, Tourism Management, Arts and Sciences, Engineering and Education. It also offers senior high school. STI ESG was given government permits to offer Bachelor of Science in Retail Technology and Consumer Science Program and the 2-year Associate in Retail Technology Program starting SY 2020-2021.
Image Sources: STI
Sources: STI Holdings