A total of 35.5 million workers are targeted to be inoculated against COVID-19 after the government simplified the A4 category or the essential workers group, the National Economic and Development Authority (NEDA) said Saturday. 
"The first phase of vaccine deployment for the expanded A4 group will be focused on approximately 13 million additional workers in NCR+8 since these areas make up the majority of COVID-19 cases in the country," the NEDA said in a statement. "Another 22.5 million workers will subsequently be included from areas outside NCR+8, bringing the total estimate to 35.5 million," it added.
The NCR+8 comprises the National Capital Region (NCR), Batangas, Cavite, Laguna, Rizal, Bulacan, Pampanga, Metro Cebu, and Metro Davao.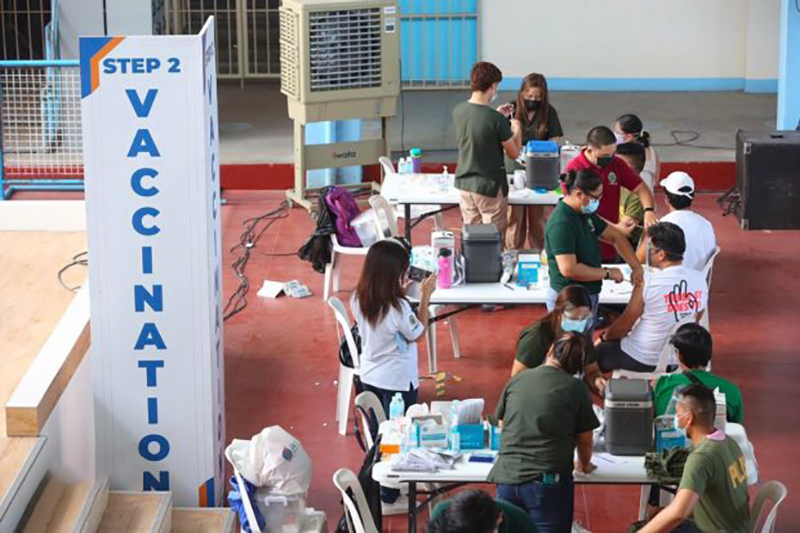 Last May 28, presidential spokesperson Harry Roque announced that the Inter-Agency Task Force on Emerging Infectious Diseases (IATF) simplified the A4 category to include all government and private sector workers, informal sector workers, and those who work in private households who need to physically report to work.  
The A4 group was formerly focused on economic frontliners and personnel who have high levels of interaction with the public, and are needed to ensure security and consumer and worker safety.
The NEDA said the IATF adopted its recommendation through Resolution No. 117.
Citing data which shows that there is a high risk of exposure for workers living or working in areas with a dense population or dense economic activity, the NEDA added that it is important to accelerate vaccination in the NCR+8.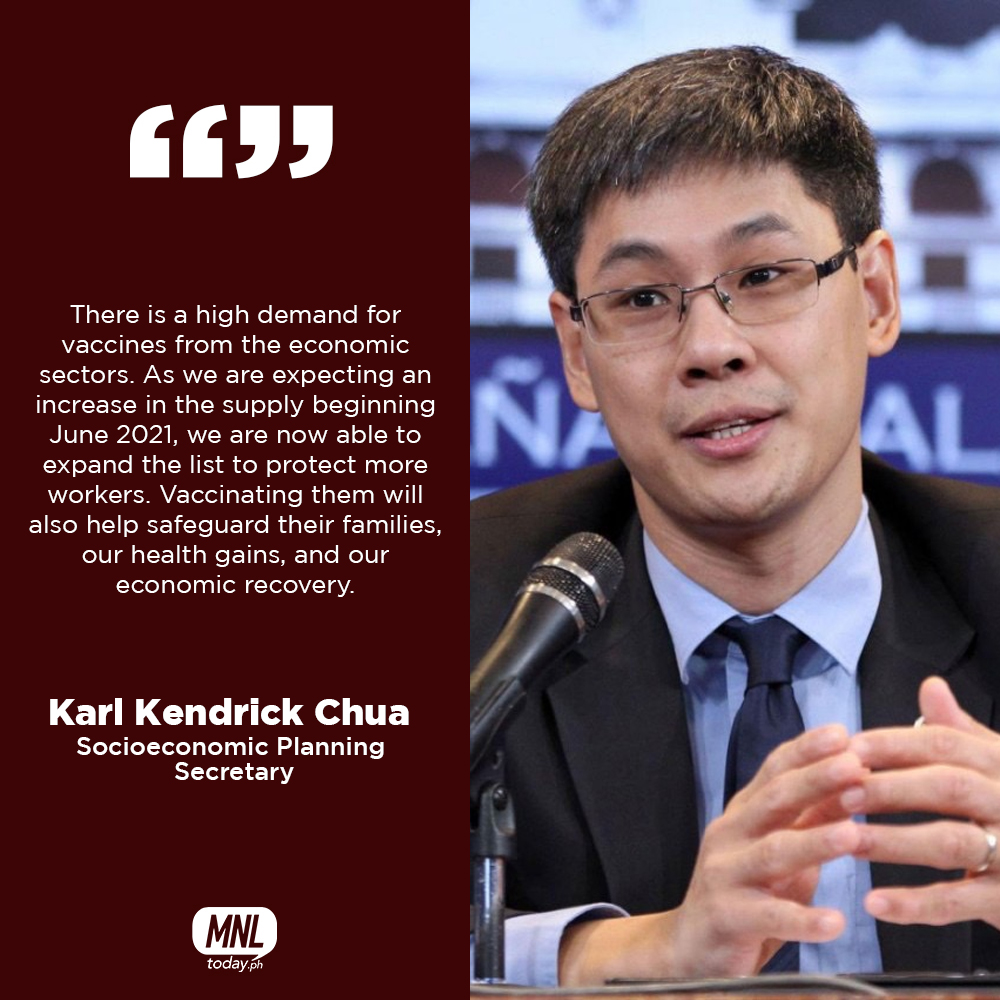 With the IATF approval of the simplified list, private sector workers who need to be physically present in their workplace; employees in government agencies and instrumentalities, including government-owned or controlled corporations (GOCCs) and local government units (LGUs); informal sector workers and self-employed individuals who work outside their homes; and those working in private households are now included in the A4 priority group. 
NEDA Undersecretary for Policy and Planning Rosemarie Edillon said that stronger engagement with establishments, agencies and organizations (EAOs) is needed to facilitate vaccine deployment to the A4 priority groups and get the country closer to the target of inoculating 70 million adult Filipinos by year-end.
The Department of Health reported May 29 reported that all 30,000 doses of Gamaleya's Sputnik V vaccine have been administered.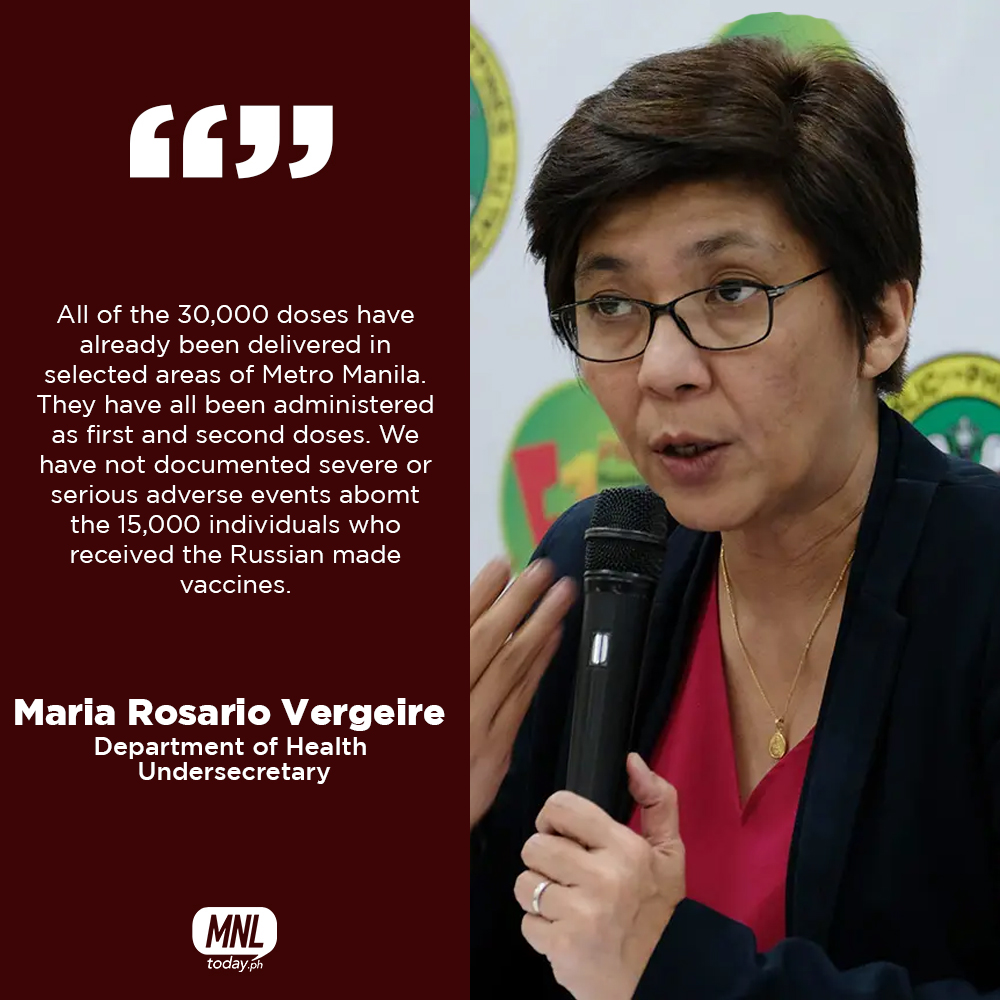 Meanwhile, healthcare workers, senior citizens, and people with comorbidities—or those belonging to the A1, A2, and A3 groups, respectively—will continue to be prioritized for the vaccination program.
With additional reports: GMA News, Ted Cordero; The Philippine Star, Sheila Crisostomo 
Photo Sources: newsinfo.inquirer.net, manilatimes.net, rappler.com, newsinfo.inquirer.net – Nino Jesus Orbeta