For his visionary leadership, significant and long-term contributions to the country, and unprecedented response to the COVID-19 pandemic, San Miguel Corporation (SMC) president and chief operating officer Ramon S. Ang was given the prestigious Lifetime Contributor Award for the private sector at the 2020 Asia CEO Awards, touted to be the largest business awards in the country and Asia in recent times.
Under Ang's leadership, SMC, one of the country's largest and most diversified conglomerates, has emerged as the country's top and most consistent private sector partner against the pandemic.
With its considerable resources, and with the help of employees, volunteers, and its partner non-profit organizations and charitable institutions, SMC initiated numerous projects to help disadvantaged sectors and communities, medical front liners, local governments, and even the national government, better cope with the impacts of COVID-19.
Its total COVID-19 response has reached P13.187 billion. This includes the largest-ever food donation drive in the country, massive donations of disinfectant alcohol from its reconfigured liquor plants; life-saving medical equipment and supplies such as RT-PCR machines and test kits, which have raised the Philippines' overall testing capacity.
The award-giving body first cited RSA's contributions to the country, through his achievements leading SMC.
"His success in business is not only found in the Philippines but also globally. His company is instrumental in the various crucial infrastructure projects that (will) help our country not just recover but also leads us to soar even higher in terms of creating jobs, stimulating economic activities," the Board of Judges said.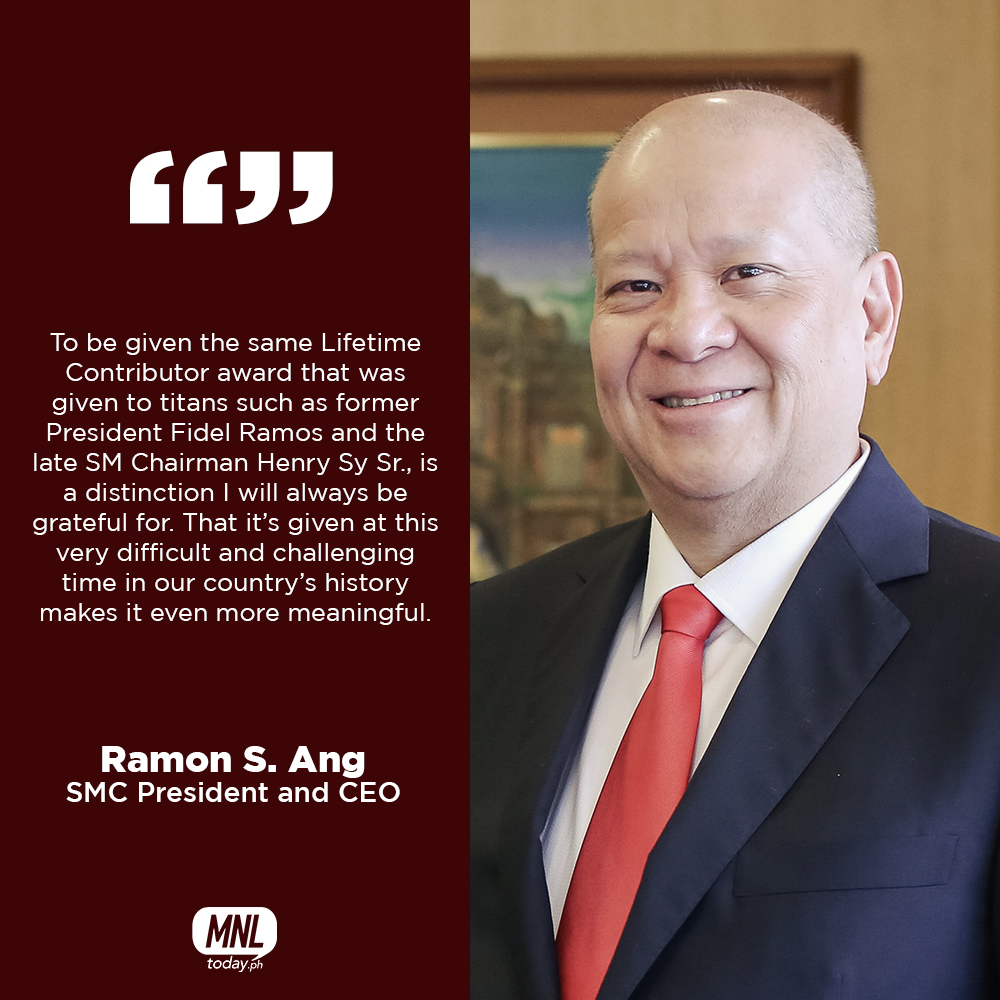 Ang related that he had been asked many times why the company spends and gives away so much to help with the pandemic, even as it remains aggressive to expand and invest, when business and the economy are down.
"To us, the answer is simple. This crisis is unprecedented. So our response should also be unprecedented. Because what other bigger purpose is there than to help save lives? What other goal is more worthwhile than helping our country and… making it better? What kind of Filipinos would we be if we do not show malasakit towards each other in this time of great need?" he said.
Ang also cited that all the work that the private sector has done to grow businesses and build industries would be for nothing if the people and our economy, fail. "So for us (in San Miguel), now is not the time to hold back. In fact, now is the time to go all out. Our country's future depends on it," he said.
Since the lifting of strict quarantine restrictions Ang has vowed that SMC would continue all its major investments–despite the economic downturn and the quarantine's overall impact on SMC's business performance.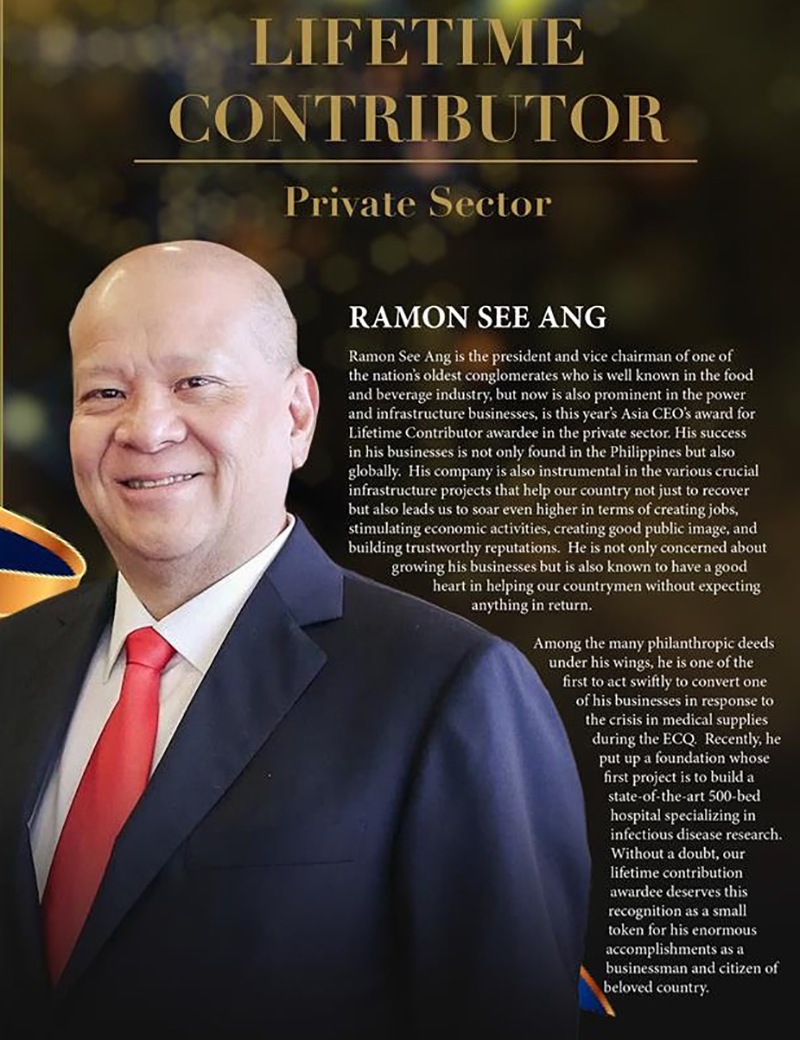 Since then, work on its major infrastructure projects such as the Skyway Extension, Skyway 3 project, and MRT-7 project have continued at an accelerated pace. In July, it fully delivered the entire stretch of the Tarlac-Pangasinan-La Union Expressway (TPLEX.)
It has also put forth proposals to build the SLEX TR-5 project from Quezon province all the way to Matnog, Sorsogon, and the Pasig River Expressway, an elevated expressway along the banks of the Pasig river that will also entail its rehabilitation.
Its largest project, the P740-billion Manila International Airport in Bulacan, set to break ground by the end of the year, is seen to generate over a million direct and indirect jobs. Once completed, it is estimated to generate up to 30 million tourism-related jobs nationwide.
SMC has also continued major environmental programs, such as its P1 billion initiative to dredge and clean the Tullahan-Tinajeros River system, and a separate project to plant 190,000 mangroves all over Bulacan and Central Luzon. These projects kick-of a massive flood mitigation program the company is undertaking.
The award-giving body also put emphasis on his many philanthropic initiatives.
"He is not only concerned about growing his businesses but is also known to have a good heart in helping our countrymen without expecting anything in return," they said. "He is one of the first to act swiftly to convert one of his businesses in response to the crisis in medical supplies during the enhanced community quarantine (ECQ).
SMC's total COVID-19 response contributions, as of early August 2020, included P516 million in food donations, P500 million for medical equipment, P97.1 million in alcohol disinfectant, P94.7 million in free toll for medical front liners, P9.5 million in free fuel for government's Libreng Sakay program for medical workers, P7 million for temporary quarantine facilities, and P2.9 million for free meals to locally-stranded individuals.
The company also spent P8.77 billion to pay taxes, concession and contractual fees to government in advance to make funds available for COVID-19 response during the ECQ. It also spent P3.09 billion for continuous and full compensation of employees and third-party providers.
Apart from these, the company has launched many initiatives to help the agricultural industry. As of September 30, it had bought over 436 million kilos of corn to help local farmers. It also partnered with the Department of Agriculture to put up Kadiwa ni Ani at Kita stores at Petron stations to enable farmers to sell their fresh produce to more consumers.
Recently, it started a new initiative to distribute energy and nutrient-packed nutribuns to the poorest communities in Metro Manila, to further help address hunger during the pandemic.
Photo Sources: thephilbiznews.com, bilyonaryo.com.ph