Restaurateur George Nocom Pua had no idea that his love affair with lechon — which started when he was only 13 years old — would earn him his first international recognition as an entrepreneur.
The president and CEO of Rico's Lechon flew to Vienna, Austria, late last year to personally receive two gold and two bronze awards from the International Business Awards (IBA) Stevie, popularly known as the Stevie Awards, for Company of the Year (Gold), PR Campaign of the Year (Bronze), People's Choice Award (Bronze) and Entrepreneur of the Year (Gold).
Established in 2002, Stevie Awards honors organizations of all types and sizes, and the people behind them. It also recognizes outstanding performances in the workplace worldwide. Last year, the IBA Stevie reviewed a record of more than 4,000 nominations. However, only about 35 percent of those nominations — which received high-enough average scores — made the cut.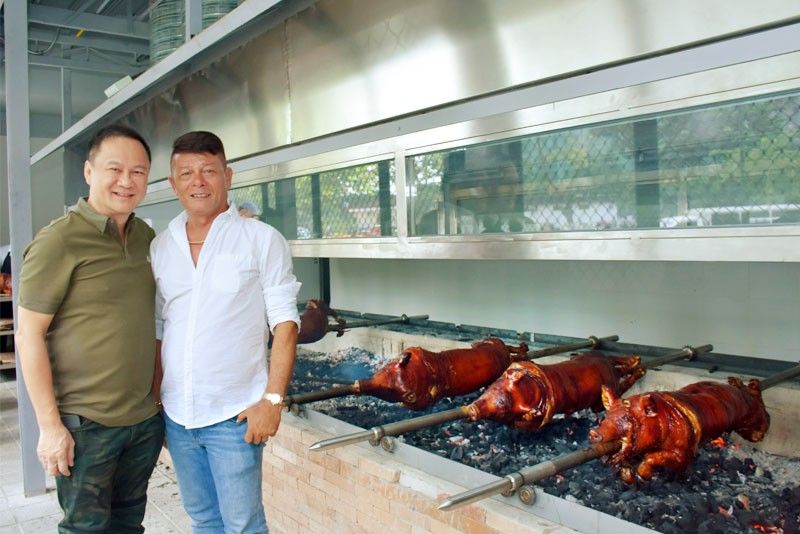 "These awards fire up our passion even more to create unforgettable dining experiences to our clients, not only at Rico's Lechon, but also in my other restaurants. It also inspires me to create more restaurant concepts worthy of the Stevie." –NOCOM PUA, PRESIDENT AND CEO, RICOS LECHON
The innovative approach and appeal of the "Da Best Gyud" culture to the public generated an increase in brand awareness and customer loyalty. And so, in less than eight months, Pua opened six more branches of Rico's Lechon as he remembers that he only started with 50 employees. In a short span of time, now the company has more than 500-strong employees.
For these record-breaking accomplishments, Rico's Lechon has been conferred with "Company of the Year" (Gold), the highest commendation at the 16th International Business Awards (IBA) Stevie.
"The successful campaign heralds the wide acceptance of the well-loved Cebu lechon brand in Manila," said Ruben Licera, CEO of Estrat Digital Marketing, Rico's Lechon's digital marketing agency. "I'm very impressed at how fast Rico's Lechon (as a brand) was growing in the first six months since Pua acquired sole ownership of the brand," shared Licera. "I knew that Rico's Lechon had a chance of winning the Stevie Awards."
But Puma isn't a fan of joining competitions. During a meeting when Licera brought up the idea to Pua about joining the Stevie Awards, he did not react and provided a positive feedback. But that didn't dampen Licera's spirits. He sent Pua another email highlighting Rico's Lechon's achievements under his leadership. Thirty minutes after the email was sent, Licera got a call from his hard-to-please client.
"Sir George called because he couldn't believe he managed to expand the brand and helped provide employment to hundreds of people in less than a year since he took over," Licera said with an impish grin. "If joining the Stevie Awards would inspire other entrepreneurs to do the same, he said he's all for it."
Licera and his team worked 24-7 for two weeks to prepare the entries at their office in Cebu. They would fly to Manila and stay here for five days to research more about Pua's background and other businesses.
The announcement of winners was slated on Aug. 12, 2019.
"On Aug. 11, I stayed all night to wait for the email result. But I didn't get one. I checked my email again the following day, but no luck still. I gathered my team and informed them that I didn't receive an email. Ergo, we didn't win," related Licera. "Deep inside, I was still hoping for a miracle. At 9:04 p.m., I received an email containing the official results of the 2019 IBA Stevie. We won!"
It was Licera's wife, Iren, who informed Pua about the good news. "I couldn't believe that we made it," added George. "Never in my wildest dreams that my passion and love for creating good food for people to enjoy would be recognized in the international stage. The IBA Stevie is, indeed, a great honor for myself, my team and for the country."
30 and counting
With 30 restaurants under his belt, George Pua still can't believe that he's made it this far. During their post Stevie Awards event celebration, he remembers his family and his humble beginnings. "I'm the youngest child. Meaning, I was a spoiled brat. "I always got what I wanted," he said. "My parents own a gasoline station near our place in Baclaran. While my siblings helped out in the family business, I was at home watching TV," he recalled. Right in front of their house were restaurants specializing in lechon.
"The smell of lechon roasting on the pit was enough to wake me up from deep slumber. Come lunchtime, I would ask our house help to get me 1/4 kilo of lechon, which I would eat all by myself," he said.
The Puas had to give up their gasoline station, when their family was faced with problems. Pua's mom was heartbroken. She couldn't believe that the man she loved and trusted with her life would have the nerve to do that to us," lamented George, his voice breaking. "While this family issue had long been resolved, I couldn't help but remember the pain it brought to our family, especially my mom. She would bang her head on the wall while crying out of frustration. It broke my heart when I saw her do that."From that day, to his college days and by the time that he is already working, there was no stopping George Pua from reaching for his dreams. His passion and perseverance to succeed led him to become a seasoned entrepreneur, a respected global brand distributor and a world-class restaurateur.
For his multiple achievements, George bagged the coveted "Entrepreneur of the Year" Award at the 2019 IBA Stevie. "It's inspiring to see someone raise their lifestyle by serving their community through entrepreneurship. Pua's success is motivational since he gives value to the people and extends his care to his employees," one of the IBA judges said.
Well, if there's one lesson I learned from George, it's to always put your heart in everything you do and keep on dreaming. Because dreams do come true to those who work hard while they dream.With additional report: Lai Reyes, The Philippine Star

Photo courtesy: philstar Global, AUTHENTIC FOODQUEST, The Freeman