Even with General Community Quarantine (GCQ) mostly implemented in key cities, Food-to-go and meal deliveries in the country are not expected to taper off in the coming months after having seen a swift rise since quarantine restrictions were put in place two months ago. But only those that offer a greater variety in menu, good taste, efficient service, and high sanitary standards are expected to survive the new normal in dining. With its high-quality standards, Kitchen City continues to attract more and more satisfied customers who've discovered that convenience and delicious food can come together in one swift delivery.
"Delicious food is a given in the industry," says Kitchen City chief operating officer Jun Abelardo. "Our team of R&D chefs come from all regions of the Philippines, from Batanes to Sulu, and can cook anywhere from a traditional Ilocano dinakdakan to a Naga spicy Bicol Express." On any given day, its commissary is running with a minimum of over 100 people sorting the veggies, cutting the meats, cooking, and packing.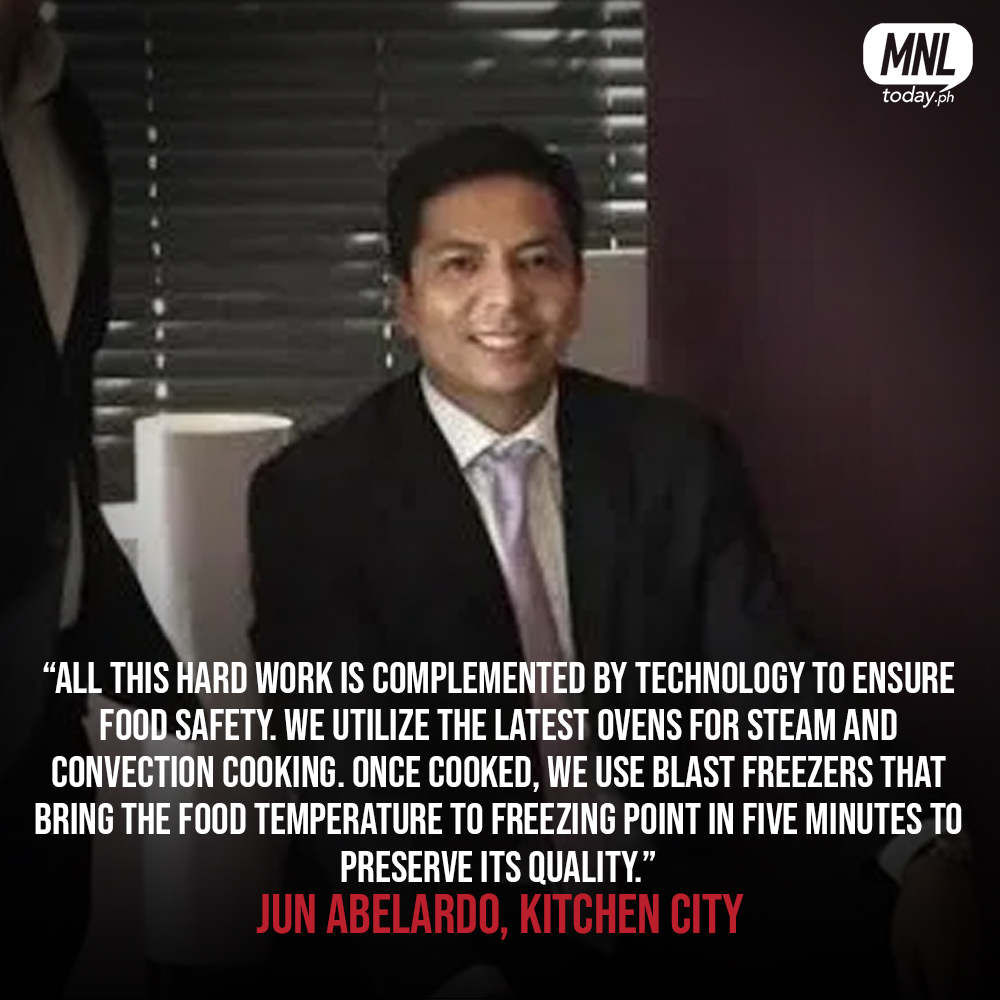 Kitchen City which was established in 2009, has established a brand reputation of cleanliness and safety in cooking good food, running cafeterias and other food requirements in a number of private multinational corporations, a major government department, schools, top private hospitals, airlines, and even an international health organization in Manila, among others.
Russell Tacorda, a director of Kitchen City, says the company wanted to help Filipinos remain safe while continuing to cater to their needs at the lowest possible cost. "We know we are in trying times but this should not intimidate us, wherever we are situated," Tacorda says. "With creativity and resourcefulness, we can overcome and emerge stronger."
Abelardo says when countries around the world were announcing quarantine measures, Kitchen City was already planning and imagining the needs of Filipinos, so when the government enforced lockdowns all over the country, the company was ready to shift to deliveries of frozen cooked food.
"If you were senior citizens living in a condominium unit, would you risk your safety to go out and buy your groceries in the supermarket?" asks Abelardo. "We have to make it easier for people who are more at risk. We also have to think of the families that do not cook. Lastly, we have to think about the affordability of the food, since jobs and salaries might be the same." "When you think about these three things, you come to realize that our company has the resources to make it easy for everyone. Let's help people and make it available," he adds.
When the company launched its frozen cooked food delivery service last March 17, it would get orders from family and friends only.
Those that have experienced the delicious taste of Kitchen City's food — especially its signature dish, Beef Caldereta — the convenience of reheating at their own time, together with the promise of food safety, made good reviews and referred the service to their friends.
After several weeks of the quarantine, Kitchen City is handling over 1,000 transactions a day.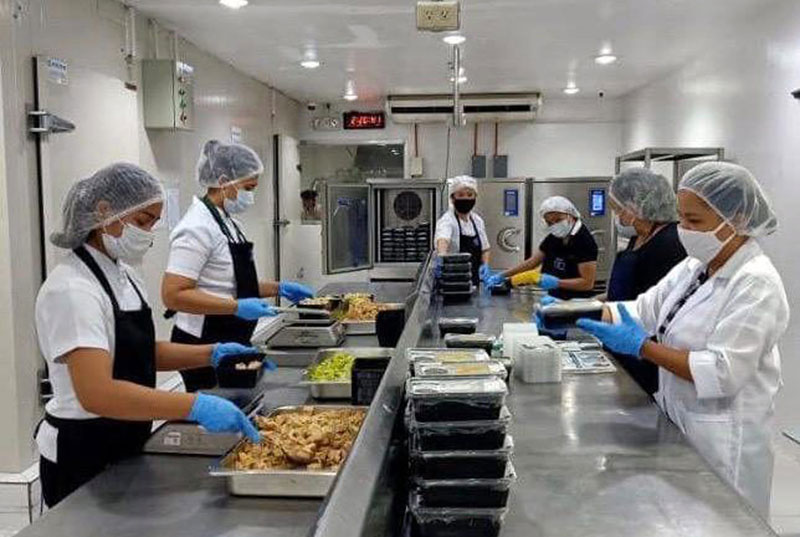 The food is delivered either as "buddy pack" of 300 grams or a family size of 600 grams in over 50 choices of meat, vegetable, and fish dishes, like laing with crispy pork toppings, spicy tofu, vegetable kare-kare, chicken teriyaki, kung pao chicken, KC signature Hawaiian baby back ribs, patatim, roast beef, beef laksa soup, giant Swedish meatballs, and Korean beef stew.
All meals can be stored for at least a month and reheated in just five to seven minutes in a home microwave.
Selling frozen cooked meals to the public is a new business for Kitchen City, but it is already an old format, notes Abelardo. The major food companies in the world, with the advent of technology, transport food frozen and use regeneration equipment on site, he says.
"This is the safest and most standardized way of making food. We have been employing this for several years in our processes already. That's why shifting the business to sell to end consumers was relatively easy," he adds.
With "the new normal", the company evolves and provided its customers with an easy alternative. To make ordering a breeze, Kitchen City launched its website last April, and opened five delivery hubs so that it can lower delivery fees. "We partnered with Grabfood to have our products delivered sooner. But we are not stopping there; as new efficiencies become available, we will continue to lead and adapt to ensure safe and delicious food is given to our people," he says.
For more details and information, you can check out Kitchen City's menu at Kcfrozenmeals.com.
With additional reports: Paolo S. Romero, The Philippine Star
Photo Courtesy: Good News Pilipinas, The Philippine Star, Kitchen City Frozen Meals,