CrossFit founder Greg Glassman tweeted what many found to be an insensitive remark about the current protests that has something to do with the death of George Floyd. And for the embattled Glassman, it went downhill from there.
Glassman who founded CrossFit in 2000 with his ex-wife Lauren Jenai has sold his company to tech boss Eric Roza after weeks of controversy surrounding the branded fitness regime. CrossFit made multiple posts introducing Roza, who is an affiliate owner who has owned CrossFit Sanitas for a decade, and is a friend of Glassman's.
In an official release to affiliate owners, Dave Castro said "Eric is one of us" and that Roza started "boxes", which Crossfit gyms are referred to, at his tech company, Datalogix, and at Oracle after it purchased his company. Roza also released a statement on his Twitter account.
CrossFit is a strength, conditioning, and overall fitness program consisting mainly of a mix of aerobic exercise calisthenics (body weight exercises), and Olympic weightlifting. CrossFit, Inc. describes its strength and conditioning program as "constantly varied functional movements executed at high intensity across broad time and modal domains. CrossFit aims to develop fitness in what the company deems to be the ten components of physical fitness: cardiovascular/respiratory endurance, stamina, strength, flexibility, power, speed, coordination, agility, balance, accuracy.
This writer is an avid fan of CrossFit where I was introduced together with my wife Lhara at the Complete Fitness Ortigas, formerly CrossFit Ortigas, whose box is owned and managed by Coach Jason Truman Monteverde.
A typical session will have hour-long classes that typically include a warm-up, a skill development segment, the high-intensity "workout of the day" (or WOD), and a period of individual or group stretching. Some gyms also often have a strength-focused movement prior to the WOD. Performance on each WOD is often scored and/or ranked to encourage competition and to track individual progress. Some affiliates offer additional classes, such as Olympic weightlifting, which are not centered around a WOD.
With the changes done by Glassman in 2019, CrossFit has already experienced a decline in terms of popularity and even branding. But the latest controversy proves to be a fatal blow and Glassman seems to be left with no choice.
CrossFit had seen a mass exodus of sponsors, athletes and affiliates over the past few weeks as Glassman's conduct on Twitter, via an email exchange, a Zoom call made public, and two expose pieces into allegations of sexual harassment at CrossFit Inc. had all been made public.
On June 6, the Institute for Health Metrics and Evaluation tweeted that that racism constituted a public health emergency, to which Glassman's replied, "It's FLOYD-19", apparently a reference to the protests that broke out across the US – and later worldwide – following the killing of black man George Floyd by a white police officer in Minneapolis.
Following the announcement of the purchase, CrossFit released statements from Glassman, who said: "I started a company with some essential and elegant truths that nobody could, or maybe would, tell. It resulted in the fastest growing chain in world history. It did so well and became so popular that it has become a thing far larger than I could have hoped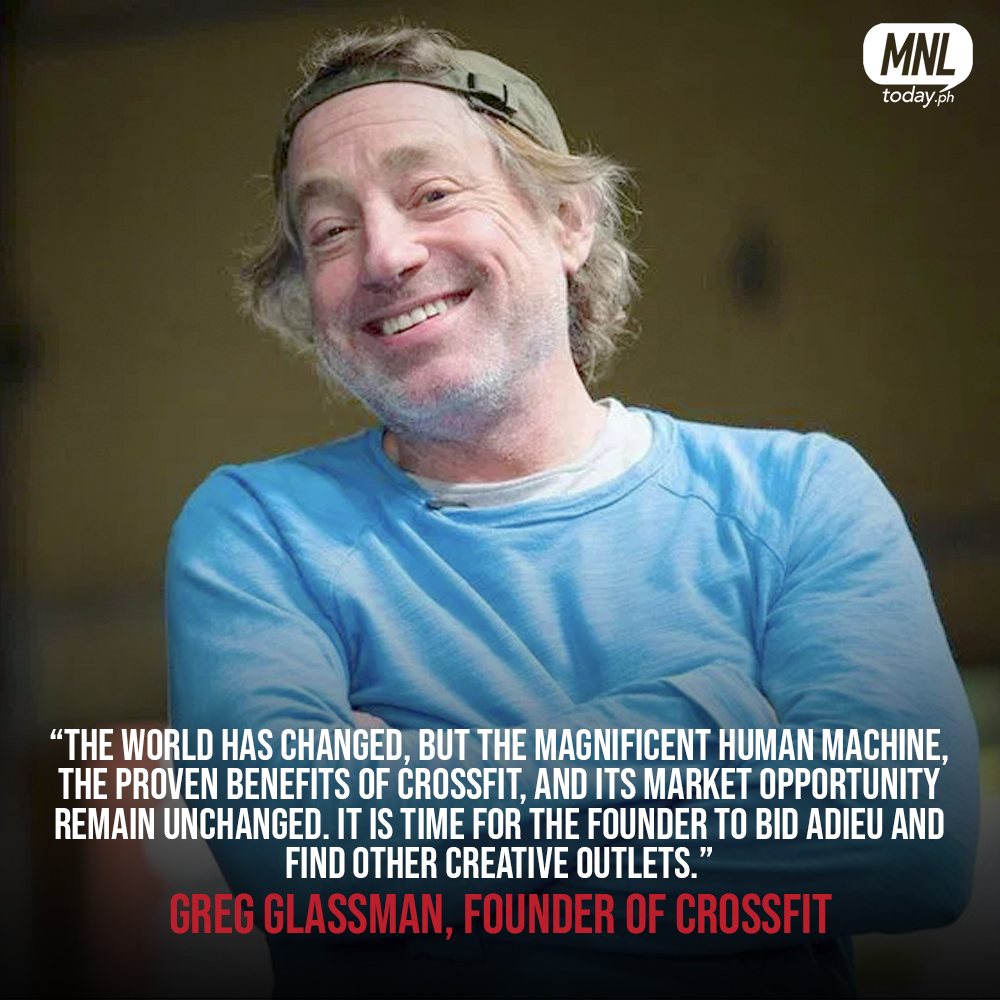 The CrossFit Games are scheduled to take place August 17th in California in a stripped down competition due to coronavirus restrictions.
With additional reports: PATRICK BLENNERHASSETT, Mark Agnew South China Morning Post
Photo Courtesy: 247 News Around The World, South China Morning Post, Denver Business Journal,