If you're an avid Spongebob Squarepants fan, you surely must have watched the episode about how Spongebob and Mr. Krabs made a tainted Krabby Patty for a man(fish?) posing as a health inspector. The duo dubbed the frankly, nightmare-inducing burger the Nasty Patty.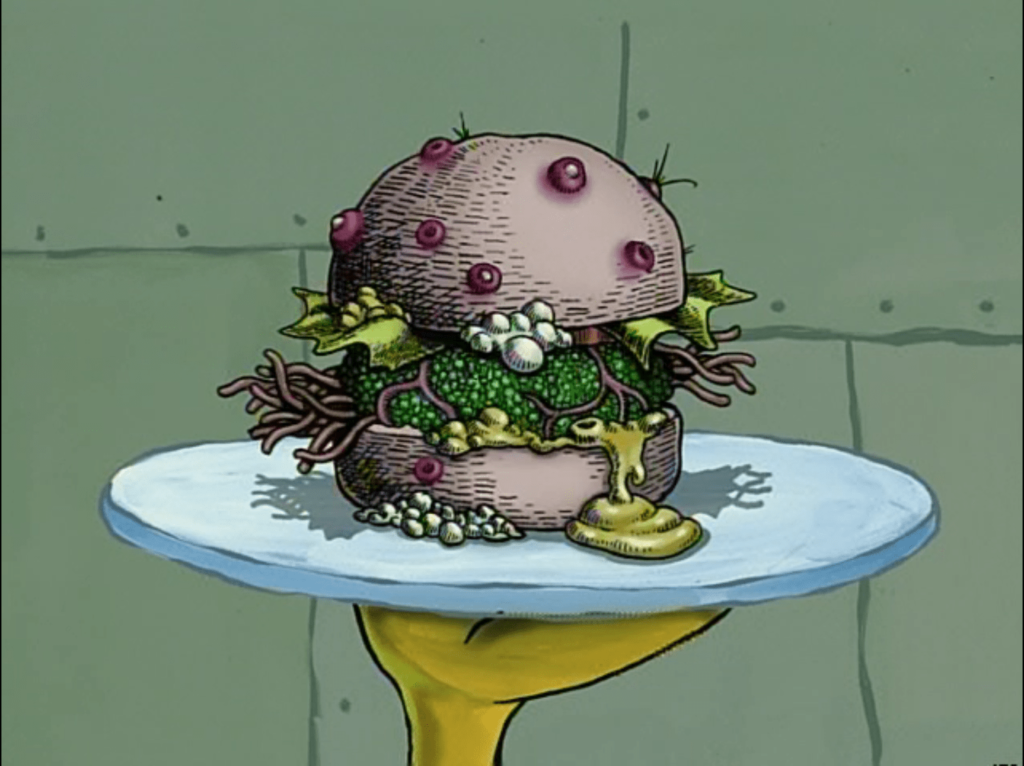 Suffice to say that the sponge and crab tandem made a huge mistake. The "fake" health inspector turns out to be the real one!
Now, you saw the picture. You saw how terrifying it is to look at. Would you believe me if I say that someone actually tried to recreate the Nasty Patty? To be honest, me neither. In spite of our misgiving, someone DID try to recreate the infamous Patty!
This courageous guy who made this peculiar burger is semi-pro food extraordinaire Danny Do. Danny Do decided to make a real-life representation of this infamous burger.
The original Nasty Patty has a rather disgusting cooking process. It starts out as a regular Krabby Patty. Then, you add a few squirts of Volcano Sauce, a spoonful of Seahorse Radish, and some servings of Mr. Krab's toenail collection(Do crabs even have toenails?). If that's not disgusting enough, Spongebob dunked the burger into the toilet and dried with Mr. Krab's gym socks!
Now, which do you think looks more appetizing?
In Danny Do's Facebook post, he made the Nasty Patty with "turkey burger crusted in pea snap crumbs, a goat cheese garlic aioli, a pea and turkey gravy, Swiss chard veins and leaf, on a cranberry brioche bun." It would really be weird and unsanitary if he added some toenail clippings in it, dunked it in the toilet, and dried with stinky gym socks! Don't even forget how it would taste!
As of writing this article, the Facebook post garnered over 1,500 reactions, 682 comments, and over 2,400 shares.
After Danny Do's Facebook post went viral, all he wanted was for Binging with Babish to notice his work.
---
With additional report from: INQ POP
Photo Courtesy: Spongebob Squarepants – Nickelodeon, Danny Jay Do – Facebook,