A team of 12 medical experts departed from Fuzhou, east China's Fujian Province, for the Philippines Sunday morning to aid the archipelagic country to fight the COVID-19 outbreak. The team comprises medical experts from three hospitals and the center for disease control and prevention (CDC) of Fujian, as well as two liaison staff from the provincial foreign affairs office.
The experts specialize in various areas, including respiratory, intensive care, hospital infection control, nursing, integration of traditional Chinese and Western medicine, and microbiological testing.
China has been largely successful in slowing down the transmission of the deadly coronavirus disease 2019 (COVID-19) as reports of imported cases surged after Beijing relaxed travel restrictions and normalcy returning to Wuhan City. About 82,000 people in China were infected and the death toll was more than 3,100, the seventh largest in the world after Italy, Spain, United States, France, United Kingdom and Iran.
"The Chinese experts arrived with invaluable first-hand experiences to share on fighting and containing COVID," Foreign Affairs Secretary Teodoro Locsin said in a tweet, welcoming the doctors and nurses at the airport.
Their missions will include sharing China's experience in the testing, treatment, and prevention and control of COVID-19 with local hospitals and experts, and providing treatment advice. Last March 24, medical experts from eastern China's Zhejiang Province shared COVID-19 treatment experience with peers from the Philippines via an online meeting.
The team also carries urgently needed medical supplies donated by the provincial government, including 30 ventilators, 5,000 protective suits, 300,000 medical masks, 30,000 N95 respirators and 5,000 face shields.
Another 12 tonnes of anti-epidemic materials were sent with the team as well, which are donated by various associations and foundations of overseas Chinese as well as local governments of Fujian's Quanzhou, a city home to 9.5 million Chinese living overseas in more than 170 countries and regions, with 90 percent in Southeast Asia.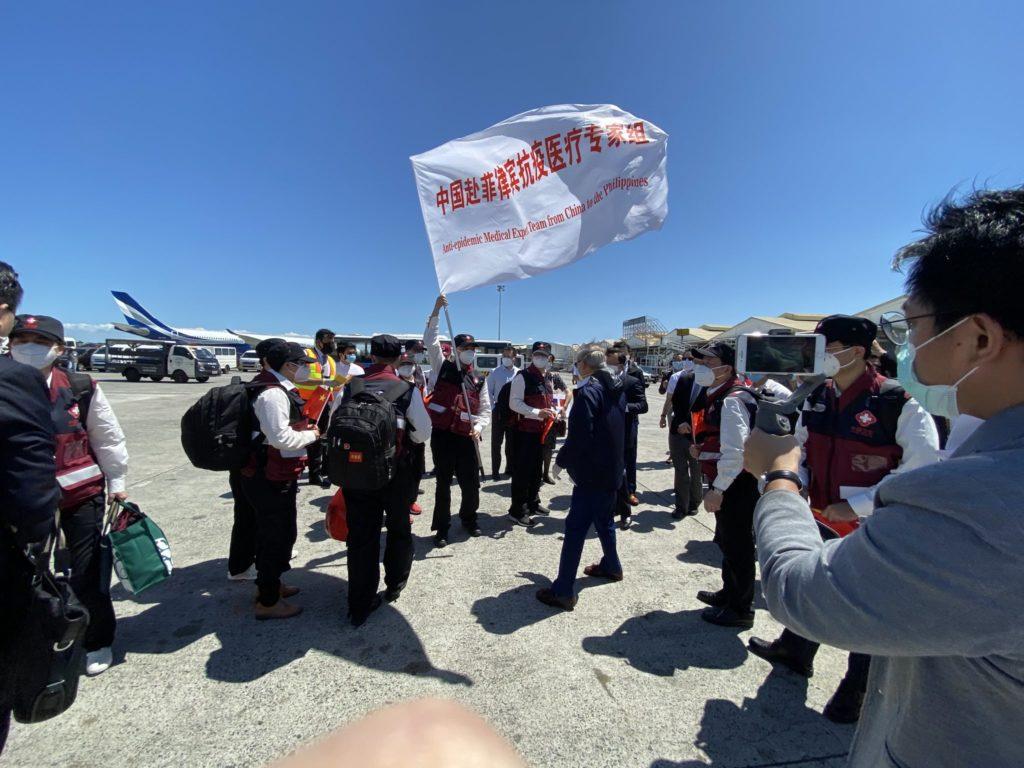 Zheng Huiwen, leader of the expert team, said the team is honored to bring friendship and warmth to the Filipinos on behalf of China and Fujian Province, as the COVID-19 outbreak is growing fast and posing a grave threat to public health in the Southeastern Asian country."We will work closely with our Philippine peers, and I am confident that we will come through this together," Zheng said.
Zhuo Huichang, a member of the first batch of healthcare workers sent to Wuhan, treated COVID-19 patients for more than 40 days in the former epicenter of the outbreak. Zhuo just completed his isolation period Saturday in Fuzhou after returning from Wuhan. Now he is heading for the Philippines after only several hours of a family reunion. "The epidemic is a common enemy of mankind. I will share my clinical experience with my Philippine colleagues and do my part in the global anti-epidemic battle," Zhuo said.
China has dispatched medical experts to multiple countries, including Italy, Serbia, Pakistan and Venezuela, and shared its experience with more than 100 countries and over 10 international and regional organizations, according to China's National Health Commission.
Jinjiang, a county-level city in Quanzhou, shipped 1.4 million face masks and 3,000 protective suits to its sister city of Davao in the Philippines via a charted plane on Thursday. Besides donating to hard-hit countries and regions, Quanzhou also set up several medical consulting groups on China's social messaging app WeChat and 24-hour hotlines for Chinese stranded abroad.
The long-awaited medical team is highly valued and welcomed among the overseas Chinese living in a tropical country, which is running short of anti-epidemic materials and health workers.
With additional reports: Xinhuanet.com, news.tv5.com.p, Juno Buena
Photo Courtesy: Teddy Locsin Jr. – Twitter,