Last February 29, 2020, Novo Nordisk Pharmaceuticals celebrated World Obesity Day in partnership with husband and wife coaches Jim and Toni Saret with a Health and Fitness Festival held at the BGC Ampitheater.
What started as a motivational invite from Coach Jim and Toni Saret has become a call to action to change one's lifestyle closer to fitness.
In his FaceBook post last February 22, 2020, Coach Jim Saret wrote:
"Attention all those that want to lose weight!
Do you or someone you know or love need to lose weight to be healthier?
Have you been wanting to get started but don't know how?
If yes, Coach Toni and I know that the struggle is real which is why we are inviting everyone to join us on Feb 29 at BGC High Street Amphitheatre for the World Obesity Day Fitness Festival!
Join Coach Toni and I as we do a 4k Walk-Jog around High Street and a 2 Hr Dance Fitness Festival at the Amphitheater!
There will also be Free BMI Screening, Weight Loss Talks from Top Doctors, Raffle Prizes and Giveaways from our Partners such as Under Armour, Novu Hair, Garmin, Arla, C-lium Fiber, Potencee, Robinsons Supermarket and more!
This event is completely FREE to everyone! Just register online and show up! There is absolutely NO MORE EXCUSE NOT TO MOVE WITH US!
As another incentive, everyone that joins us will automatically be eligible to join our Exclusive FitFil FB Community where Coach Toni and I will personally guide you on your Health and Fitness Journey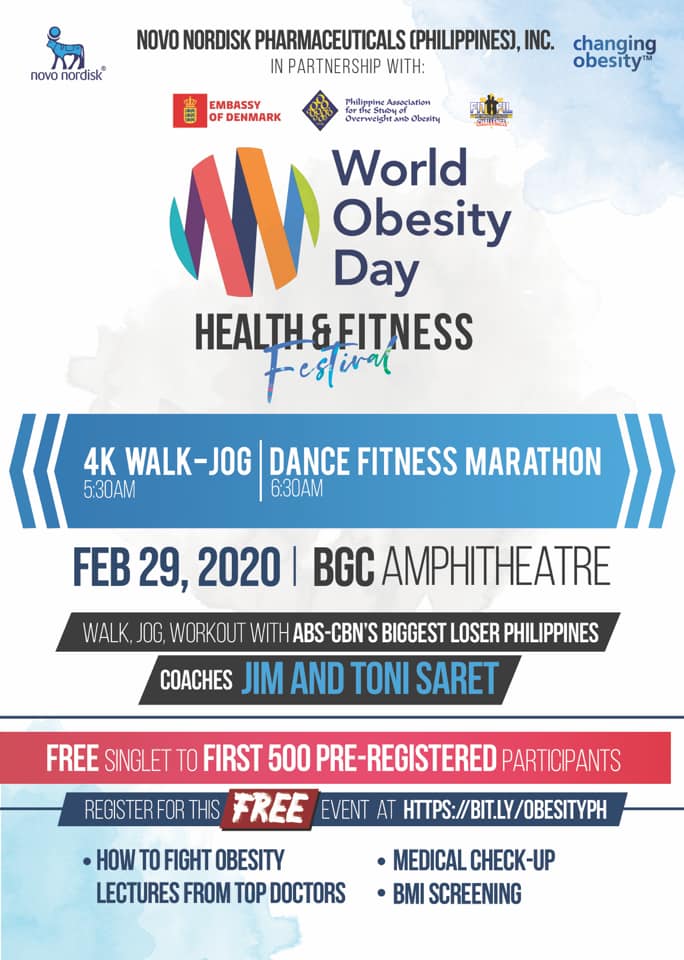 It was a sight to behold when this writer together with his loving wife Lhara participated in this endeavor of our former fitness coaches. I for one will forever be grateful to Coach Jim Saret for giving me the opportunity to be a motivational coach years before during a partnership with Nestle Wellness that pioneered the Saret's vision to have a fit and healthier Filipino. Having been part of that vision will always be special as I carried the fitness regimen and discipline up to now even though I am already in my 40s.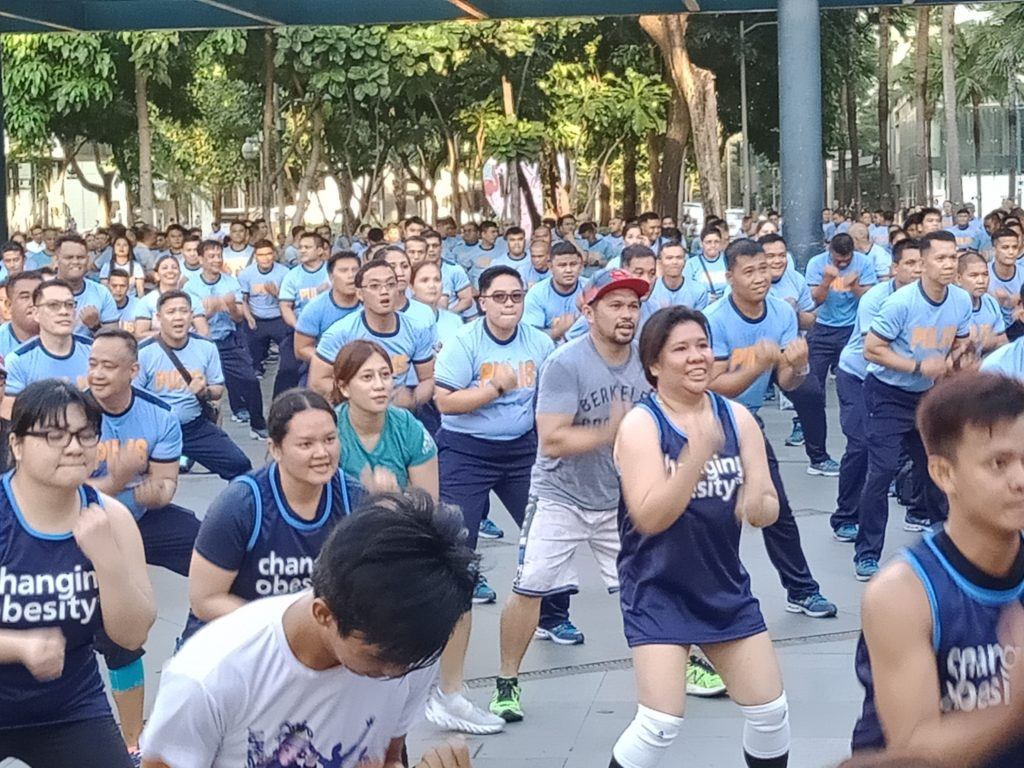 The ever fit and motivating Coaches, Jim and Toni has been the perfect team for this mission in making Filipinos Fit and Healthy.
The activity endeavors to help people with obesity who are constantly shamed and blamed for their disease because many people – including doctors, policymakers, and others – do not understand that obesity is a chronic disease. This activity came in an opportune time with health workers, police and our frontliners who are now called for duty during these times because of the COVID-19 pandemic, are now serving the country.
Having a healthy lifestyle has proven to be an advantage against COVID-19 since a strong immune system can help one's body be protected and even recover against this disease. A healthy transformation starts with the urge to change according to fitness experts. The Coaches also suggests overall holistic and natural approach to wellness.
Attendees were also treated to raffle prizes and giveaways plus a morning of lectures from top doctors as well as free BMI screening, medical check-up and complimentary hair & scalp analysis from event partners and sponsors.
Following these type of health activities is the upcoming Medicard Supremo Obstacle Challenge. The first of its kind was suppose to start last March, however, with the COVID-19 pandemic, organizers will be scheduling it on latter date where it will also be announced at the official social media pages of Medicard.
Photo Courtesy: Brandon Neil Sison, Dr. Pam Claveria