Following the order of Philippine National Police (PNP) Chief Archie Gamboa for his men to maintain their body mass index (BMI), the National Capital Region Police Office (NCRPO) took part in the FitFil World Obesity Day Health and Fitness Festival which aims to provide proper information about obesity and how to address it.
NCRPO director Major General Debold Sinas led the 1,200 NCRPO personnel during the said event held on Saturday, February 29 in Taguig City.
The said personnel were composed of 300 level two and three or those with moderate risk and high risk of obesity, respectively.
The event had mixed activities such as 4km walk-jog around the Bonifacio Global City, a 2-hour Fitness Dance, and weight loss talk from top doctors in which Sinas actively participated.
The activity endeavors to help people with obesity who are constantly shamed and blamed for their disease because many people – including doctors, policymakers, and others – do not understand that obesity is a chronic disease.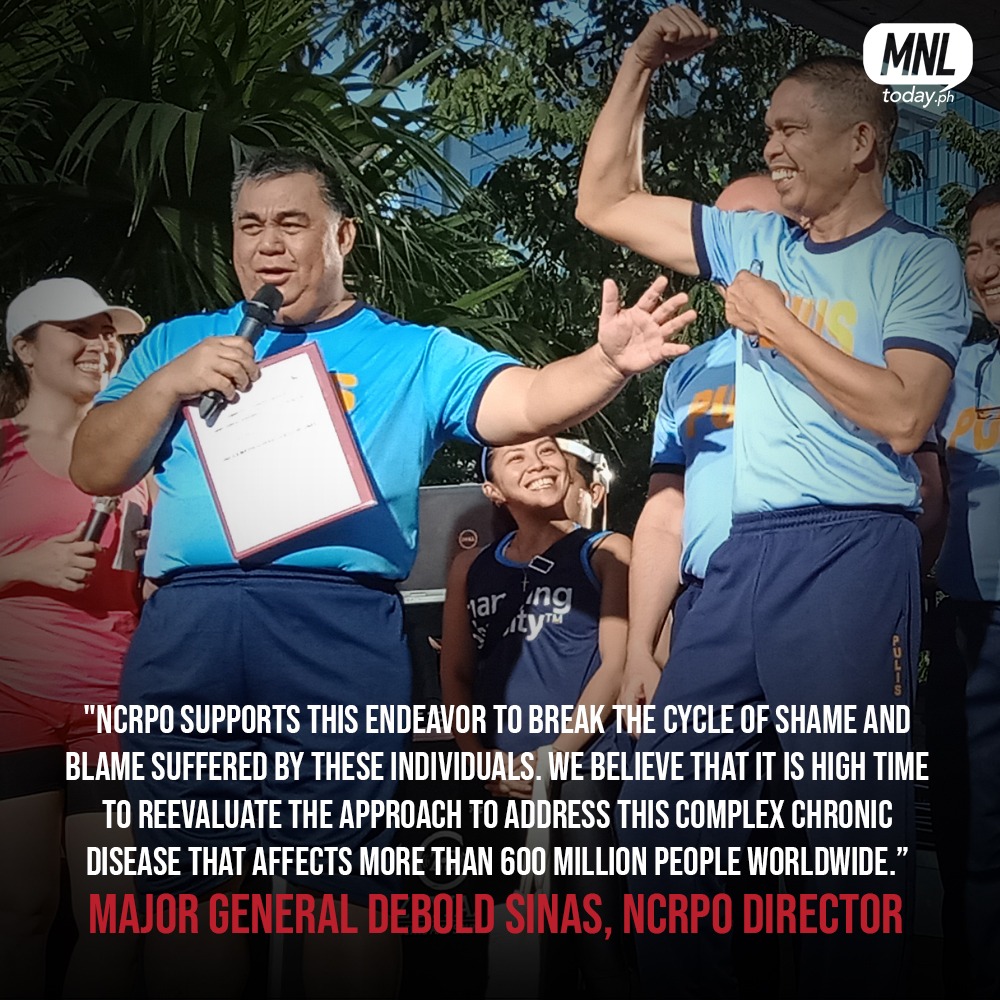 Sinas said obesity is often regarded to as a simple lack of willpower, laziness, or a refusal to "eat less and move more."
However, he said like all other chronic diseases, the root causes of obesity run much deeper such as genetic, psychological, sociocultural, economic and environmental.
Earlier, Gamboa encouraged his men to maintain good physical appearance including the maintenance of BMI which may also change the public perception of the public to the police. It has been a constant reminder for PNP personnel to stay fit as former PNP chief now Senator Ronald dela Rosa said that the bulging stomachs of policemen indicates the poor police trainings.
Thanks to Novo Nordisk Pharmaceuticals together with coaches Jim and Toni Saret, cops, together with other Filipinos who are changing their unhealthy lifestyle to become fit and active. And no other fitness and motivational coaches can fit the job of being at the helm of such mission and activity.
The maintenance of BMI among policemen was first implemented by former PNP chief, also now Senator Panfilo Lacson in which he requires cops to have 34 inches waistlines.
In line with this, the NCRPO has launched programs to help their personnel get physically fit which may also benefit in terms of performing their duties and responsibilities. Part of this activity is a possible police team or group that can join Medicard Supremo Obstacle Challenge that is suppose to start last March, but given the COVID-19 update, will be scheduled in a much later date. 
Photo Courtesy: Brandon Neil Sison