Honda Philippines, Inc. (HPI,) the No. 1 motorcycle manufacturer in the Philippines, holds the Riders Convention at the Tent at Mandani Bay, F.E. Zuellig Avenue, Mandaue City, Cebu, where motorcycle riders and enthusiasts gathered to enjoy a day of fun-filled activities and celebrate the camaraderie and support of Honda riders to HPI. This is the first convention for 2020 and the third time the activity will be held in Cebu.
It is one of the many activities HPI holds under the ONE DREAM campaign, which imparts the accomplishment of the Filipino's dreams through their products along with the fun and excitement of being a Honda Rider.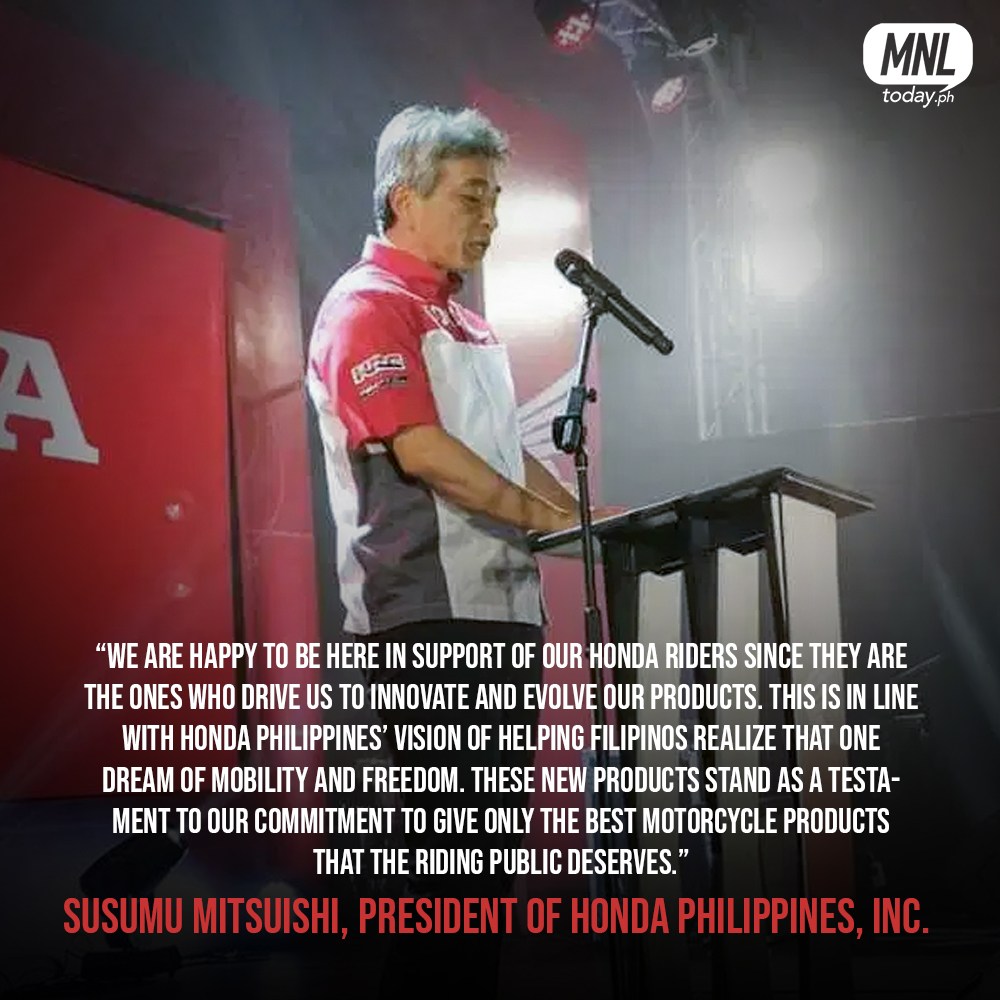 The main highlight of the event is the launching of the All-New Honda Air Blade150, designed with "The Cutting Edge," aimed to bring a new level of riding experience for young riders, looking for an AT Bike with a standout look, power and cutting-edge comfort in shared riding.
PHOTOS OF HONDA AIR BLADE 150 here
As "The Cutting Edge" built to be enjoyed by both driver and passenger, the All-New Honda Air Blade150 serves as an all-new motorcycle that is "Cutting-Edge" in features, bringing together advanced specs at a very reasonable price point. It boasts of its lightweight precision and a superb engine that delivers maximum power performance and fuel efficiency and a 4.4 Li-fuel tank capacity and can go up to 47km/Li-fuel consumption.
What's more, the All-New Honda Air Blade150 is fitted with a powerful 150cc SOHC liquid-cooled engine for superior function in stop-and-go situations and prime acceleration without lag for hassle-free long rides. It is also equipped with other cutting-edge features, such as Smart Key, Power Socket for recharging devices and smartphones, and a front-wheel Anti-lock Braking System (ABS), which helps determine and prevent wheels from locking up.
This AT Bike also offers a 22.7L U-Box that can accommodate full and half-face helmets and still have enough room for the rider's personal belongings.
The All-New Honda Air Blade150 is available in three unique colors: Candy Caribbean Blue Sea, Matte Galaxy Black Metallic, and Candy Rosy Red. It will be available at all Honda's dealerships this March 2020. Customers may now visit the nearest Honda dealer for reservations.
The All-New Honda Air Blade150 is the latest motorcycle to join a growing list of the latest products of Honda such as the Honda Genio, the Honda ADV150, and the Honda Supra GTR150. All these new models feature the same exciting new designs and innovative features that align with the lifestyle of today's Filipinos.
For more details about Honda products and promos, follow us at our Facebook page at Honda Philippines, Inc. and Instagram page @hondaph_mc.
With additional reports: motor tech.ph, topgear.com.ph
Photo Sources: motortech.ph, Honda Philippines, Inc., motopinas.com