During special occasions like birthdays and Christmas, my wife Lhara knows that the closest to my heart is through my feet. In this case, she makes it a point that she surprises me with the latest basketball shoes. And she never goes wrong with this. You see, in my almost 10 years of marriage with her, she had gifted me with various basketball shoes from Lebron, Kobe, and Jordan. Last Christmas was not an exception. And still, her effort of making me a "kid" again will always and will be "timelessly"effective.
As a 40-year old frustrated basketball player, I have always been loyal to AJs that the GOAT has used during his career. But when I got the latest Air Jordan 33 from Lhara, I knew that this will be very special. This will be my very first AJs that is updated and as the sneaker specialists say, "Sir, pwedeng pwede pang laro yan. Hindi katulad ng ibang AJ. Pang prom na lang".

Ever since I got hold of the AJ 33, I have been looking forward to testing this and put it into action. I chose the times that I will use this since I really wanted to feature it here in MNLToday.ph. Again, not from a sneakerhead expert, but from someone who loves the game of basketball and understands the functionality of basketball shoes to my age vis-a-vis to the kind of game I play.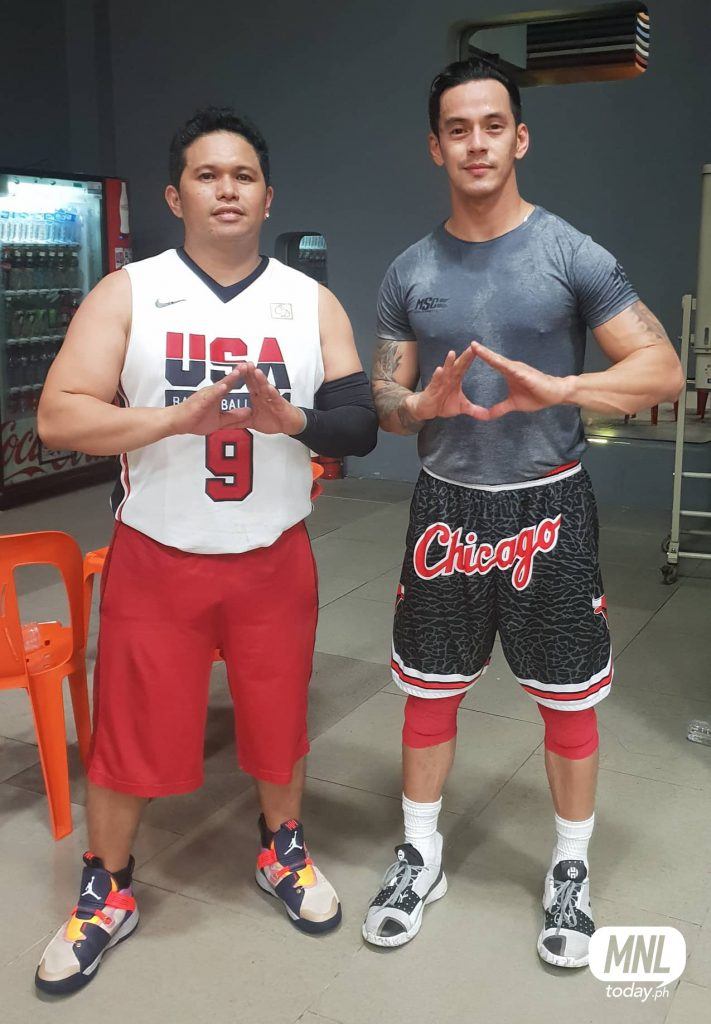 The Air Jordan 33 showcases the best of two eras that represent completely different things pivotal to the sneaker industry. It resembles the Air Jordan 3 but with a definitely updated design that got rid of laces, which I can say is a first for any AJ design.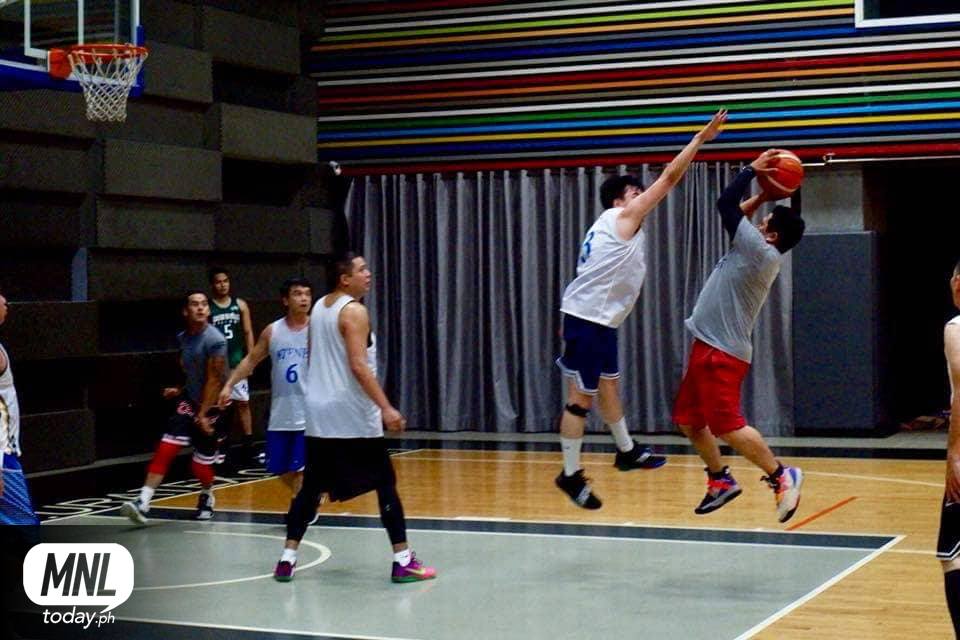 Michael Jordan's Jumpman brand has taken that a step further with a brand new Air Jordan 33. Tate Kuerbis, Senior Footwear Designer at Jordan and the lead designer on the Air Jordan XXXIII, is holding the Brand's all-new Fast Fit technology. It's the mechanism that's allowed them to make a performance basketball sneaker without any laces for the first time in Jordan Brand history.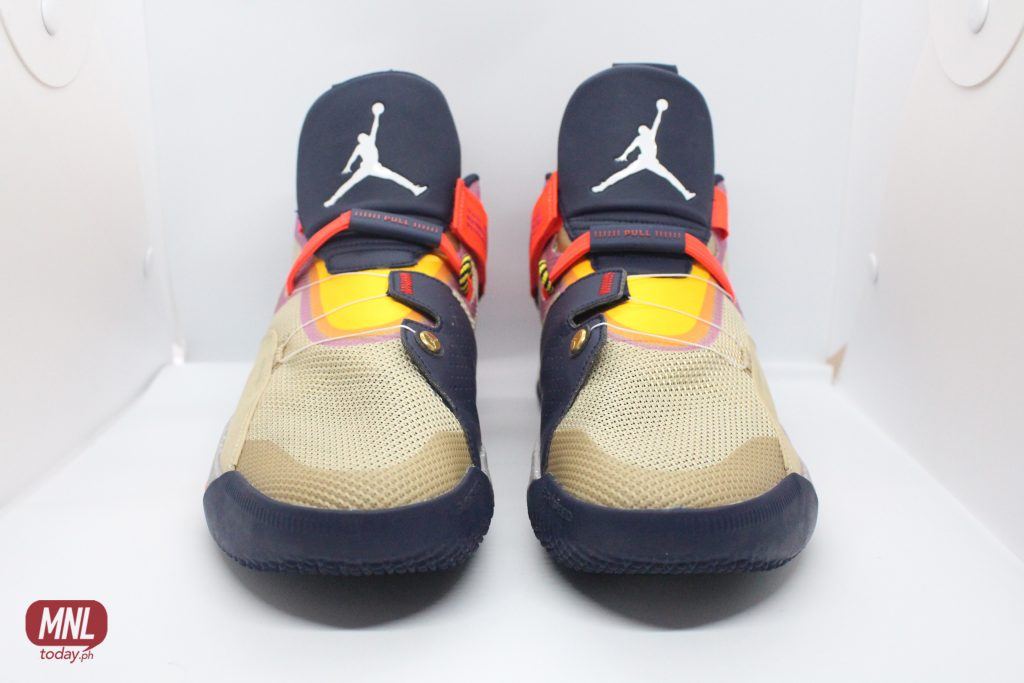 As posted in slam online.com, part of the interview from Kuebris showcased his confidence to present his latest design to none other than MJ himself. "Yeah, I was a little nervous," Kuerbis says about presenting a whole new concept to MJ. "But you know Michael is always trying to push the Brand, trying to push innovation and take Jordan to a new place. So I was a little worried, but at the same time, I knew if we told him the benefits of Fast Fit. Fortunately, he was on board." Fast Fit was a project that was nearly three years in the making.
"There was an innovator who challenged himself to get rid of laces," Kuerbis says. "So he had been working on this, getting it perfected enough that we could put it in an actual game shoe."
Fast Fit can be seen on the XXXIII's outsole. It's a system made out of Ultra High Molecular Weight Polyethylene and it gets activated by a pull tab on the XXXIII's tongue. Besides now being part of the Jordan XXXIII, the cables used in Fast Fit are mostly seen in parachutes.
AIR Q's AIR Jordan XXXIII and verdict.
My AJ XXX333 is called "Visible Utility". A monicker that boasts a whimsically bold color palette. Done up in a combination of Particle Beige, University Red, Infrared, orange, white and mote this take on the 33 is arguably the most striking in the early life of the newest performance-geared model.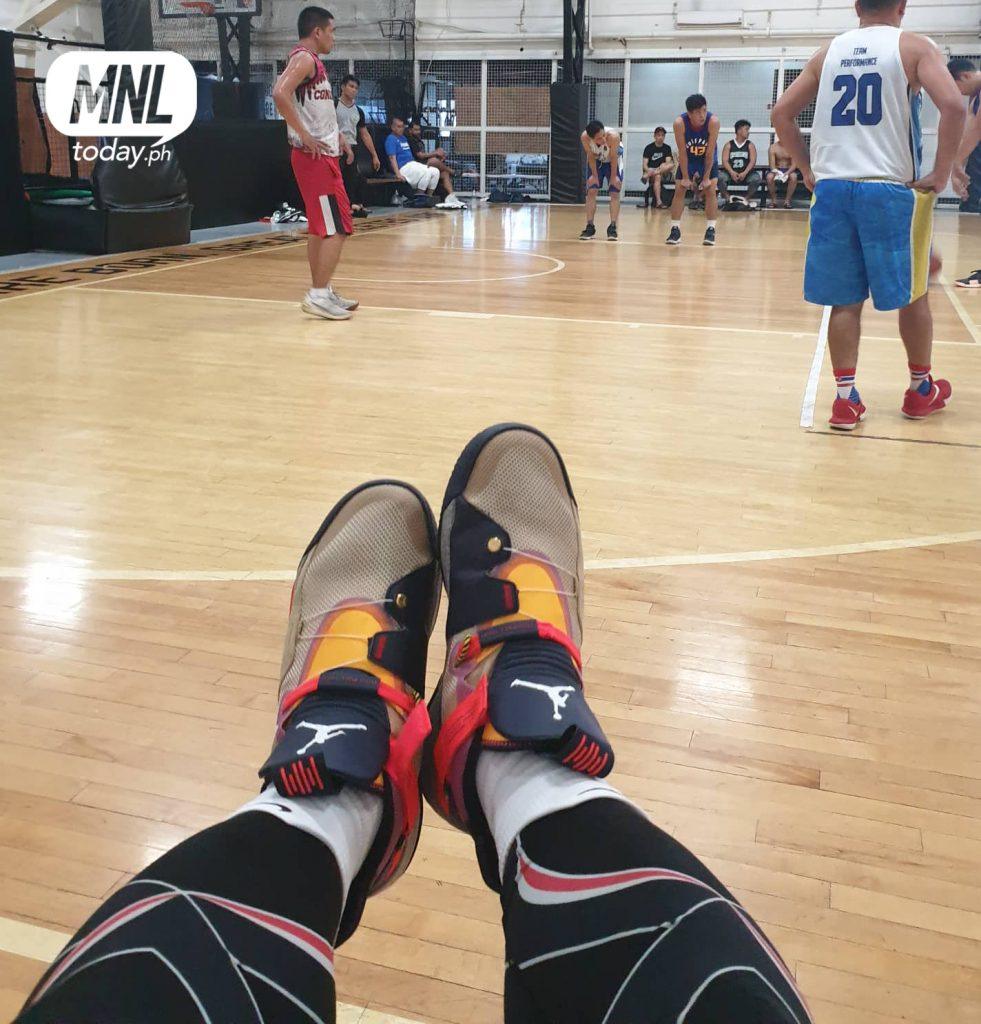 Pros: traction, cushioning, support and stability.Though as someone who is used to using basketball shoes with laces, at first I was pretty clueless on how to tighten the shoes during games.
Cons: traction needs wiping on dusty floors, price, still a shoe alike feel, a little bit heavier as compared to other basketball shoes in the market.
Best for: any position, especially with the support feature of the shoes.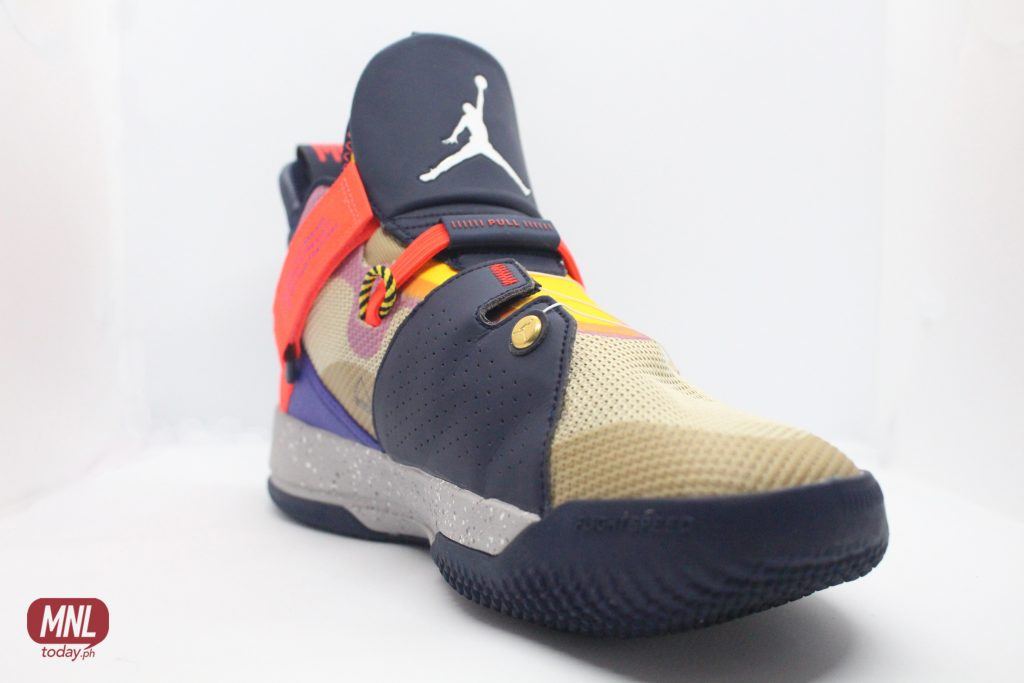 The AJ 33 is cut a little higher than a low but not by much. There is a full range of motion so the support comes from the fit and heel counter. Midfoot support is very good thanks to the hidden speed plate. Stability is very good but based on my personal experience, your feet will initially feel uncomfortable due to the tightness and pressure. But once you get to use it, you will get the hang of it and technically these shoes can aid you in your dreams of "soaring" and "flying" every time you use it.
I may be a loyal Jordan fan but in conclusion, I can honestly say that AJ XXX333's rate is 7.5 out of 10.
With additional reports from: slamonline.com, sneaker news.com, wearetesters.com
Photos by: Dale Valenzuela
Video by: Carlo Villanueva