Burger King latest brand ambassadors, Sam YG and Joyce Pring, go head-to-head in the Burger King 4-Cheesiest Messiest Face-Off.
Sam Gogna or better known as Sam YG, is part of the popular trio behind the Boys' Night Out radio program faces Joyce Pring, another popular DJ, host, actress and artist in what promises to be the cheesiest fast food challenge . The winner will be named Burger King's Cheesiest, Messiest endorser.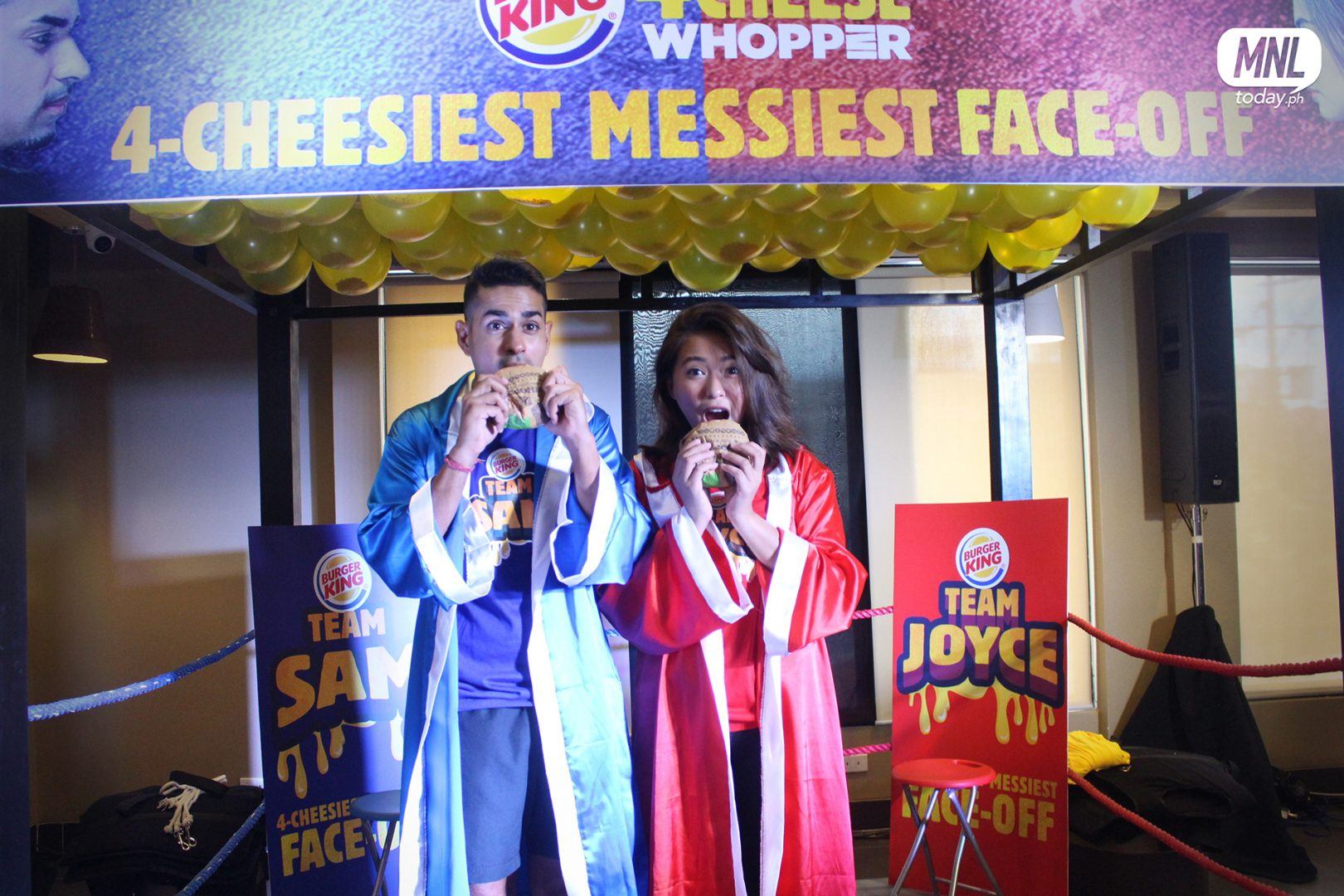 The face-off consisted of four rounds, all revolving around Burger King's 4-Cheese Whopper: a 100% beef patty, grilled to perfection, then topped with a messy-delicious combination of Swiss, American, and Mozzarella cheese, and drizzled with a generous amount of cheese sauce. Not for the prim and faint-of- heart, this 100% beefy, 400% cheesy burger proved to be a demanding trial for both contestants, a fitting test of sticky tension between the two.
"The 4-Cheesiest Messiest Face-Off was the most epic challenge we've placed on our endorsers so far. We ourselves want to know what is going on between these two, so we asked them if they were up for the challenge. Surprisingly, they were both up to it, and accepted the offer" said Jo Anne Tan, Marketing Manager. "This event is actually revolving around the Burger King 4-Cheese Whopper, the only QSR (Quick Service Restaurant) burger that has four types of cheese that includes Swiss, Mozarella, American and Cheddar" Tan added.
The company chose DJs Sam YG and Joyce Pring because the two are now believed to be an item, and is considered having a "cheesy" tension and made use of that chemistry.
After four "cheesy" challenge, namely "Stretch O' War", Sticky Mess, Drip Trip and Hole Hunt and the tiebreaker 4 Cheese Whopper Eating Contest, Joyce Pring was declared the winner beating Sam YG 3 out of the 5 challenges. Her victory cemented her rightful claim as being the latest ambassador of Burger King.
To taste the newest 4-Cheese Whopper, visit any Burger King outlet near you.