Renowned Executive Chef Shigeki Iimura recently visited Buddha-Bar-Manila, a world-class resto-bar-lounge that offers fine dining and entertainment experience, to thrill customers with his culinary prowess through a live kitchen demonstration where he prepared a choice of exquisite Japanese dishes.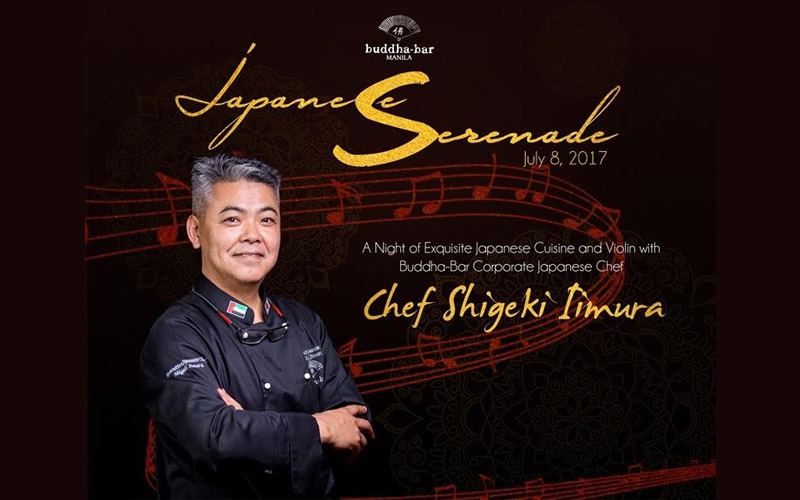 The said event, dubbed a "Japanese Serenade," features a night of gastronomical delight and music as Chef Shigeki prepared his signature Japanese dishes in front a live crowd while a violinist plays an ensemble of Japanese music.
Chef Sgeki's Japanese "Serenade Menu" is an ensemble of delicious dishes.
Appetizers
Ahi Tuna Poke
Buddha-bar Style Salmon Sashimi with Truffle Sweet and Sour Teri Dare Sauce
Prawn & Salmon Ceviche with Green Chili Sauce

Sushi Rolls
Crunchy and Spicy Tuna Roll
Grilled Prawn Volcano Roll
Contemporary Philadelphia Roll
Mains
Grilled Salmon with Ginger-Lemongrass Teriyaki served with Yaki Onigiri
Godzilla Fish with Deep Fried Noodles and Vegetables
Robata Grilled Black Miso Chicken
Braised Pork  Ribs "Buta Kakuni" and White Radish Pot au Feu
Dessert
Matcha Green Tea Fruit Tart
Sweet Sushi Roll
Fruit Ceviche
"We do kitchen demos every year featuring the one-of-a-kind dishes by Buddha-Bar's corporate chefs. We are glad to have had Chef Shigeki this year. I know that our customers loved his dishes, more so his passion for cooking exquisite and authentic Japanese food," said Bernadette Castillo, sales and marketing head of Buddha-Bar Manila.
Chef Shigeki is known for his inventive dishes, inspired by the Ikebana, the Japanese art of flower arranging. At the age of five, he mastered this art, which he then integrated into his dishes. For almost 35 years, he was able to learn the different styles of Authentic Japanese cuisine from Kyoto-style to Kaga and Robata-style. With this, he achieved a reputation in the culinary world in Japan as he established a career in a top restaurant in Tokyo.
After traveling and working in different parts of the world, Chef Shigeki developed a passion for Western cuisine and its flavors. Beyond the passion for Continental and Japanese cuisine, he is admired most because he is an artist whose talent gives people emotions displayed from the fusion of his different cooking styles.
Shigeki spends most of his time developing exciting, unconventional, and contemporary culinary masterpieces making him a trendsetter in the field of Japanese food.
Castillo said further, "We also want to thank all our customers for sharing this experience with us. Expect that Buddha-Bar will continue to bring these kinds of events, especially to bring a different type of dining and entertainment experience."
To know more about the event, as well as for inquiries and reservations, please call 8566719, 8566859, or 09989833918. You may also visit Buddha-Bar Manila, located at Picar Place, Kalayaan Ave. Makati City.