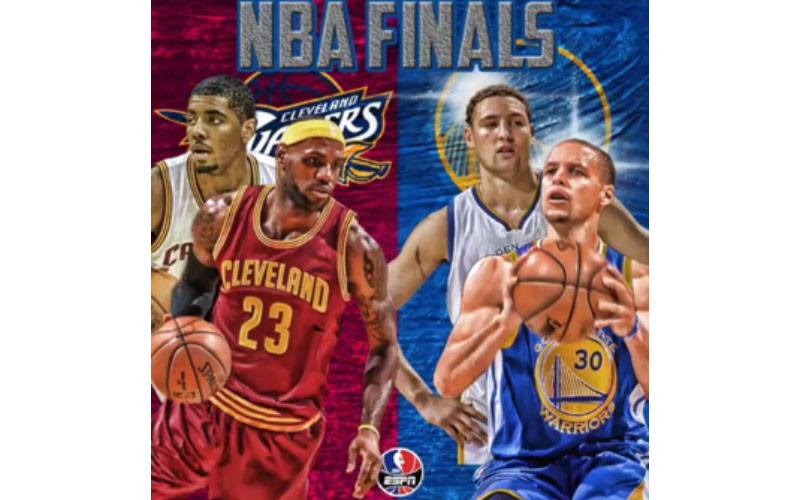 A personal take from a basketball player wannabe, in the recently concluded NBA Finals between the Golden State Warriors and the Cleveland Cavaliers
I wanted to write an article even before the start of this year's NBA finals but I had to delay it and wait until the result of the best-of-seven series. Well, the reason is because instead of trying to be an analyst, I just want to establish my personal views between the eventual champion Golden State Warriors.
I'm not a Quinito Henson. I'm not a Joey Villar, Cedelf Tupaz or a Francis Ochoa. Heck, I am not even Josef "Sporthunk" Ramos. But I really love basketball and my wife Lhara can attest to that. I have a passion of playing the game and I just love watching the competitiveness of the sport especially in the level of an NBA finals. And these measly credentials gave me the confidence to write this piece.
Well, ok…my "plan" to write started way back May 27, during one of our family gatherings. It was my Tita Inday's 60th birthday and relatives and friends from my mother side were there. After dinner, I went and sat down to the usual corner where the men of the family were drinking and bantering. As usual, my dad was there and he asked me that my cousin Shaq, who works in the Senate is arranging a bet of P 20,000.00. "Ok ka, P 20,000.00 ang pusta, Cavs versus Warriors. Sa Warriors tayo. Tayo nina Shaq and Tito Victor mo ang magbabakas. P 5,000.00 each tayo" said Dad.  I'm not much of a gambler. Though I play cards and do some occasional betting like PBA's endings or during Manny Pacquiao's fights where together with my friends, we will bet for P 100.00 and guess what round Manny will KO his opponent, it has been some time since I last bet on an NBA finals match. I was thinking twice when my Dad asked me if I wanted to bet. Why, because I am thinking of The King, Lebron James. The greatest basketball player that we have today and that this year's finals is his seventh consecutive finals appearance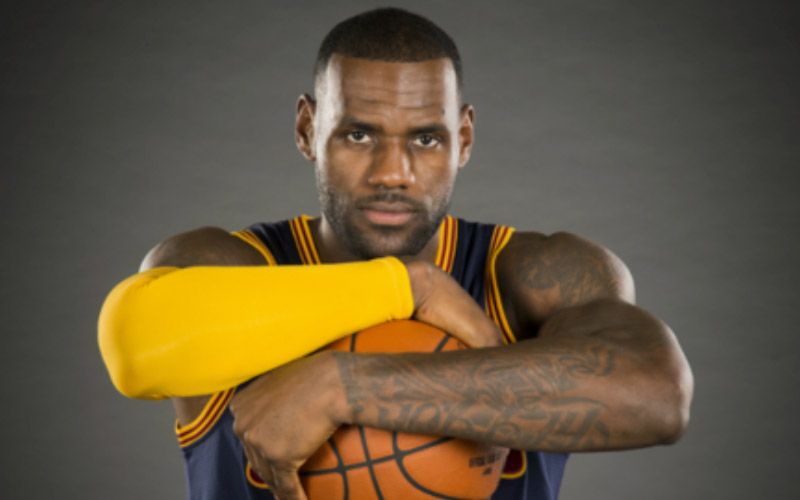 STILL THE KING. At 32 years old, Lebron James of the Cleveland Cavaliers is still the best basketball player today.
Still stunned, I try to gather myself and simulate the match-ups of the Warriors and the Cavs. P 5,000.00 is not a small amount. If you have a family and is in charge to your household bills like electricity, budget for grocery and your child's tuition fees, this is definitely an expensive bet. "Ano, ok ka? Warriors tayo. Yung mga officemate ni Shaquille Cavs daw sila. Tig-P 5,000.00 tayo para P 20,000.00. Good ka?" prodded Dad. And then lo and behold, the entrepreneur in me thought of "KD". That was all that I need in order for me to decide that I am in with the bet.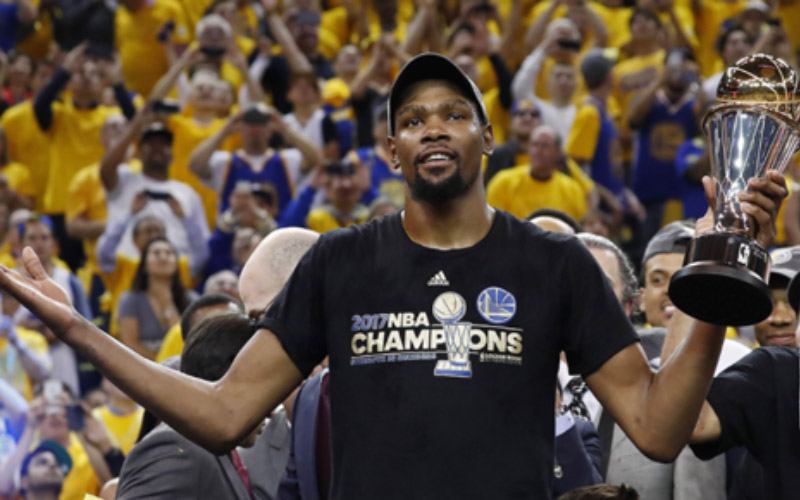 LOVE HIM OR HATE HIM. Kevin Durant wins his first ever NBA championship and Finals MVP.
Warriors versus Cavs for the 2017 NBA finals. Their third consecutive finals battle will be of epic proportion. But in Philippine basketball lingo, there is a saying "bilog ang bola", which means even with superstar caliber players in the line-up, the results of a game will have 50-50 chance for both teams.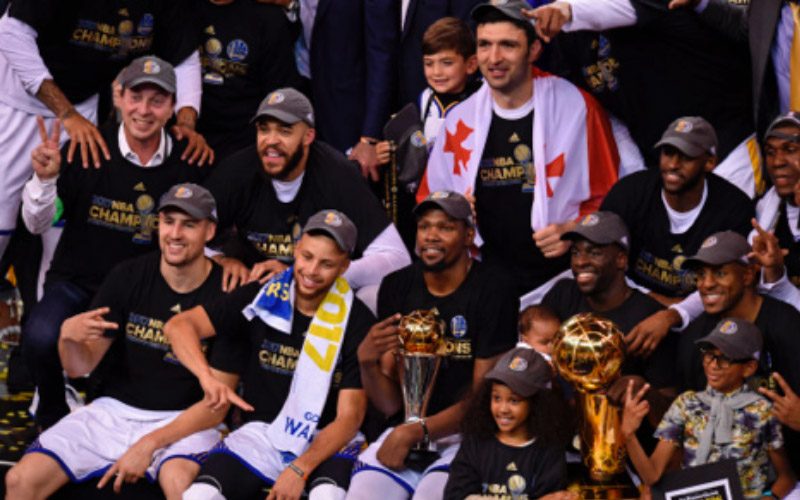 CHAMPS AGAIN. The Golden State Warriors bagged their second NBA championship in three years.
When 2014 NBA season MVP Kevin Durant joined the 2015 NBA champions Golden State Warriors, Lebron James knew that in order for his beloved Cavs to defend the land, they also needed to bolster their line-up.
Durant's addition to the GSW made them the super team of this season.  He is the big difference. Even with Harrison Barnes and Andrew Bogut gone, the core of the 2015 champions still in tact. They include back-to-back season MVP Steph Curry, defense specialist Draymond Green, sharp-shooter Klay Thompson and 2015 finals MVP Andre Igoudala, the Warriors is really the team to beat this season. Add to that, they also added dependable veterans David West, Matt Barnes and Javale McGee.
No wonder, last January of this year, LeBron James projected a big problem with their potential title defense.
James acknowledged that they needed a playmaker after loosing in New Orleans against a bad Pelicans en route to a 124-122 loss in a game where Kyrie Irving scored 49 points in 42 minutes and LeBron James finishing with a triple-double in 44 minutes. The management understood this and wasted no time in adding veteran playmaker and all-star point-guard Deron Williams. In fact, the Cavaliers also added center Andrew Bogut, who is also part of the 2015 Warriors championship roster early March, but unfortunately was injured with a fractured left tibia in the first minute of his debut game.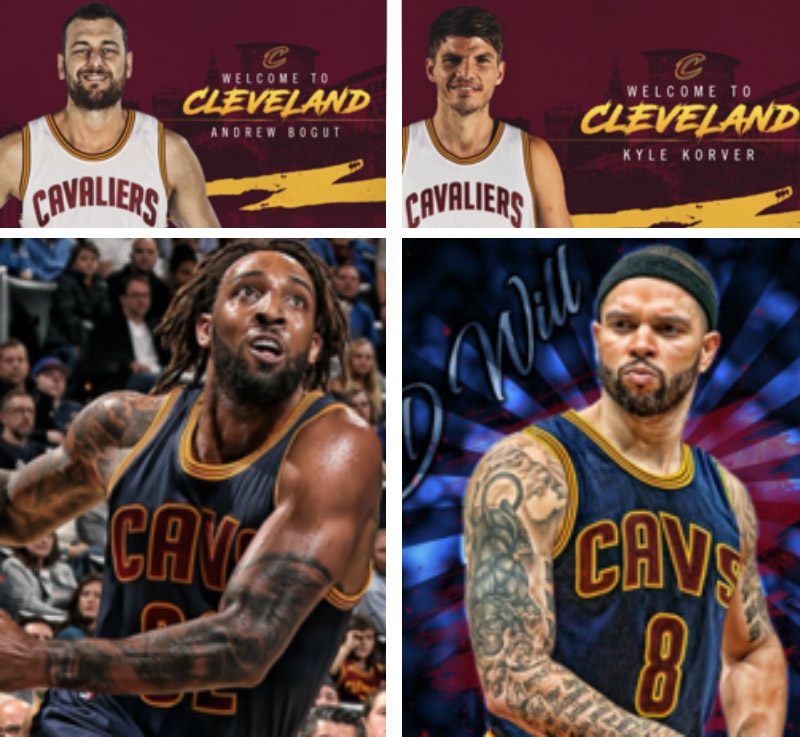 NEW ADDITIONS. In order to "Defend the Land", the Cavs added Bogut, Korver, Derrick and Derown Williams.
And like the GSW, the core of Cavs was maintained in order to strengthen their chances in winning back-to-back championships. Cavs' premiere point guard Kyrie Irving, stretch 4 Kevin Love, the ever dependable vets Richard Jefferson, Channing Frye, James and Dahntay Jones.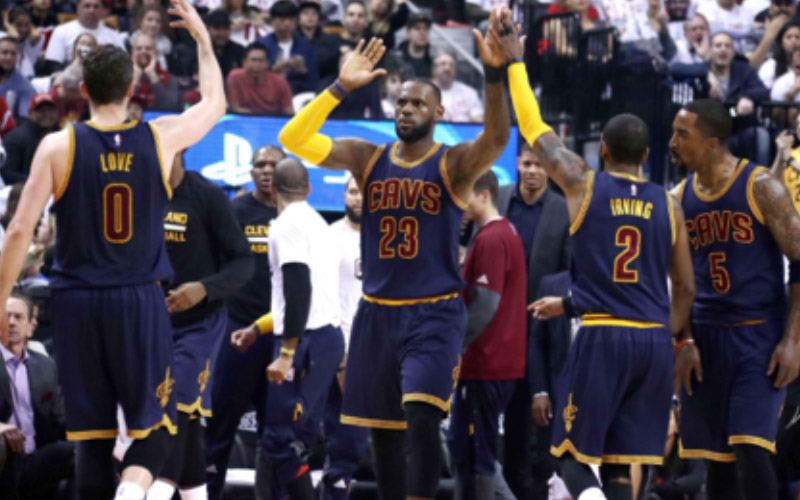 LIKE THE MOVIE 300. Like Leonidas, Lebron James lead his men and tried to beat the all-mighty Warriors.
Games 1 & 2 of the finals showed the obvious and the "Durantula" proved and established that he is indeed the big difference. The Warriors routed the Cavs with 113-91 and 132-113 respectively. And just how good is Durant? Well, take it from another Finals MVP: those five games Kevin Durant were among the greatest in Finals history.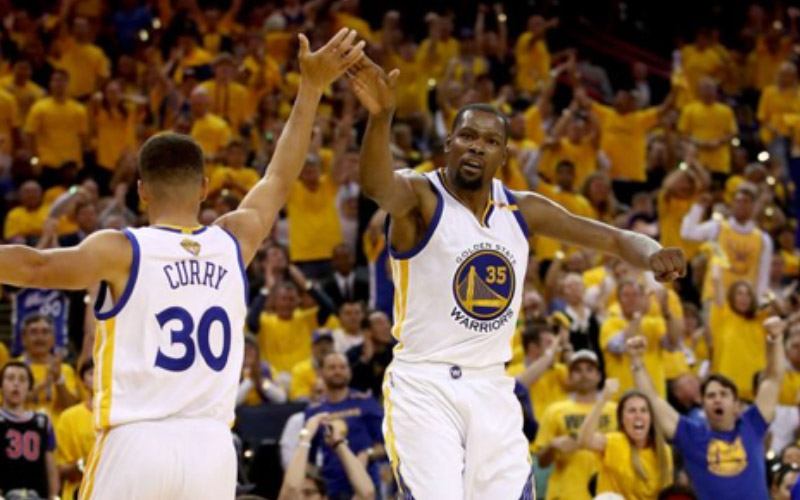 START OF A DYNASTY? With the core of Durant and Curry still headlining the Warriors for the coming season, expect Golden State to be the alpha team in the NBA.
Warriors legend Rick Barry called KD's Finals MVP performance this year "one of the best ever" during an interview Tuesday with KNBR 1050's The Audible.
The Hall of Famer and 1975 NBA Finals MVP appreciated that Durant could silence his critics in the Finals.
And we are just talking about KD. What about Curry? What about Thompson? Then there's Green, Livingston, Igoudala, Pachulia, West, Barnes…
The Cavaliers needed exemplary performance from Lebron. And he did deliver. With a triple-double average of 33.6 points, 12.0 rebounds and 10.0 assists,  "The Chosen One" cemented his legacy of becoming the first player in history to average such in an NBA Finals.
I also have my own opinion on how the likes of Kyle Corver and Channing Frye plus JR Smith can somehow affect and change the game. Their 3-point shooting will spread the floor and may cause mismatches when the Warriors try to close out on their defense.
To me, game 3 was the turning point. Even with superhuman like performances from Kyrie Irving (38 points) and Lebron James (39 points, 11 rebounds and 9 assist), the Warriors bested them with a 118-113 that also showed Durant's calmness under pressure, and for Igoudala to redeem himself from the chase down Lebron James block, as he strips the ball from James in the final seconds of that game.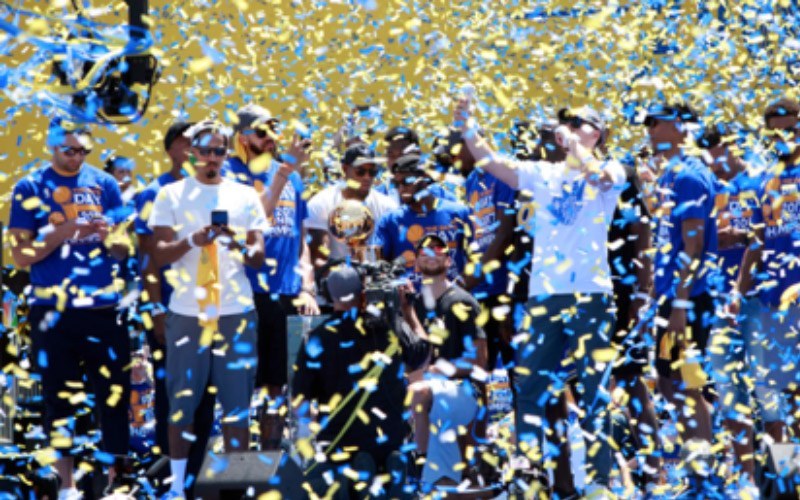 WE ARE THE CHAMPIONS. The Golden State Warriors continue to celebrate their latest NBA title with a championship parade through downtown Oakland.
Game 3 was "Game Ball". There will be no storybook ending for Cavaliers this year. Not a chance. The entrepreneur in me made me decide to take a calculated risk that game me the courage to bet P 5,000.00 and won.
With reports from SBNation, NBA.com, The Mercury News, Bleacher Report, CAVSNation.