The first leg of RUNRIO Trilogy 2017 will be happening on June 25 at the Okada Manila grounds in Paranaque City. The series is expected to attract an average of 12,000 running enthusiasts from all over the country.
The first of the three legs features a half-marathon run including 10Km and 5Km race. This will be followed by the second leg on August 13, where it will showcase Rio's very own Afroman distance which is a 32Km run, with shorter distances – 21Km, 10Km and 5Km.The 32Km is considered by runners as the ideal race for first-timers who aim to finish their very first full marathon. The third and final leg will cap the series on October 1 with a full marathon of 42Km that also includes 21Km, 10Km, and 5Km race distances.
RUNRIO EVENTS, INC.  IS ALL IN. The first leg of RUNRIO Trilogy 2017 is happening on June 25 at the Okada Manila grounds.
Running coach Rio dela Cruz of RUNRIO Events, Inc. reiterated that the main purpose of RUNRIO Trilogy is to provide newbie runners and even running enthusiasts a safe platform as the race promotes progressive running. "When we started the Trilogy last 2010, the main idea is to give time and chance for all runners to train properly as they prepare for their runs. There are people who started with their first fun runs joining the 3Km and then after this, they will register for their first 21Km. They have to realize that running is a serious sport and they need ample trainings for them to build on their stamina and avoid injuries" said dela Cruz.
Progression runs were once called the Kenyan secret. They're great for building stamina, mental strength, and teaching the body to run increasingly faster at the end of a race. And this is what Coach Rio had in mind with the Trilogy race.
"The Trilogy race aims to provide a progressive running program for those who want to finish a full marathon. As a race organizer our major goal is to produce world-class running events here in the Philippines and for his events organizing company to be the standard in premiere organized run races in the country. But more than that, we want to encourage all runners to finish their runs with us in the most memorable way and more importantly, injury-free.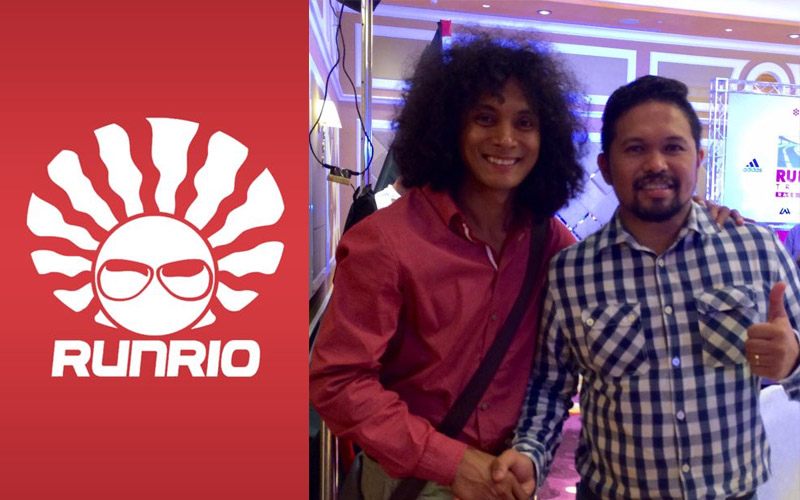 THE RACE IS ON. Coach Rio dela Cruz and the author during the media launch of RUNRIO Trilogy 2017.
RUNRIO Trilogy is made possible by Adidas, Gatorade & Okada Manila. Adidas is the official RUNRIO Trilogy apparel. The most awaited race series of the year is also supported by Active Health, Summit Water and Garmin Philippines.
For more information, visit www.runrio.com or like the official Facebook page, https://www.facebook.com/runrioeventsinc/.