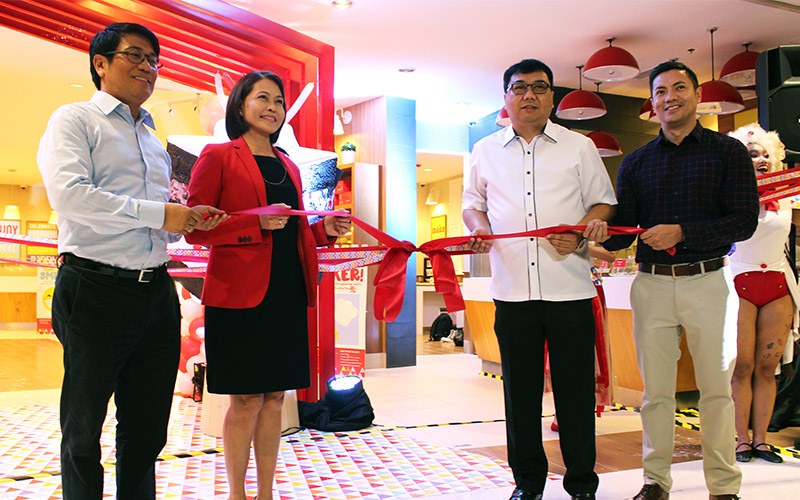 Red Ribbon's first flagship store. Management and officers of Red Ribbon during the ceremonial opening of its first flagship store.
After a day's work or every payday, we make it a point to bring something for our loved ones. Either a toy for your kids, clothes for your parents, flowers for your loved ones, or food that the family can share.
They say that you can never go wrong if you will buy cake and pastries. But with the usual being special and extraordinary, Red Ribbon offers something new and exciting with their first flagship store.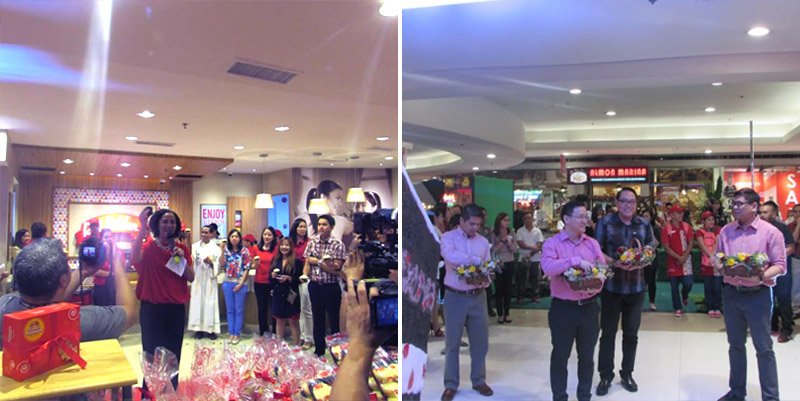 Red Ribbon, one of the leading and fastest growing bakeshop chains in the Philippines, marks another milestone when it launched its first flagship store located at the Ground Floor SM Megamall Building A in Pasig City. Red Ribbon's new flagship store highlights design features that all combine to make both everyday and special moments even more memorable.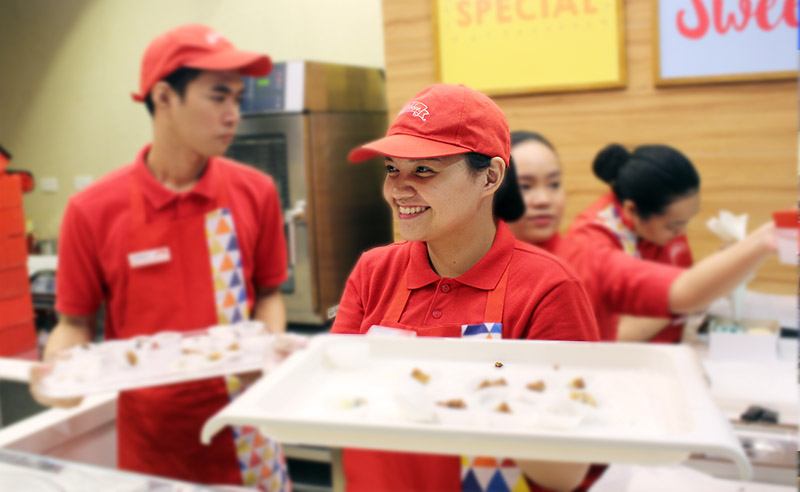 We are all smiles. Warm and friendly smiles of Red Ribbon staff and crew will be more than willing to serve its loyal customers.
"We designed the flagship store with the intention of giving our loyal customers a more enjoyable experience. This new store sets us apart and showcases the best of Red Ribbon in products, services, and experience", said Ned Bandojo, Head of Marketing of Red Ribbon.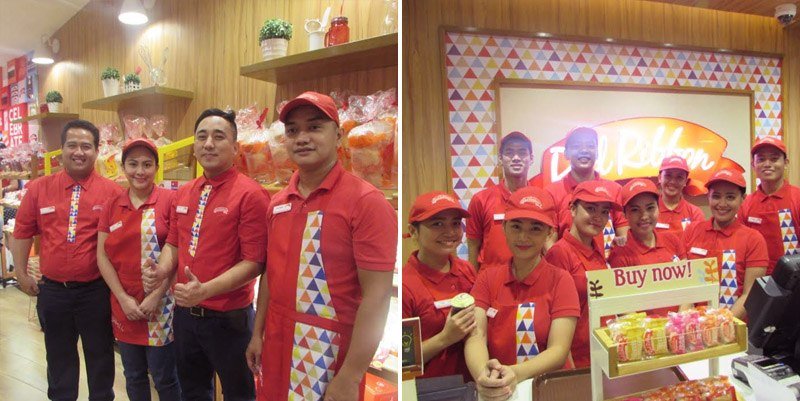 True enough, one who got used to the old store of Red Ribbon in Megamall will be in for a treat even before they enter the flagship store. From afar, the vibrancy of the storefront makes it even more inviting. The combination of its red archways and sleek interior welcomes the customers to enter the space for a unique experience. But what makes it more enticing is the four new design features not found in any of its branches.
Red Ribbon Flagship Store Features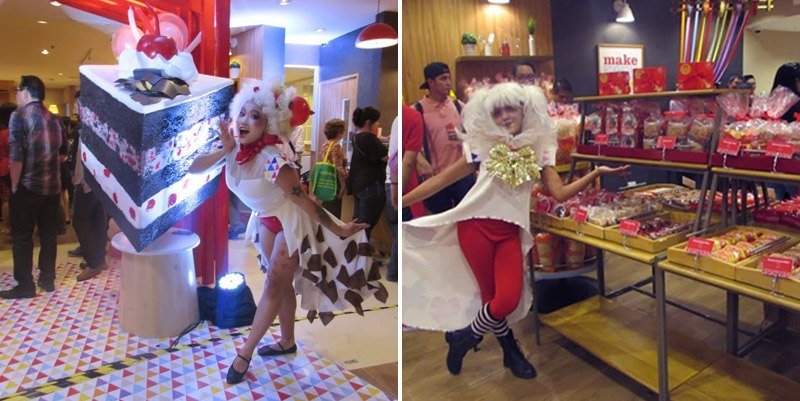 Hmm…Yummy! A giant slice of Red Ribbon's Black Forest cake will welcome the customers in the flagships store at SM Megamall.
A mere description will not be complete if you will be able to experience what Red Ribbon Flagship store is all about. The first unique feature showcases one of the bakeshop chain's all-time favorite products – the Black Forest Cake. This oversized slice hits patrons with an immediate visual experience of its delicious combination of chocolate, cream, and cherry that is sure to create a craving for this best-selling treat.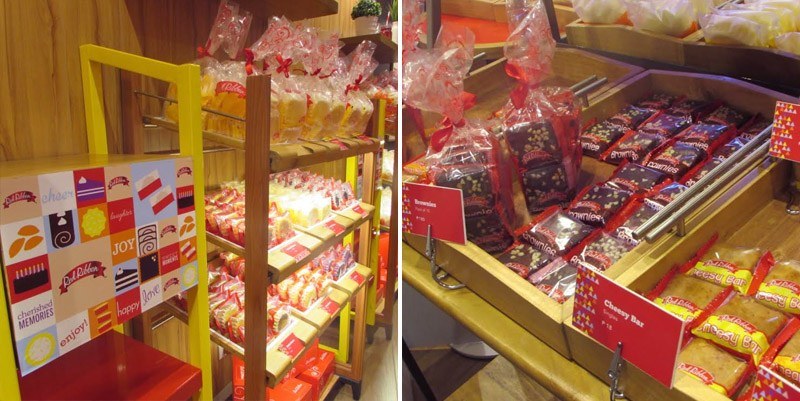 Close encounter. The aroma of freshly baked goodies will make you want to stay in this area of Red Ribbon's flagship store.
The second feature is the In-house Baking area located at the right side of the store. Present only in the Megamall branch, customers will be treated to the sight and aroma of selected freshly baked Red Ribbon delights that are even topped with special decorations.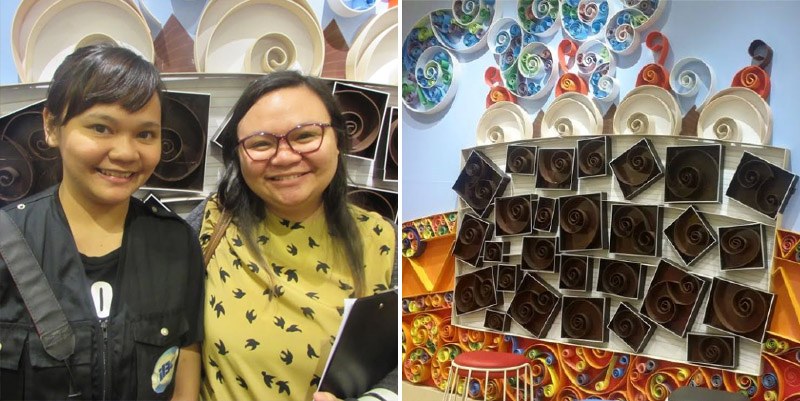 Long-lost sister? These loyal customers of Red Ribbon get to enjoy The Huddle Area that they could not resist having a selfie.
The third feature is the Huddle Area, intended for customer bonding as well as for fostering community building. Activities and workshops on parenting, home baking and personal development among others can be done inside this room. The Huddle Area encourages family and friends to create and experience sweet and memorable moments even outside the home.
Personal touch. Customers can decorate their own gift here at the Ribboning Counter.
Lastly, the fourth unique design feature is the Ribboning Counter. This feature encourages customers to personalize the experience of bringing home a Red Ribbon product by allowing them to put their own personal touch in the Red Ribbon Box. Here, you can decorate your own gift or pasalubong with more colorful ribbons aside from the signature red ribbon.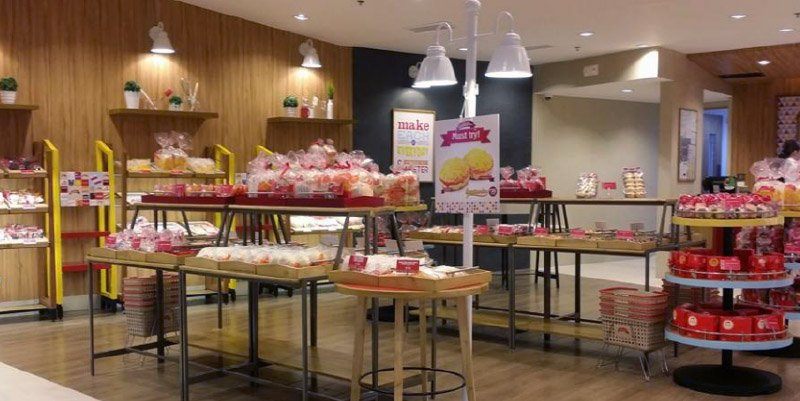 The store also has several shelves that contain Red Ribbon's delicious and trademark pastries, bread and delicacies.
There is also a colorfully designed, textured Selfie Wall that prominently shows off Red Ribbon's iconic graphics. Here, customers can take photos of themselves as they enjoy treats from Red Ribbon, sharing it with their family and friends.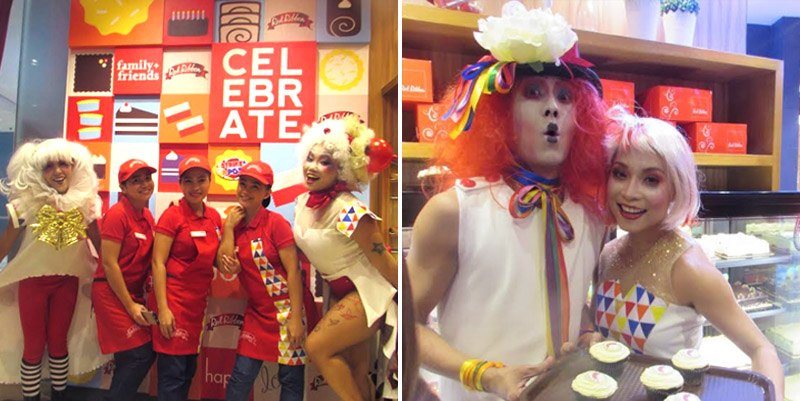 Aside from this aesthetics upgrade, Red Ribbon will also launch the Sweet Moments at Red Ribbon App. A downloadable mobile application where it features an augmented reality where visitors can take photos of themselves together with some Red Ribbon iconic elements. It also has a digital board game, which can also be acquired and played in the huddle area.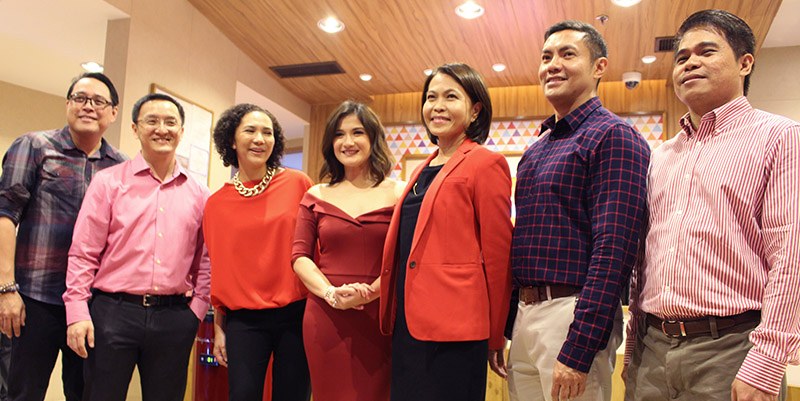 Red Ribbon Ambassador. The beautiful and elegant Ms. Camille Pratts was the host of the program during Red Ribbon's Flagship Store launch.
"All these elements come together to complete the Red Ribbon experience of creating sweet and memorable moments for any occasion. This is our way of showing appreciation to our many loyal customers who have mad our cakes, pastries, bread and delicacies part of their family moments." Bandojo added.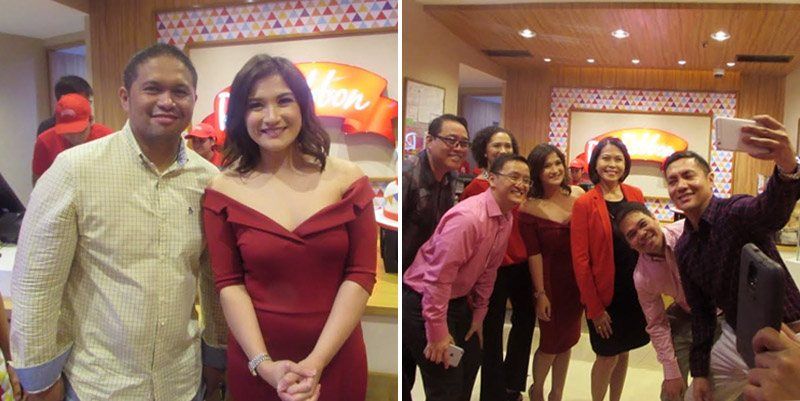 Painting the town red. Indeed, the launch of Red Ribbon's Flagship Store signals the new company's milestone with its experiential store dedicated to its loyal customers. With all these new features, even those who buy gifts for their loved ones gets to enjoy and experience this TLC from the country's fastest growing and well-loved bakeshop chain.
To know more about Red Ribbon's many sweet delights, visit the Red Ribbon Website!