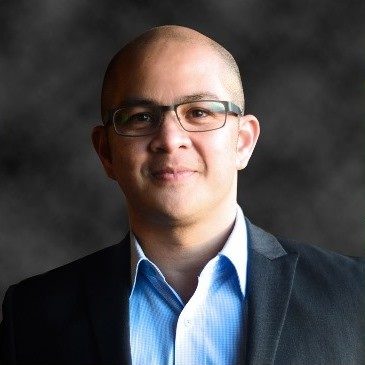 He was a mediocre student, until he found his niche.
Despite being a timid student, Adrian Robles found himself pursuing his passion for theater acting right after college. Little did he know then that this stepping stone was already preparing him for a bigger challenge—a profession that would require excellent communication skills and self-confidence.
"When I was in college, there was no pressure for me to excel. I was an unexceptional undergraduate psychology student," Robles said.
[padding right="5%" left="5%"]
"I was not clear about the career path that I wanted and, on a whim, grabbed the opportunity to try acting. Luckily, my parents were very supportive of my decision."
[/padding]
Robles attended acting workshops and participated in small stage plays for a year and this helped him overcome his shyness. However, seeing his friends climb the corporate ladder made him set aside his passion for the performing arts in order to jumpstart his life with a new occupation.
"I felt envious to see my friends in supervisory positions. I reached a turning point: I had to find a decent job," Robles said. "I started my career anew as a research assistant in one of the country's well-known colleges."
He continued, "When I got in, I never thought about honing myself to be the best person for the job. My role was very clerical. I thought that that was simply the consequence of not doing well in college and I failed to see that it was the first step towards bigger things in the future."
For two years, Robles held the research assistant role, administering entrance examinations and handling psychological tests for students. Soon after, he was promoted as a the school's psychometrician-researcher and, eventually, as an instructor and a guidance counselor of the college.
After seven years, Robles made a big decision to enlarge his circle of confidence and left the academe. He found himself in a B2B web-based company, initially as a training and development officer and rose up the ranks to be the Senior Instructional Designer where he became successful in setting up the company's first e-learning program.
"We were successful in converting all our traditional courses into eLearning, at a time when eLearning software was still rare or expensive. I guess we were so successful at what we were doing that it came to the point when the management realized that they had no more need for us and my team and I were offered a voluntary separation package."
Robles took this in stride and, with his rich experience in training management, he quickly found a new job as a technical training officer in a large multinational nutritionals company. For the next three years, Robles discovered that there were many other facets of Human Resources (HR) that he could delve into.
As a tactical career move, he transferred to a major television network, initially as a Training and Organizational Development (OD) specialist, but was promoted as the network's OD& HR manager in just three months. Being positioned as a top HR head in a prestigious company did not stop Robles from actively striving to gain a deeper understanding about HR and all it encompasses.
After three years, he left the company and accepted an offer for a one-year project stint in Vietnam as a senior consultant and project manager where he got to train all the HR leaders of the entire power industry in Vietnam. "After the project, my client expressed his sincerest appreciation for what I shared with their HR leaders and how my insights made an impact to their country. Despite feeling grateful for the opportunity, I also felt guilty because I realized that I have not done these things back in my own country. I was able to teach the Vietnamese everything I knew about HR yet have not done the same with my own countrymen," Robles said.
Bearing that in mind, Robles accepted the offer to head the People and Leadership Development of the country's largest electric distribution company immediately after his return from Vietnam. This new role gave him the opportunity to influence the leaders of the organization and help strengthen its HR programs.
In 2013, he took a study leave from the company to pursue a graduate degree in Human Resources Management in Sydney, Australia as a recipient of the Australia Awards Scholarship program and the Australia Leadership Award. After earning his degree and upon returning to his company, he found himself in a new adventure when he was elected as the National President of the Philippine Society for Training and Development (PSTD), the biggest and oldest professional organization of learning and development practitioners in the country.
He stayed with his company for another year and eventually left to pursue a freelance consulting career. Aside from the different consulting projects he is currently engaged in with different companies, he is also accredited as a Subject Matter Expert by the Civil Service Institute (CSI), the training arm of the government. In this new role, he handles some of the CSI's HR and Leadership courses, including the Leadership Certification Program (C-Pro), an alternative pathway to a master's degree qualification for middle managers in the public sector who are eyeing appointments as division chiefs or their equivalent positions within the government service.
Now, after 22 years of unparalleled commitment to service and training, Robles soars new heights in HR with an additional focus on innovation—through Fujitsu Philippines, Inc.
Fujitsu Philippines, a leading Information Technology (IT) systems integrator and solutions provider in the Philippines, offers an annual Fujitsu Asia Pacific Scholarship Program (FAPSP) to help promote the development of both technology and human resources at the global level. The scholarship is dedicated to the enhancement of international understanding and cross-cultural communication through management education.
According to Robles, three major topics will be covered during the program: leadership cross-cultural management and innovation.
[padding right="5%" left="5%"]
"For me, the most interesting aspect is innovation. I was exposed to topics pertinent to leadership and cross-cultural management when I was in Australia. Now, I want to know how one influences other people to pursue innovation," Robles said.
[/padding]
Under the scholarship grant, Robles will stay in Japan and Hawaii for six weeks each, and a week each in Thailand and Singapore. "I know that it's going to be tough when it comes to academics as it will entail many readings. I am preparing for that. But I am also excited to learn more and work with people from other cultures especially with the Japanese people because I never had the chance to work with them," Robles said.
He continued, "A lot companies are talking about innovation, but how are they supposed to go about doing it? How can we help people apply innovation or think about their own innovation for their company? Hopefully, I will get the answers from the scholarship."
Robles left for Japan on February 20 and will be back in Manila on June 3, 2016. He will accomplish the first part of the program at the Japan-America Institute of Management Science in Hawaii.
Robles concluded, "I am really grateful for Fujitsu. I am grateful because I was given this opportunity to be exposed to a world of innovation. Fujitsu supports every Filipino in learning more about innovation and they are exposing us to bigger things. Hopefully, when I get back, I will be able to effectively share everything I learned from the experience with my fellow Filipinos."