San Miguel Corporation (SMC) is looking to expand its newly-opened marketplace for fisherfolk and farmers in Sariaya, Quezon, and turn it into a major wholesale market or "bagsakan center" of fresh goods from Southern Luzon–and eventually providing food supplies to nearby provinces and Metro Manila. 
Dubbed the "San Miguel Market", the new marketplace was soft-opened recently with 56 vendors, many of them coming from the 350 families that SMC has helped relocate from high-risk coastal areas.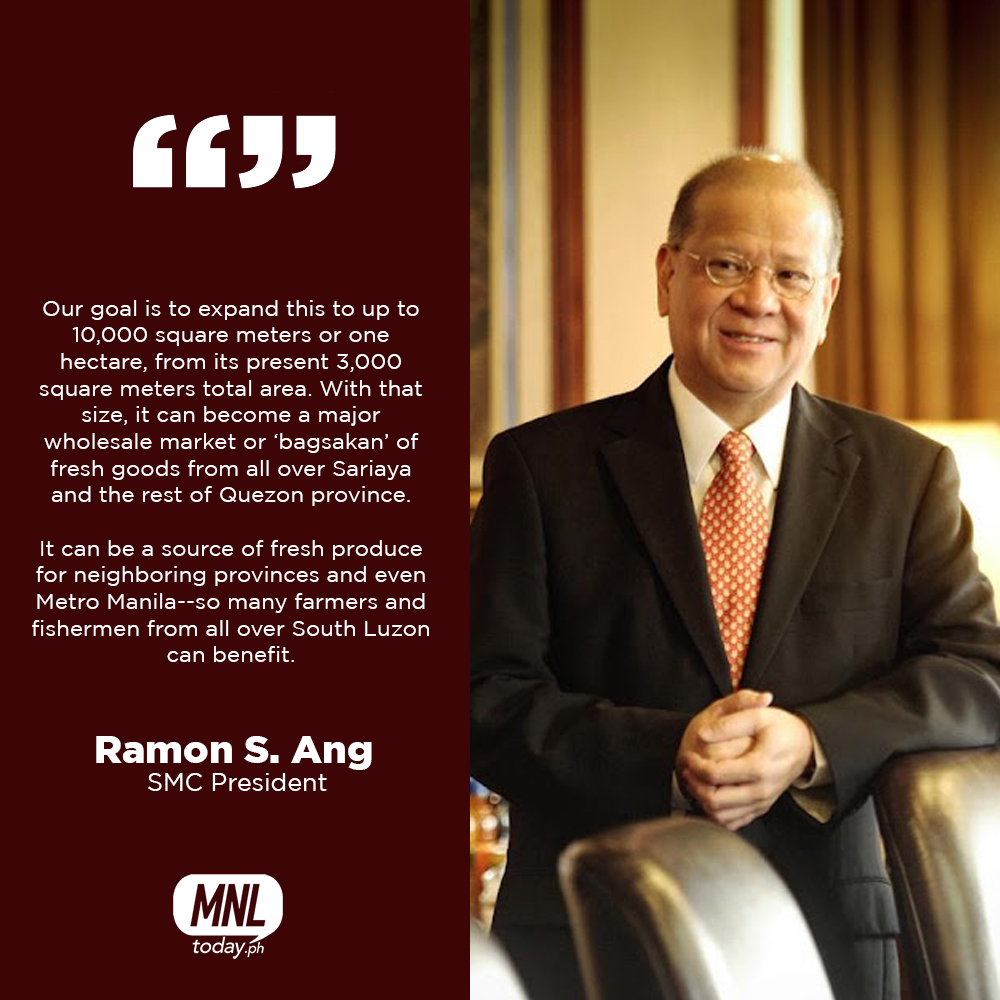 The marketplace is the latest addition to SMC's sustainable community project in Sariaya, which includes the 5.4-hectare San Miguel-Christian Gayeta village–that features disaster-resilient houses–and a 3.5-hectare fishermen's dock with fishermen's hall, that can secure up to 100 boats and store 70 boat engines and other fishing equipment.
Currently, products sold at the market include fresh fruits, vegetables, rice, seafoods and meats. It also has a health and wellness stall, cellphone repair shop, pharmacy, bakery, shoe store, and a San Miguel Foods store.  The marketplace was soft-opened over the weekend by Sariaya Mayor Marcelo Gayeta and SMC Special Projects Manager Micaela Rosales. It is jointly-managed and operated by residents and tenants from San Miguel-Christian Gayeta Homes.  
The market will is also seen to complement SMC's integrated food and beverage complex development in the area, in terms of job and livelihood generation. SMC is investing to build a ready-to-eat food manufacturing facility, a grains terminal, feed mill, poultry dressing plant, a brewery, and international port facilities in Sariaya, which is expected to generate a significant number of jobs and boost the economy of Quezon province. 
To date, a total of 555 households have been relocated by SMC from high-risk coastal areas. Thus far, a total of 141 families have moved to the San Miguel-Christian Gayeta Village, while others who received financial assistance from SMC have either bought or built new houses in other areas.
Meanwhile, the Sariaya fishermen's dock and Sariaya Fishermen's Hall, which SMC opened for residents last year, further enhances their income generation by affording them to reduce costs while getting better prices for their fresh catch. Through an SMC-TESDA partnership, around a total of 99 residents thus far have graduated from community- based training on various skills, particularly meat and fish processing, organic farming, dressmaking, and table setting.
SMC's upcoming agri-related investments in Sariaya are part of the company's nationwide efforts to support the agriculture sector and local businesses, as well as boost food security.