During this COVID-19 pandemic, companies are transitioning to "work from home" to keep business going. This measure is giving employees an unusual challenge: working from home for the first time, full-time.
Perhaps you've done working from home before but for most of us, work from home is a whole new experience!
So, here are some tips to help you get started on a worry-free work from home:
Ways to turn the "Home" you into the "Work" you
Just because you don't need to go to your office doesn't mean that you don't have to prepare for your work! According to a classic paper, Blake Ashforth of Arizona State University described the ways wherein people distinguish the transition from work to non-work roles through "boundary-crossing activities." What does this mean when it comes to working from home?
Well, for some people, working from home is poses a big challenge. An issue that may come up is the distinction between work and home lives. "For some people it becomes very blurry," says Muse Career coach Lynn Berger, a coach specializing in helping people through career transitions.
If you never truly disconnect yourself from work, not only will your work life would take a hit but your work productivity will be negatively affected as well.
Get your workstation on
Tell me straight. Can you honestly say that you could be productive while working on your bed or couch? Well, neither can I! I can wholeheartedly say that I won't ever be productive while on the bed or couch.
For one thing, working on the couch is bad for your back and posture. Then, working on a bed will make you drowsy (at least, in my case it does)!
So, the point of a workstation in your home is to make a little haven of professionalism where you can work without hassles and distractions. Don't forget to make as comfortable as possible too!
Since we're in a tropical country always make sure that you and your PC/laptop is well-ventilated. You've got to keep cool or you might just nurse a headache while working throughout the day.
Don't forget to set up your tech properly! Setting your gadgets up before working will give you better workflow and productivity. This should include your internet as well.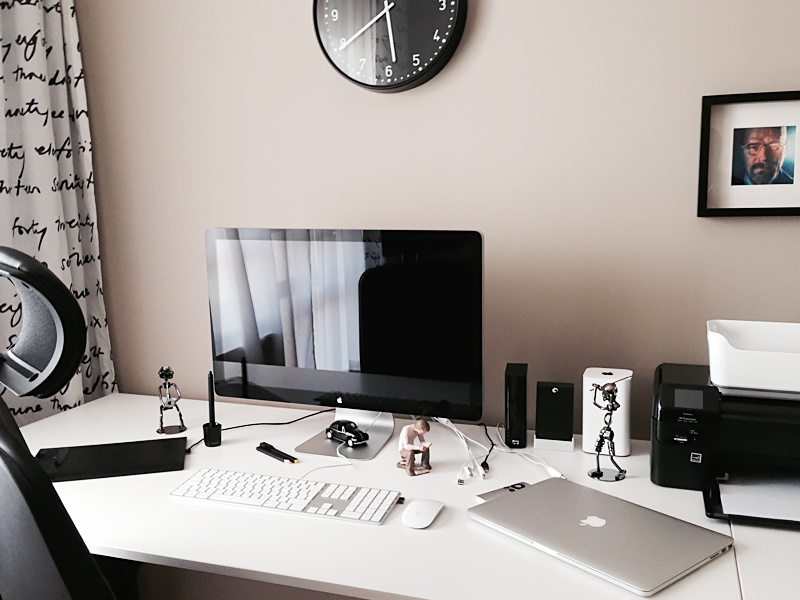 Don't sit on your bum all day
Next is something that some people might forget and that's having a BIG stretch once in a while. Sitting all day can't be healthy. That's why some stretching would be good!
If you have some cash to spare and want to be fancy, you can invest in a standing desk so you won't be sitting all day. If you're strapped for cash or just plain practical, you can just stand up and get your blood pumping! Trust me, stretching would do you a world of good!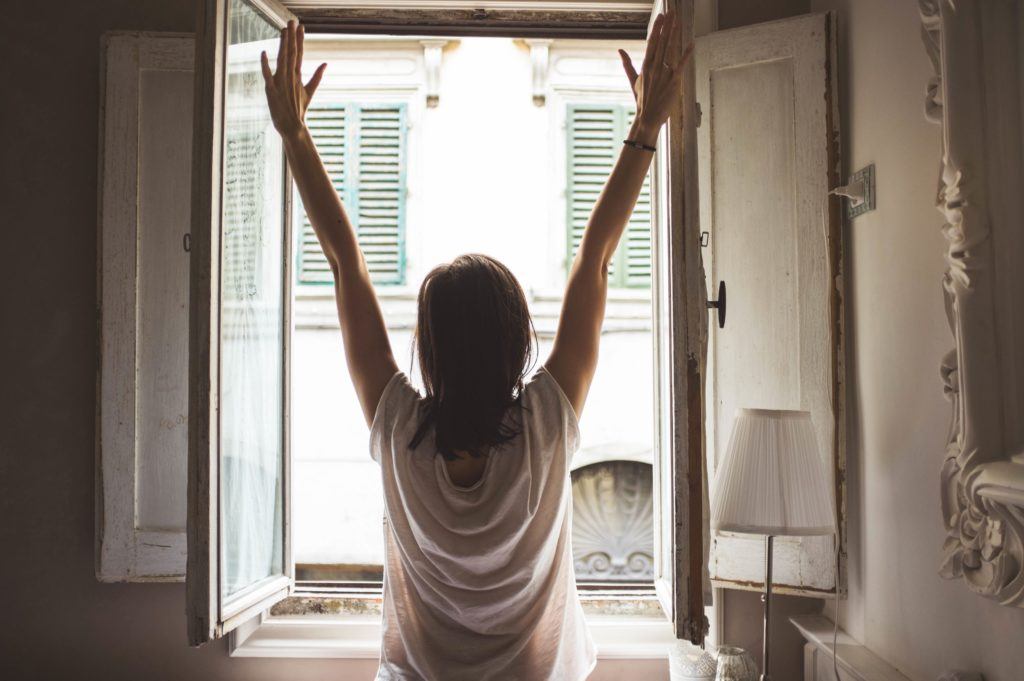 Get some fresh air
Now this, I believe, is a continuation of the tip above. So while you're stretching over there, some fresh air would also do you some good! You could stretch and breath some fresh air by your veranda, by your balcony, or your window!
I think that you'd never have felt so alive when you'll take a break to stretch your legs and just breathe that FRESH air!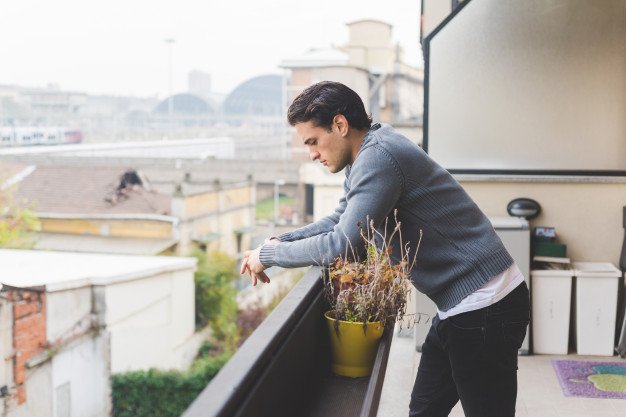 Keep a clearly defined working hours
Much like how you've set up your workstation, you should also set when to start and end your shift. I suggest to just work with your regular 9-6 schedule. It has the added benefit of being the same schedule with your workmates!
If you live with your family, this separation between work life and personal life is even more crucial. Communicate with them and set some boundaries. This will massively cut back on distractions during work! Then, you disconnect from work and give the people most dear to you your utmost attention. Having a segregated time and space for work and family will allow you to be more present in your home life.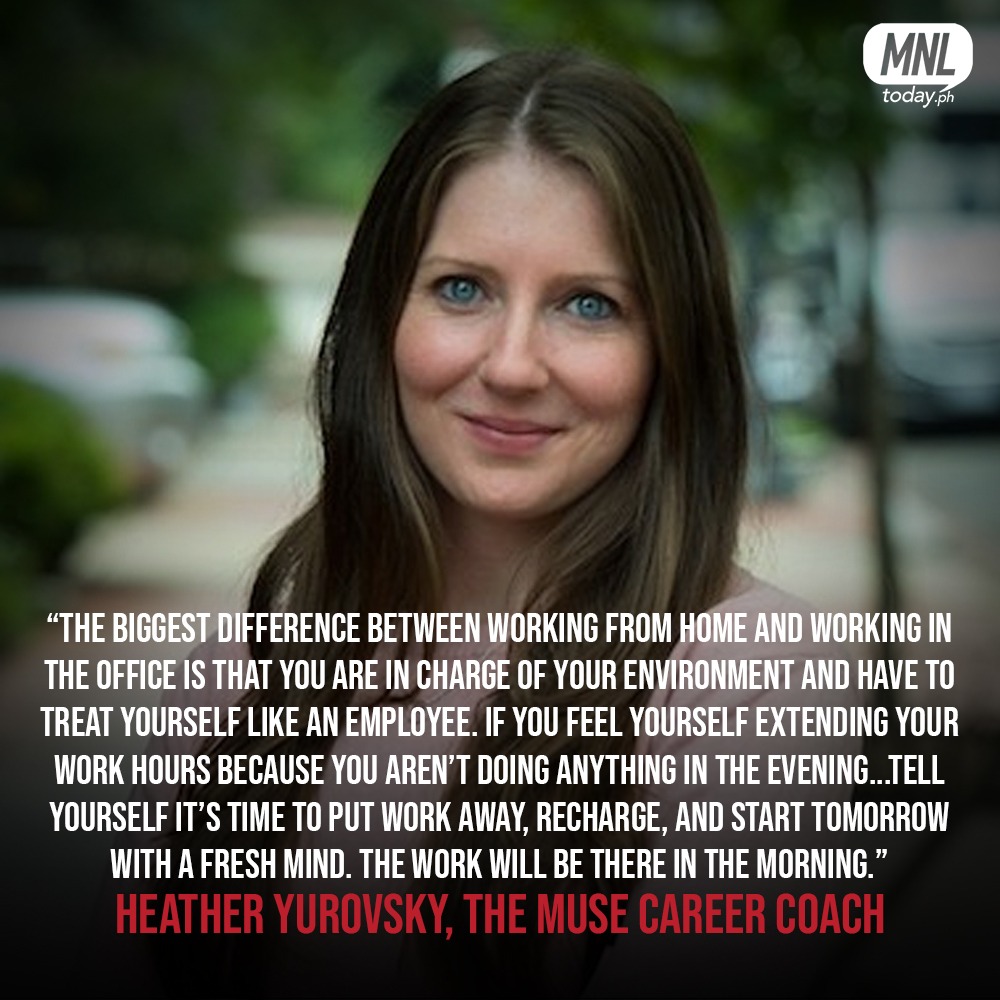 Focus on the most important of work
Working from home is completely different from working in the office. That's why you should focus on the important work and refrain from doing busywork.
As an employee doing work from home, you'd often feel compelled to be productive even if it's just a facade of it. This urge will make you work on tasks that are more immediate and easy, relatively speaking. This urge is what scientists call the Mere Urgency Effect.
Now, the preference for easy and on-the-spot work would then result in foregoing the more important yet difficult work. This is a tendency that scientists say would be counterproductive in long-term even if it benefits the short-term.
So fellow work from home comrades, pay heed. Employees facing a bigger workload as they juggle work and family matters should focus on prioritizing important work. Research even backs this up! According to a study, an average worker can only do an average of three hours of productive work per day! With more distractions while working at home, employees are hard-pressed to focus on work without losing productivity.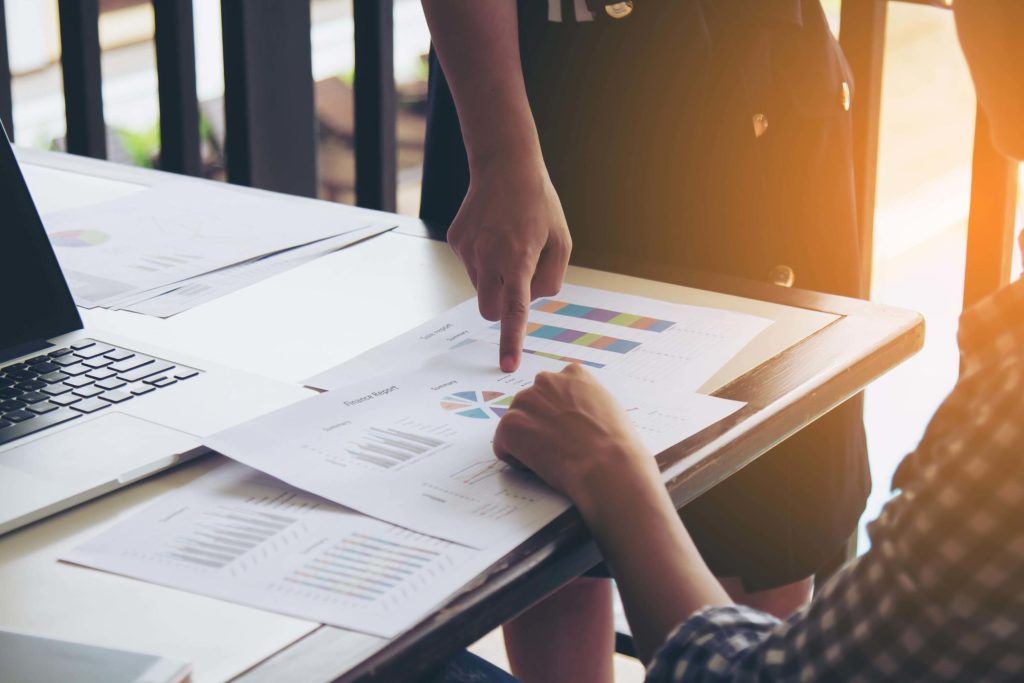 Don't get distracted by the news or anything else
Then, there's the news. It may be a good thing to be updated with the news, especially with what's happening with the world right now. Sometimes, staying updated can negatively affect your work performance.
The key here though is to not let yourself be caught up with it! Don't let the news affect you during work. There is a time and place for everything. What you need to do is to stay focused on what's in front of you! So, if you're working, just focus on your work!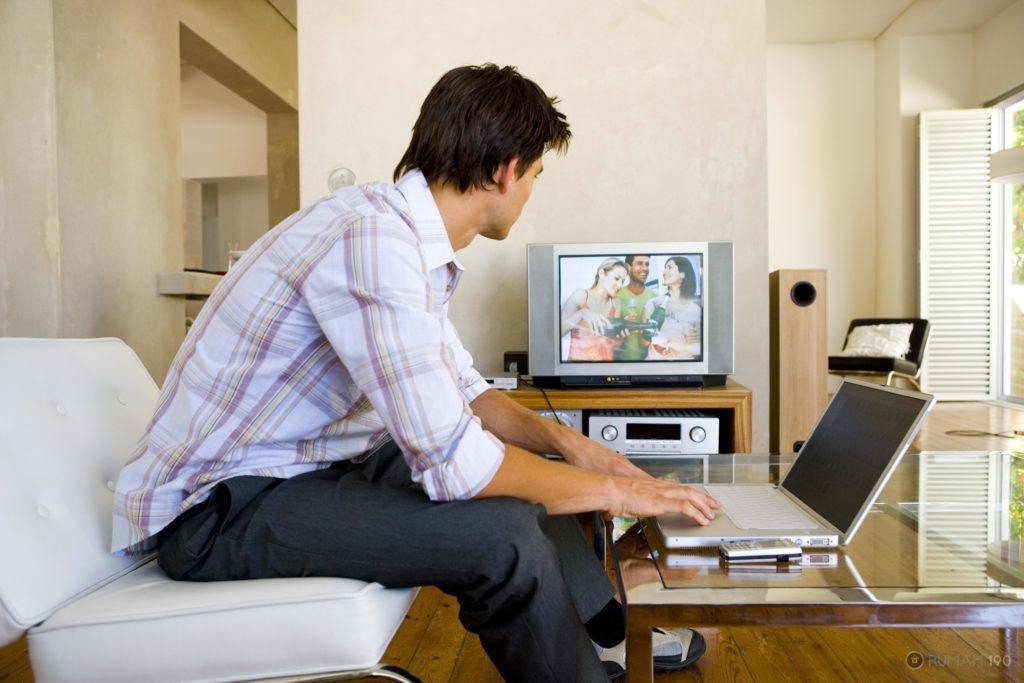 If you have kids, prepare for them too
Now, this is a tip for all those working mommies and daddies out there. It must be quite the challenge if you're a breadwinner and you're stuck at home working WHILE caring for your children!
So while you're working, you could have someone else to take care of children. If you have a partner or relatives on hand, take turns taking care of the kids while working. Doing this will free your time up and do more work.
Another thing you could do is explain the situation. It's a good idea to tell your children about Coronavirus Disease 2019 (COVID-19). Explaining what's happening to your children would make them be aware of the situation and make them follow health guidelines against the disease.
After that, you could use toys and/or games that your children haven't played yet. These new activities will surely last longer and will buy you some time!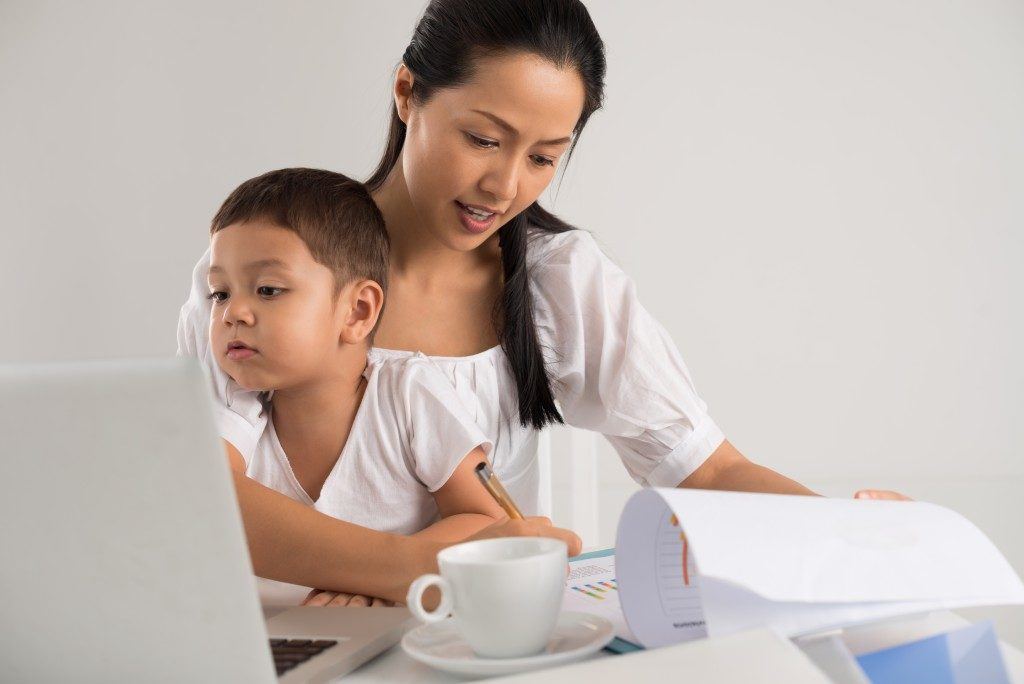 Don't forget to communicate and socialize
Lastly, don't forget to communicate and socialize! It's important to be reachable to your coworkers so you can properly set your schedules to one another. You can't just stop being reachable because you're working from home
To not get burned out with your work all day, you could also try chatting with your friends, family, and coworkers about your daily life. You can talk about many things. The important thing is to wind down!
Now when working remotely from the office, Creator of MetaFilter and writer for Slack Matt Haughey said it is important to go beyond email and use other digital tools that better facilitate interpersonal communication. So we have to use easily available tools like Facebook Messenger, Whatsapp, and other messaging apps.
Of course, these tips are just advice on how you could go about your work from home life. You can pay them no mind. The important thing is to do what you feel is good for you!
---
With Additional reports from: The Muse, Harvard Business Review, Good Housekeeping, Time, NPR,
Photo Courtesy: The Muse, KB Talks – YouTube, timesofindia.indiatimes.com, Kaboompics, Yakup Akdemir – Dribbble, medium.com, peus_purchases – Freepik, nunidesign.co.il, rumah190.com, betterdaysformoria.com,