Architects from Evolve PH Communities have deployed disinfection tents called "Sunnytation Tents" to the provincial hospitals of Cebu, mainly in the municipalities of Bogo, Carcar, Balamban, and Danao last Thursday.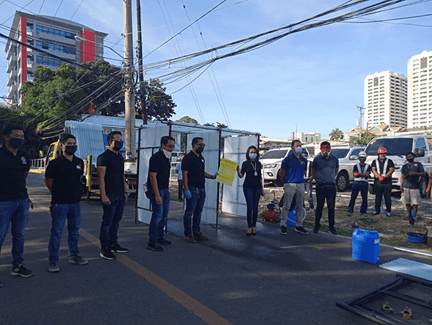 The tents were first deployed at Chong Hua Hospital Mandaue last March 28, and then to Vicente Sotto Memorial Medical Center last March 30 to help the healthcare workforce sanitize and prevent the spread of COVID-19.
Sunnytation Tents came into fruition through the collaborative efforts of Evolve PH Communities along with the allied professions and volunteers from United Architects of the Philippines-Sugbu Chapter, GSG Architects, Mutual Aid Cebu, University of San Carlos, Chemical Engineering and Biochemistry Departments, and other organizations.
The name was derived from the wordplay of combining Sunny and Sanitation to come up with "Sunnytation" and used the name to bring a positive light amid these trying times.
Principal Architect of Evolve PH Communities Jumax Morgia said that the tents were inspired by and UP Diliman's SaniTents PH, as well as Vietnam's efforts to build sanitation tents to help fight COVID-19, and knew it was something they could also do.
She said they aim to deploy over 100 more units around the island prioritizing but not limited to hospitals, supermarkets, public markets, pharmacies, PUV terminals, government offices, and BPO offices. COVID-19 wards and infirmaries are also included since "the medical frontliners still need to decontaminate after entering these wards despite wearing their PPEs."
She said that Sunnytation tents were initially made out of PVC pipes, however, during the development of the project, they realized that using scaffolding, plastic roof, and clamps were cheaper and more environmentally-friendly.
"All the materials are reusable and it takes less than an hour to build, including the pumps. I think the only disposable items are the zip ties that were used to hold the roofs on the frames," she added.
Before Sunnytation Tents, she said that they have also started other initiatives to help the community during the pandemic.
"We really started with building Face Shields. A few friends and I have a group of boys in one barangay, who have been volunteering with us since Yolanda. So, it was easy to deploy the face shields. Then we decided create the tents, then hazmat suits. We also ended up being in the design team for the infirmary. Nanganak lang ng nanganak," she said.
Their other initiatives are Face Shields, which they were able to create 4081 face shields for 19 hospitals in 18 barangays; Heroes' Cape, where they were also able to have Yuenthai in MEPZ-1 and Mactan Export Processing Zone Authorities allow the production of PPE Hazmat Suits in their factory; and Happy Tummy Community, where they give out food and essentials to vulnerable communities.
"We have been busy and it does get really tiring, but there are too many vulnerable communities who will suffer the most and we need to protect them," she said.
For inquiries about Sunnytation Tents and donations, contact Karen Carino through 09329112092 or Kirsten Jen Galeos through 09171471996
Photo and Video Courtesy: Jumax Morgia, Keisha Alexis Plaza,