Being a PBA journeymen, Rommel Nino T. Canaleta, a.k.a. "KG"is pinning his hopes that his current team Blackwater will provide him the fitting ending for his colourful PBA career. 
Ever Bilena CEO/Blackwater team owner Dioceldo Sy pointed to 14-year veteran K.G. Canaleta as the emerging Elite leader in the PBA's 45th season opening today. And they go back a long way. "We drafted K. G. in 2000 for our PBL team Blu Detergent," said Sy, who celebrated his birthday last Friday. "Now, he's our senior player with Blackwater. I reminded K. G. that I drafted him 20 years ago and he remembered. That's when he told me he appreciates coming back to us. This season, K. G. promised it's payback time." Canaleta has played for eight other PBA clubs, aside from Blackwater and could be in the twilight of a journeyman career. He was Air21's first round pick in 2005, won the Mr. Quality Minutes award in 2010, took Most Improved Player honors in 2013 and once scored 41 points in a game.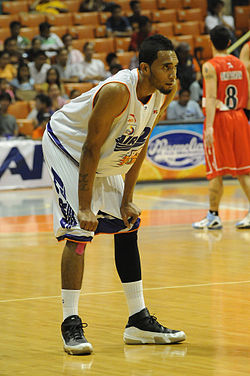 Canaleta, leads a Blackwater cast that Sy said is balanced and free of superstars. "Actually, we haven't had too much success with our first round picks over the last few years," he said. "Ray Parks, Toto Jose and Ael Banal are no longer with us. Last year, we picked Maurice Shaw and we're hoping he'll make an impact so he breaks our first round jinx. He's coming along and our big man coach Romel Adducul is working with him. We're just hoping it's Shawtime, not Lemontime."

Sy said Blackwater couldn't be happier with what the Elite got in the recent three-way trade involving NLEX and TNT. Their move will add key pieces that will form the core where KG can be part of it. 
"The trade went through us and as far as we're concerned, we got what we wanted," said Sy. "Ed Daquioag and Marion Magat came in. We also got TNT's first round picks in 2021 and 2022. The PBA added Yousef Taha to what we got but we're dropping him. We're loaded at this time. We understand Ginebra and Phoenix are studying whether or not to pick up Taha. We're not keeping his rights. He'll be free to sign with any team. We gave up Tony Semerad, Rabeh Al Hussaini and our 2020 first round and 2021 second round picks to NLEX. Rabeh's in Kuwait at the moment and I'm not sure if he'll come back to play another season."
A one-time PBA champion with B-Meg in 2010, the 6-foot-6 winger from University of the East is also the Most Improved Player in 2013 and a five-time Slam Dunk Champion. The former UE Red Warrior still proved that he still has it at 38. He can both lead and be mentors to a mix of young and veteran squad of Blackwater. 
Photo & Video Sources: wikipedia.com, youtube.com