For the second year in a row, the Medicard Sprint Triathlon attracted hundreds of participants—both veteran triathletes and newbies alike—who swam, biked and ran to complete the tough-but-enjoyable racecourse.
The triathlon was held at Fontana Leisure Park in Clark, Pampanga. It was a perfect day for the race with the weather cooperating and giving the participants a sunny day, with a cool breeze for good measure. 
The #MediCardSprintTri is a beginner-friendly triathlon which consists of a 600-meter swim, 20-km bike, and 5-km run. There's also a relay category which splits the swim, bike, and run portions of the race among friends and family.
Last year's racecourse was perfect for veteran triathletes in their off-season looking to sweat it out or for newbies training for their A-races. This year's course is no different.
The event is the first HMO-powered triathlon in the country, which offered two options: The sprint and relay models, meaning participants may take on the obstacles either as a sole soldier or as a group of two to four. The two modes both start with a 600m swim in the water park's Olympic size pool. Triathletes then covered a 20k bike course around Clark's grounds. The race finished with a 5k run on the rolling paths of the resort.
Teenager Richard Anson Navo of Team THE NEXT STEP TRI dominated the sprint triathlon with an official time of 1:08:46. Navo clocked in an impressive eight minutes and 56 seconds in biking, and 21 minutes and 14 seconds in running.
In the relay event, Team Ang came victorious. The team led by Levy and Grace paced the race with eight minutes and 38 seconds in swimming, 38 minutes and 24 seconds in biking, and 28 minutes and 11 seconds in running. The entire team's official time ran for one hour 18 minutes and 21 seconds. 
Medicard's president Dr. Nicky Montoya and chief operating officer Atty. Jon S. Montoya also graced the event.
MEDICARD'S MISSION: PROVIDE A HEALTH AND WELLNESS PLATFORM FOR ALL FILIPINOS
Medicard has always been one of the from-runners when it comes to providing for the medical needs of the Filipino people. To ensure that every Filipino has access to healthcare is the unending race that they are in, and this triathlon is one of the company's many initiatives that advocates for the betterment of one's health.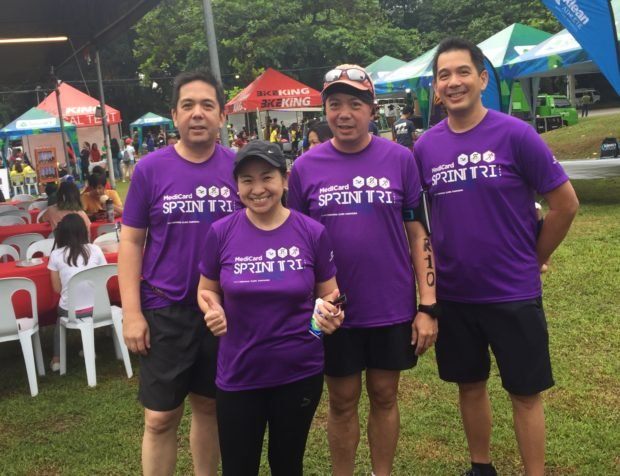 Medicard stared back in 2018 with the goal of addressing the glaring rate of deaths in the Philippines. Two of the main causes of which are lung and heart-related ailments and triathlons run a full-body workout for this daring enough to join.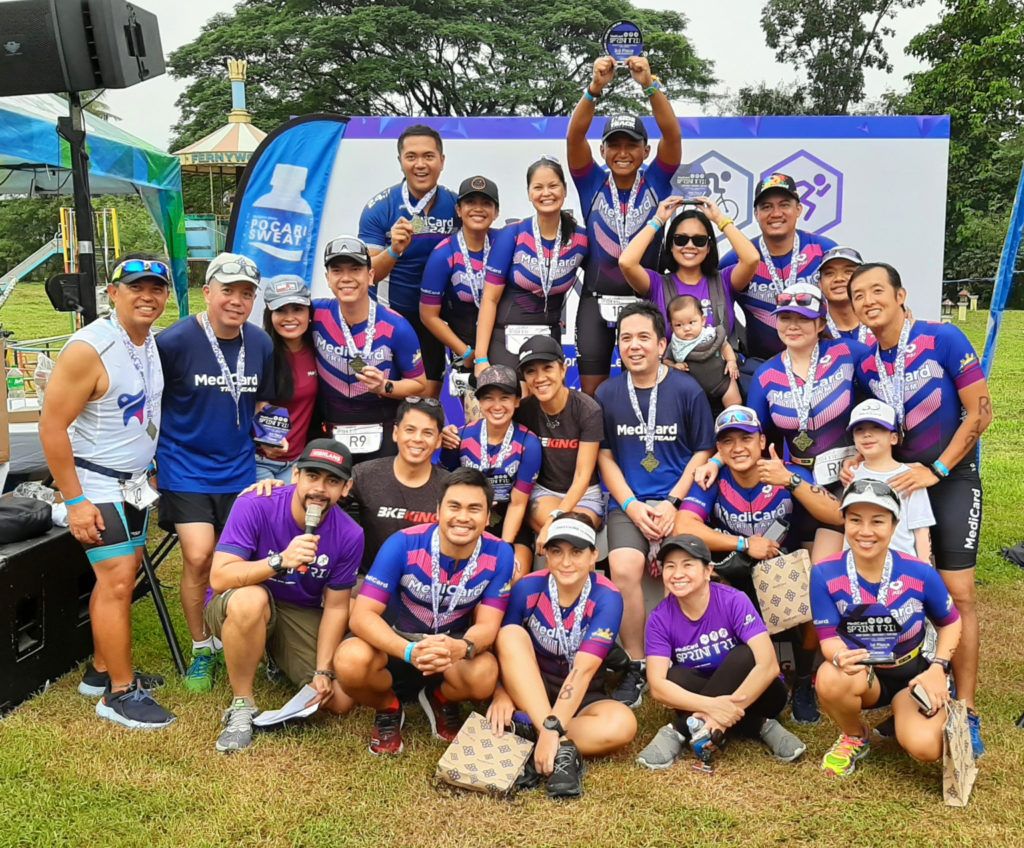 Triathlon is no ordinary sport. It is a multisport race with three continuous and sequential endurance races. Triathletes compete for fastest overall course completion, including timed transitions between the three races. The nature of the sport focuses on persistent and often periodized training in each of the three disciplines, as well as combination workouts and general strength conditioning.
The combination of the three legs in the race, when practiced regularly, helps chisel the physique of any individual as it burns excess fat and tissues by putting the body through a routine. Based on studies, it also helps lower blood pressure, prevents diabetes, cardiovascular illnesses, cancer, bone-related ailments, and obesity.
It has also been noted that regular triathletes, have healthier hearts and have a heart rate that is 17 percent below the average. Because of the training, their hearts have adapted to the strains of training that the effort required when faced with grueling errands.
According to the participants of Medicard Sprint Tri 2019, they felt a dramatic change in their health, productivity, and overall performance when they started joining triathlons.
Medicard being an advocate of health and wellness activities is preparing this new and exciting event for all Filipinos looking for a new and exciting platform that will kick-start their active lifestyle. From triathlon and Metafit exercises, now comes the latest and most exciting challenge only from Medicard.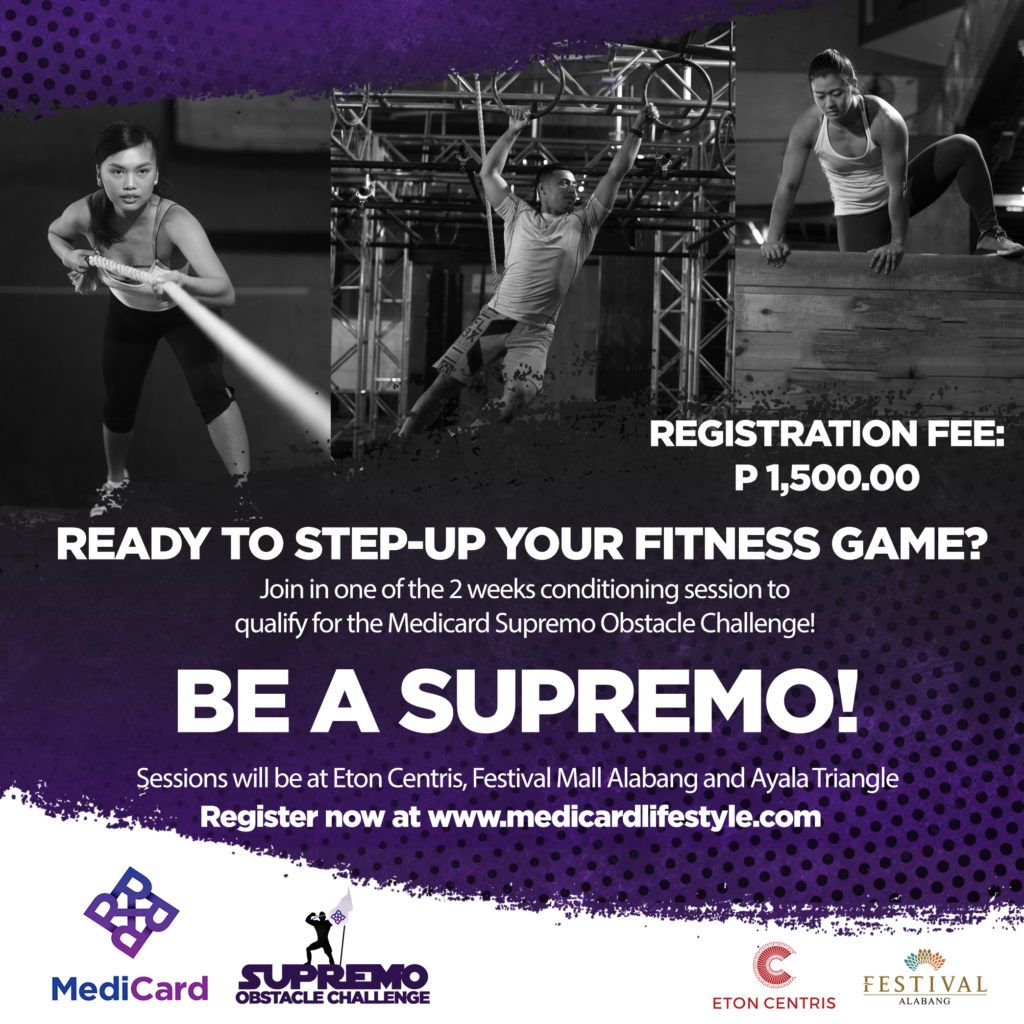 This year, Medicard will be launching Medicard Supremo Obstacle Challenge 2020. True to its vision and mission, Medicard continuous to provide healthy alternative events to all Filipinos.
For more information on the latest about Medicard, visit MediCard Philippines, Inc. – Website and follow their official FaceBook page at MediCard Philippines, Inc. – FaceBook
---
Photo Sources: medicardphils.com, megabites.com.ph, carlocarrasco.com, Medicard Philippines, Inc., multisport.ph