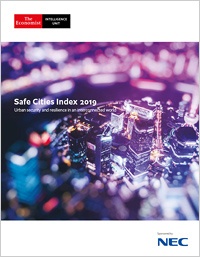 The London-based Economist Intelligence Unit (EIU) announced that, Manila have improved its rank on the 2019 Safe Cities Index.
The Safe Cities Index 2019 is a report from The Economist Intelligence Unit, sponsored by NEC Corporation. The report is based on the third iteration of the index, which ranks 60 cities across 57 indicators grouped into 4 pillars. Covering digital security, health security, infrastructure security and personal security.
Based on the report Manila ranked 45th on digital security; 48th on health security; 46th in infrastructure security; and 40th in personal security.
According to the report, the 2019 Safe Cities Index introduced a major revision to be able to measure "urban intelligence" better. Meaning, the ability of the cities to absorb and bounce back from shocks not only for the residents and businesses but also from visitors. Also, the concept was driven by the implications of climate change.

The results highlighted the importance of addressing the basic requirements of each pillar.
Sources: The Philippine Star, nec.com-safecitiesindex2019
Photo Sources: nec.com-safecitiesindex2019, forbes.com, totaldigitalsecurity.com, cisa.gov