Fujitsu Scanners developed and manufactured by PFU Asia Pacific Pte. Ltd., a homegrown Fujitsu Company, continues to gain market traction and achieve leadership in key segments, driven by its focus on bringing valuable and innovative document imaging tech that drives growth for its business customers. According to IDC, Fujitsu ranked as number one in market share last year, dominating the document and imaging scanner segment, covering the financial, public/government, and Healthcare sectors.


Fujitsu Scanners have been in the global market for over the last 36 years. Last July 2017, it has achieved its 10-million mark for global unit shipment, offering comprehensive models to cater to the SME, commercial, and enterprise segment.
Fujitsu's vast expertise sets its scanners apart from its competitors, enabling the company to innovate solutions that can help in tackling the unique needs of customers.
The company utilizes safe and reliable manufacturing and integrates craftsmanship and IT development into its creative processes. From developmental stages to final products that reach customers, each product passes strict quality standards, ensuring reliability and satisfaction. Among Fujitsu's cutting-edge scanners are the ScanSnap and fi Series, including the ScanSnap IX1500, recently launched in November 2018. These scanners were built to leverage the latest cloud and Wi-Fi technology for personal, SMB, and enterprise applications.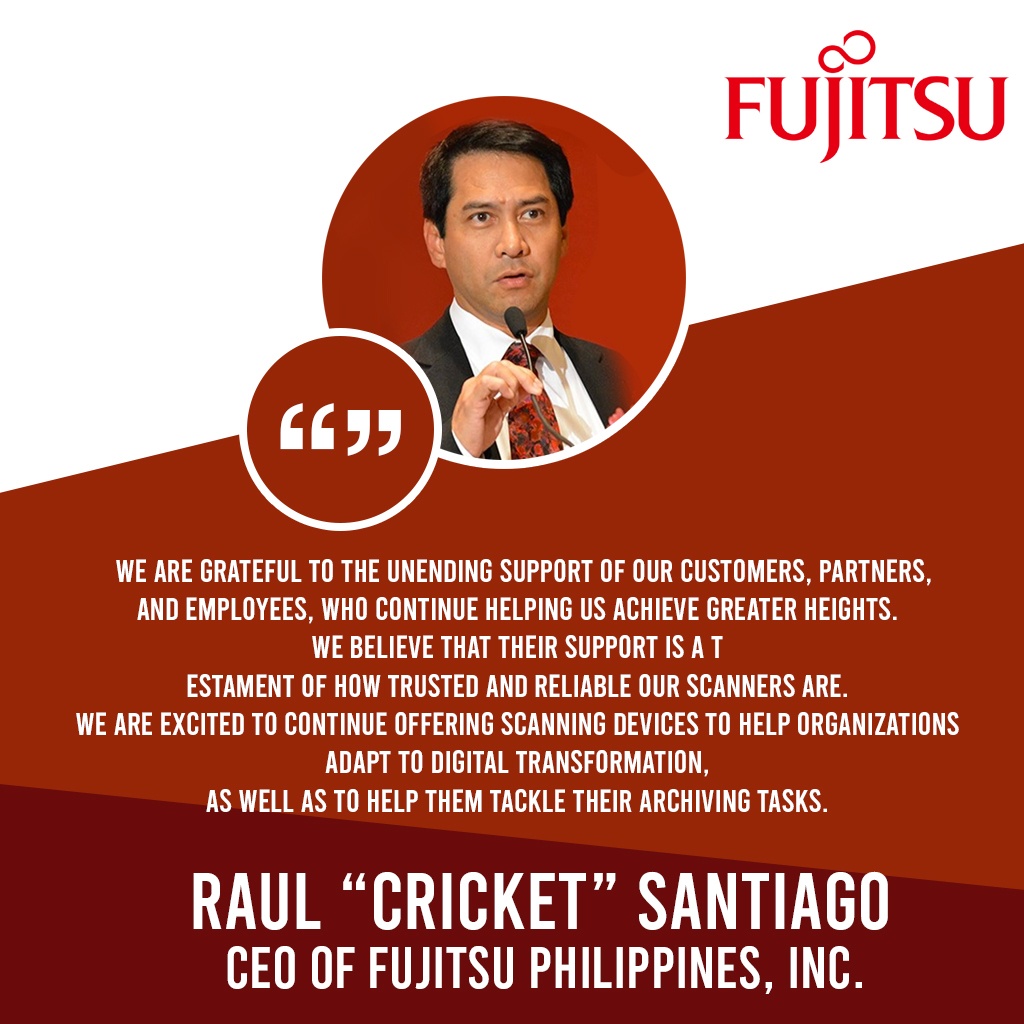 Fujitsu Philippines offers a wide range of compact devices to simplify document and image scanning for consumers and small businesses, including models from ScanSnap and fi Series.
Total number encompasses image scanners shipped from PFU. Includes scanners designed, developed, and manufactured by PFU since 1983 (counted by PFU). The number encompasses ScanSnap shipped from July 2001 to the end of September 2018 (counted by PFU).
To learn more, visit their official Facebook page at https://www.facebook.com/fujitsuPH/ and for more details, you may check their official website at www.fujitsu.com/ph.
Photo source:
FUJITSU Image Scanner ScanSnap – Merlin Computers Ltd Malta
Fujitsu FI-7700 Flatbed Scanner