Whether you are looking to satisfy your craving or just taking on a normal foodie trip around the metro, a big bite of some yummy burgers just completes the day. With that all-too-familiar taste from the buns, the patties, and minimal toppings, as well as the condiments, these beasts are just a hearty food to chew on.
Ever since the battle of burgers began, many places have now been offering their own special versions. With the wide range of burger options, it is no doubt that the competition is now getting tougher yet livelier (and hell, yummier!)
So, to get things straight, this list presents the top five best burgers that anybody deserves. Judging from the taste, presentation, and that "uggh!"-factor, these burgers emerged on top of the wide selection.
Pound by Todd English (Amsterdam Burger P280)
When it comes to getting the premium taste, Pound by Todd English's Amsterdam Burger could offer that exquisite ensemble of flavors. It has this wonderful toasted Homemade Brioche Buns, which add an extra spice to it. The pastrami, gruyere, and sauekrut also blend well with the house ground beef patty; not to mention the special mustard relish that serves purposely on its top.
8 Cuts Burgers (Piggy P240)
Feel that cringe, yet? Well, it is all just fine, especially with 8 Cuts Burgers' Piggy. Who would not blush to this quarter-pounder beef bomb that blends the chuck and short rib with mozzarella, fried bacon strips, Jollo Rossa, tomatoes, garlic aioli, and topped with house-made jam–all cradled in a Sesame Seed Bun?
Basement Cafe (Basement Burger P150)
Basement Burger, a not-so-expensive quarter pounder, serves customers with a taste in a quite different scale. The right blend of its fresh lettuce, tomato, and cheese sauce proves that it is just right to have a place on the list.
Read review here: Build your masterpiece at Basement Cafe in Tondo
Johnny Rockets Burgers (The Bacon Cheddar P285)
Johnny Rockets never fails to serve good food, at least when it comes to its best-tasting burgers. This restaurant boasts of its best-seller, the Bacon Cheddar, which offer smoked bacon, double cheddar cheese, iceberg lettuce, and white onion, as well as with their special sauce.
Read review here: A classic all-American dining experience
Burger King (Classic Steakhouse Burger P150)
An avid burger-holic knows, for sure, that Burger King's Classic Steakhouse is just a big chunk of heaven. The burger's patty is made with freshly grilled 100 percent Angus beef that everybody loves. With its A1 steak sauce and crispy onion rings, it serves just the perfect blend.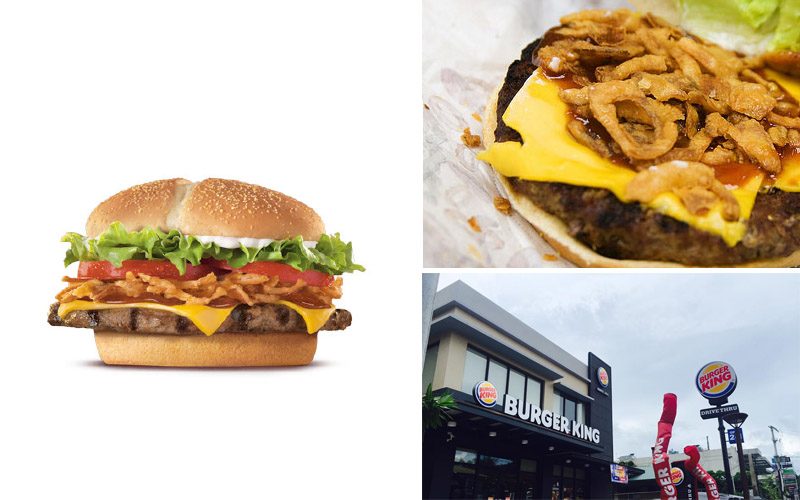 Did your favorite burger make the cut? Share us your favorite burger and we'll put them to test and find out if it lines up on our next burger battle.