President Rodrigo Duterte emphasizes the need for the Philippines and the rest of the world to address the issue of climate change. This is after he received an honorary doctorate degree for international relations at one of Russia's top Universities: the Moscow State Institute of International Relations University (MGIMO).
In its website, MGIMO University gives honorary doctorate degrees to leading foreign politicians, public experts, diplomats, and scholars, with competencies in international relations and foreign policy. MGIMO has previously awarded the degree to influential leaders around the globe like former United Nations Secretary-General Ban-Ki Moon, former U.N. High Commissioner on Human Rights Louise Arbor, and Former President Fidel V. Ramos.
President Duterte was supposed to receive the honorary doctorate back on May 24, 2017. The President couldn't receive the degree because of the ongoing Marawi siege back in the Philippines.
In a speech during the honorary degree conferment, the Philippine president stressed that climate change is threatening the survival of the world.
"Disruptive weather patterns with stronger intensities deliver punishing blows on our archipelagos like the Philippines year-in and year-out. It is aggravating existing divides within and between nations and even as it creates new ones. Hence, we have to work together to find solutions that are effective, fair and beneficial to everyone," Duterte said in his speech.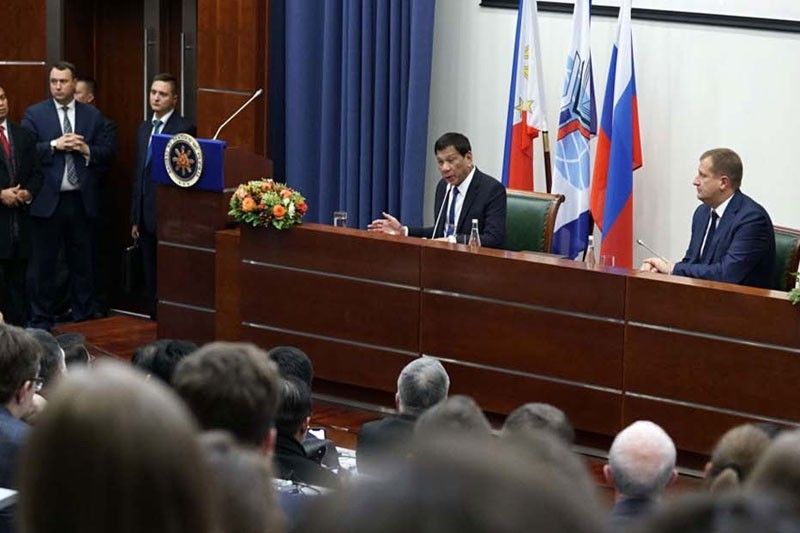 The President also spoke about forging new partnerships with non-traditional allies, citing allies not to set pre-conditions to grants.
"Common threats make us one, (it) should be enough to bring us together. Unfortunately, do I have to mention the country? I'm tempted to. It's on the tip of my tongue. This might blow up my plane going home. Again, what is required is open and genuine cooperation without political preconditions. And a lot of the West are doing it. If I have to enumerate one by one, I may not be able to finish my speech. I'll just lose the enthusiasm," he said.
With additional reports from: Philippine Star, GMA News,
Photo sources: philstar.com, @sandraaguinaldo, @teddyboylocsin