Genie Technologies, Inc. (GenieTech), a leading provider of end-to-end, comprehensive, and fully integrated business solutions, and JDA® Software, Inc., hosted the JDA Day Manila 2018 at the Solaire Resorts & Casino last May 23, 2018.
The event featured JDA and GenieTech as it showcased how to optimize today's supply chain planning processes amid the Digital Age. The event is also considered the biggest gatherings for supply chain professionals from the retail, manufacturing, and logistics sector. It also opens a great opportunity for managers, spanning across manufacturing, retail planning, distribution, and warehouses to network and learn valuable strategies on how to kick-start their own digital transformation journey.
With the theme "Optimized Planning and Execution of Your Supply Chain, Logistics, and Warehouse Networks," the event highlighted insightful sessions on the various themes of end-to-end supply chain planning, as well as their execution footprint, necessary in optimizing retail and supply chain planning, warehousing and logistics execution in the digital world.
In the Philippines, logistical costs account for 24 to 53 percent of the wholesale prices. It may include port handling costs that account for eight to 30 percent, as well as five percent of the retail price of goods.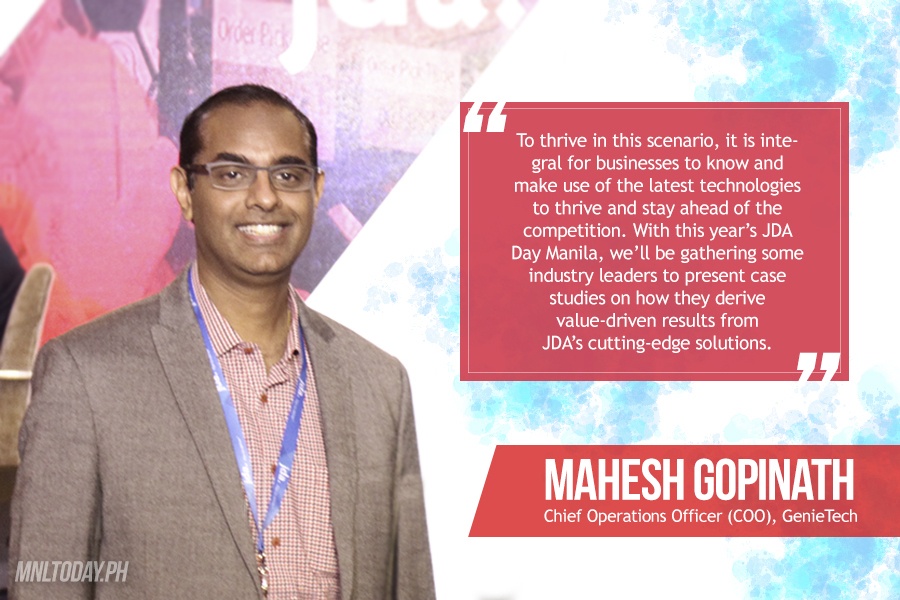 JDA Day Manila is part of GenieTech's JDA Day Supply Chain Roadshows, which was kicked off in Marco Polo Hotel in Davao last February 21. The same gathering was also held in Crimson Hotel, Filinvest City, Manila for South Luzon last March 21 and in Pullman Sudirman Hotel, Jakarta, Indonesia last April 4. All of these events aimed to cater for supply chain professionals in the said areas, respectively.
To know more about GenieTech and its other business solutions and services, visit their website at www.gti.com.ph.
PHOTOS FROM: Ej Dy Buncio, Don Clavo De Comer