Our office has been "strategically" located near Greenhills Shopping Center. And so he say. Michael E. Dugenia, president and CEO of Publicity, Relationship-Building, Communications, (PRC) Inc. has been known in the PR industry not just in the filed of communications per se, but also his penchant for pearls.
Greenhills Shopping Center (GSC) is known not just for cheap finds but also for quality South Sea Pearls. Even Vogue magazine wrote about the pearl "tiangge", when news of international singer Rihanna took a side trip to the Greenhills Shopping Center to find South Sea pearl earrings and necklace.
The fun is in the search. Pearls are jewels from the sea, and shippers rightly treat their GSC adventure like hunting for treasure. The aisles displaying curtains and cupboards of pearls could leave any pearl lover in awe.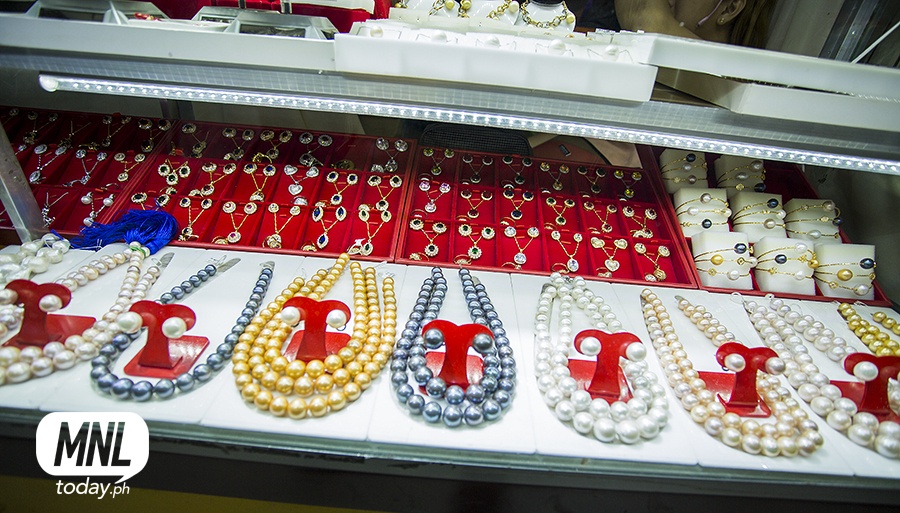 GSC's Lifestyle Center has more than 300 stores spread out over 1,200 square meters that offer pearl jewelries. From earrings, bracelets, brooch, chokers, even parures or matching sets in different colors that caters to pearl lovers with different budget.
The pearls are sourced from Palawan and some parts of Mindanao. Architect Renee Bacani, vice president and general manager of Ortigas and Company's shopping centers division, recommends to pearl shoppers to scout the grounds first and compare prices before zeroing on their chosen find. The good thing about it is that the pearl stores in GSC are always open for negotiated price. As compared to known jewelry stores that also offers pearls located in premiere shopping malls and hotels.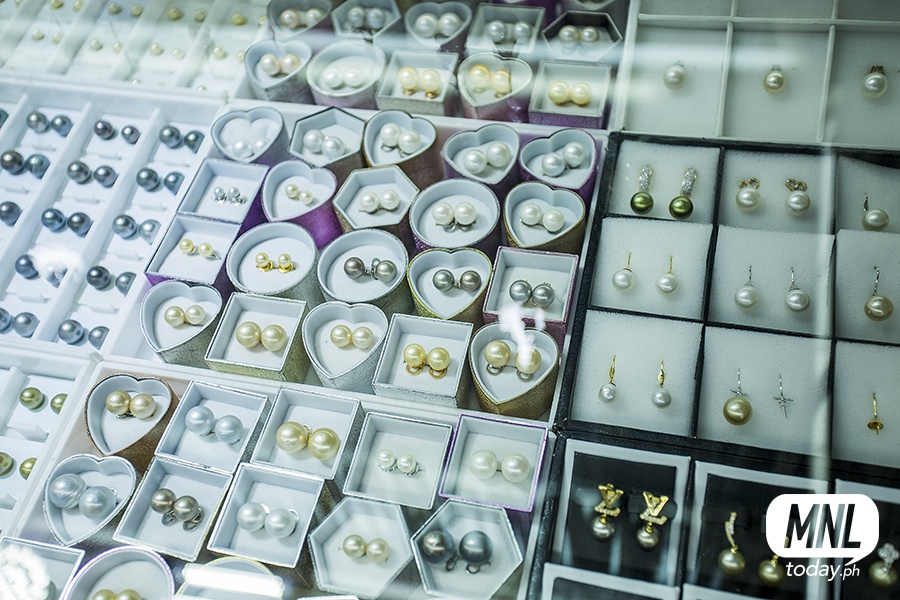 For starters, best-selling of colored and irregular-shapes pearls can go as low as P 150. On the other hand, gold-plated bracelets with a single pearl are a bargain at around P 500.00. Those who are fans of fine jewelry will discover freshwater pearls very affordable. Take this, a 16-inch string of pure or immaculate white pears can be bought for around P 2,000.00. The more exotic tricolor rope of white, baby pink and lilac pears can go for P 15,000.0 to P 20,000.00. But again, always make sure to haggle and negotiate for a price that will make your trip to GSC worthwhile.
There are stores with pearl sets that offers as high as P 65,000 a pair of white pearls in a diamond floral setting A pair of black pearl earrings surrounded by baguette and pave diamond in an 18-karat gold setting is being sold at P 170,000.00. The good thing about GSC's pearl tiangge is that since stalls are located side-by-side, stiff competition is being practiced thus almost everybody is customer-friendly and may most probably give you a very flexible price on your given target pearl piece.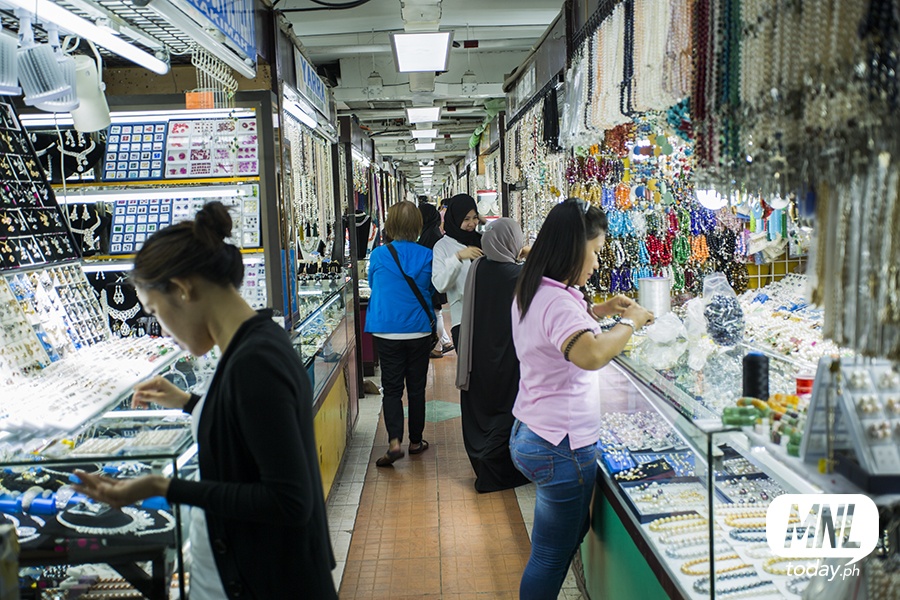 Another positive experience one can have is that vendors even helped out pearl buyers who are not that familiar to this gem's orientation.
GSC hsd been known for the much-coveted salt water South Sea pearls. Merchants uniformly recite "deep sea" as the source of these luminescent gems that come in white, black ("Tahitian"), brown and champagne – a delicate and glowing yellow-orange tint. There are so-called peacock pearls – black ones that flash an intriguing green tinge under a bright light. There are also a freshwater pears that are injected with pastel hues to match the dress that awaits a special occasion, and the mysterious, irregular shaped baroque pearls whose uniqueness stands out when placed alongside smooth, rounded pearls.
Those who purchase strings of pearls need not fret about gold or silver arrangements. There is at least one stall that specializes in setting the gems in 14-karat or 18-karat gold, or even silver.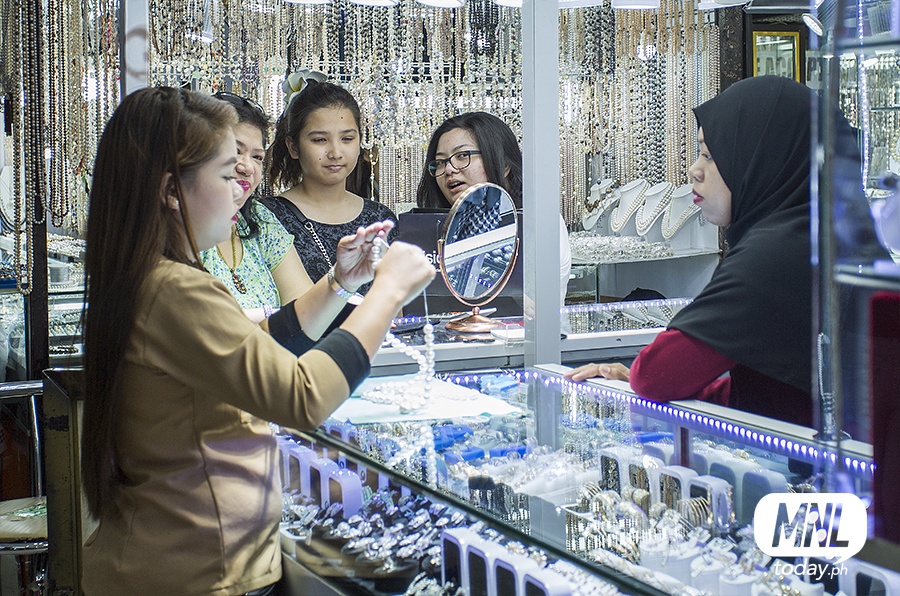 Regular pearl lovers who flocked GSC has varied demographics. From celebrities, to politicians even to international and local tourists, including those who are pearl lovers. Even wives of visiting heads of state and contestants of the recent Miss Universe pageant also go there. Queen Sofia of Spain came in 2012. Sources also shared that David Emanuel, the Welsh designer of Princess Diana's wedding gown, among international fashion designers who went to check out the pearls.
Aside from the vendor's expertise when it comes to pearls, they would also readily give away their business cards for customers, just in case they got lost to this "pearl paradise". GSC regularly reassigns the stall locations of the merchants, so customers should not panic when they return and see store occupied by another trader. Pearl shoppers can always refer to the business cards given to them by the pearl merchants.
As early as this month, the pearl vendors are getting ready for Mother's Day this May. Expect special pearl pieces that will be on sale for that special day for moms. Annually, GSC also offers activities such as lectures and talks on how to take care for pearls and other topics relevant to the pearl industry.
Greenhills Shopping Center is open from 10 a.m. to 8 p.m.
WITH REPORTS FROM: Cathy Canares Yamsuan, Philippine Daily Inquirer
PHOTOS FROM: Don Clavo de Comer