The mantra, "Healing that Cares",  inspired Dr. Imelda "Meddie" Edodollon, MT, MD, NMD in going into integrative medicine as a diverse to the conventional medicine that we Filipinos are used to.
Dr. Edodollon started doing integrative medicine four years ago and established HICC to cater to the needs of the patients especially those having long-standing illnesses that seemed incurable by standard practice. She opted to have HICC rather than doing hospital work or having a conventional privet clinic.
She recalled that the inspiration began when her father suffered multi-organ failure (lung, heart, and kidney) that may eventually lead to untimely and unexpected death. As a loving daughter, she succumbs to any kind of therapy that could cure her father and in 2012 she came across integrative medicine.
Through integrative medicine, Dr. Meddie's father survived. Since then, Dr. Meddie decided to practice this in which is governed by the international protocols. She spends time studying several treatment methods and even went to various institutions abroad offering different approaches. Dr. Meddie is among those medical practitioners that propagate the practice of integrative medicine that certainly helps a patient to have the good quality of life any person deserves disease free.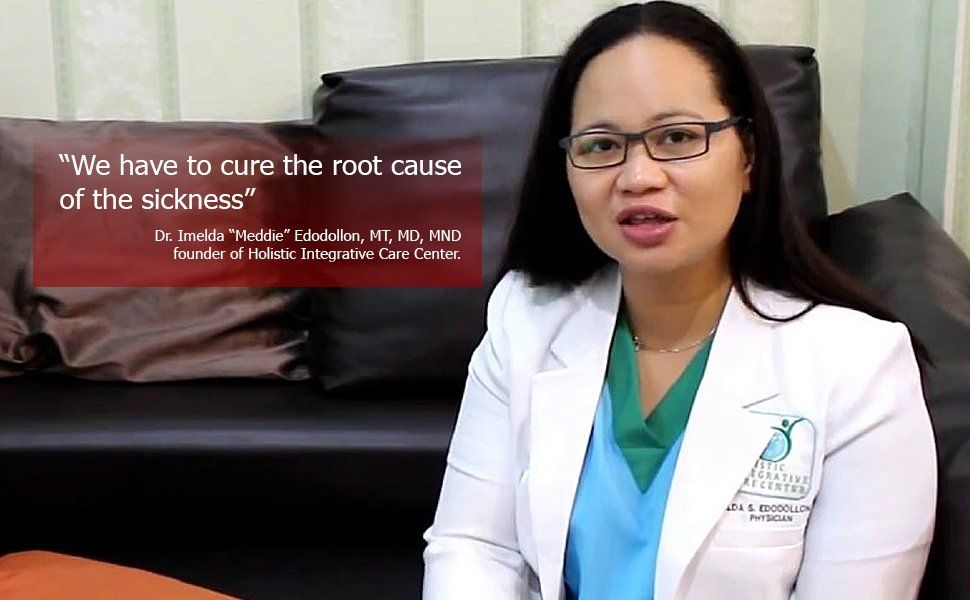 According to Dr. Edodollon, integrative medicine combines the conventional medicine which our medical doctors are doing and the alternative medicine that is being practiced by several people just like taking herbal medicine to treat a particular disease or sickness or illness.
The approached that integrative medicine uses is holistic, meaning the patient's body, mind, and soul is being treated that is why it takes at least an hour for a doctor to diagnose the patient before giving him prescriptions. Integrative and medical practitioners like Dr. Edodollon would diagnose the patient, and to discern whether the sickness is brought about by stress, emotional problems, psychological or even environmental.
Dr. Edodollon is the only Filipino doctor that is recognized and accredited by the Gerson Institute in San Diego, California that introduces a therapy that cures cancer and other chronic diseases known today.
PHOTOS FROM: http://www.hiccph.com/