In a recently published article from news site U.S. News, the Philippines has been ranked the number one country to invest in 2018.
The U.S. News article got input by surveying over 21,000 people and 80 different countries worldwide basing it off 65 attributes.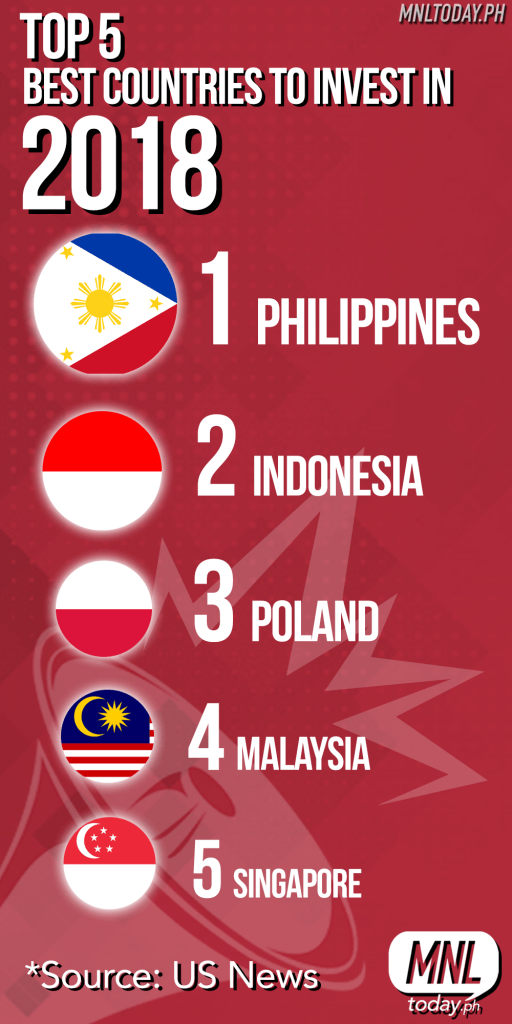 U.S. News also tallied from over 6,000 business decision makers on 8 of out of the 65 given attributes: corrupt, dynamic, economically stable, entrepreneurial, favorable tax environment, innovative, skilled labor force and technological expertise.
Another article from website Business Insider recently reached the attention of Department of Finance (DOF) Secretary Carlos G. Dominguez III on Monday.
According to an article from Inquirer, "Strong macroeconomic fundamentals alongside plans to ramp up infrastructure spending propelled the Philippines to the top of a list of "best" countries" to invest in, the head of the Duterte administration's economic team said Monday."
Inquirer said that Dominguez gave credit to the "young and hardworking workforce, an excellent inclusive growth momentum, an expanding middle class, politically stable environment, strong and popular leadership, fiscal discipline, stable monetary policy, membership in ASEAN, an achievable infrastructure program, a strong anti-corruption drive, and improved revenue collection."
With a population of 103.3 million, the Philippines has a total GDP of $304.9 Billion and a GDP growth of 6.9% as of March 2018.
WITH REPORTS FROM
Ben O. de Vera, Inquirer.net
https://business.inquirer.net/247102/dof-economy-investment-duterte-business-tax-entrepreneurship-unctad-report
Sarah Jacobs, Business Insider
http://www.businessinsider.com/us-news-best-countries-to-invest-in-now-2018-3
Stephen Mays, U.S. News
https://www.usnews.com/news/best-countries/best-invest-in