We live in a country that's been colonized for hundreds of years. And, it is said that a country cannot be a colony without it embracing the culture – and the cuisine of its colonizers. Thanks to these foreign cooks, we can enjoy the flavors of the world until today.
Through this colonization, we learn to love and appreciate each other's differences — even their food, because, no matter who you are or where you're from, we all belong.
Let me share you this unique restaurant that has been colonized by foodies since 2016. Its name is Lazat Fil-Asian Restaurant & Bar that serves traditional Filipino dishes with a modern twist. Interesting isn't?
What makes this restaurant so unique among other food stops in Tomas Morato is that they have fusion dishes that surely everyone, even those that are not foodies, will still enjoy. There's actually nothing new about fusion in food, but coming up with an idea of combining the best of Asia is pretty good as it gives the customers a taste of the familiar.
One of their famous modern dishes is the Sizzling Sinigang na Bulalo Steak. Imagine a bowl of Sinigang soup poured with gravy…you think it's weird? Well, it actually tastes good.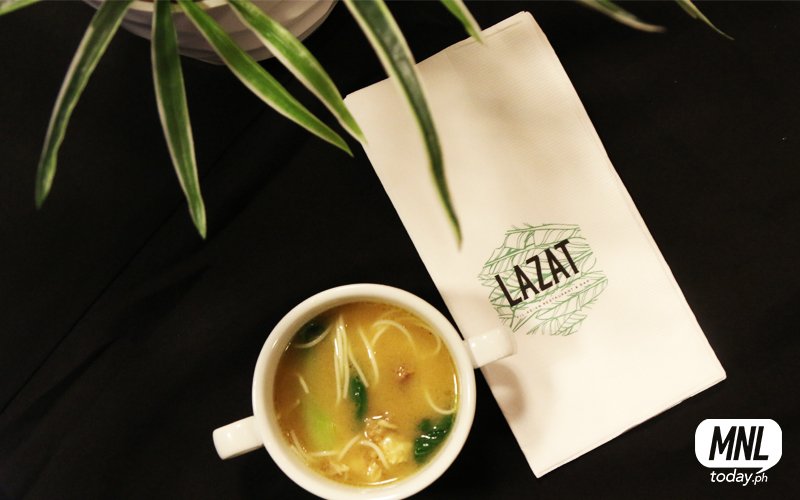 Another Bulalo recipe I got to try is their Bulalo Ramen. For Filipinos, Bulalo is one of the dishes that is craved for to soothe the chilly rainy weather while for Japanese, it's their Ramen. And I love how Lazat combined these two traditional favorites. Their Bulalo is mixed with tasty noodles, added with pechay, carrots and corn as a contrast to the rich taste of well-cooked beef.
But despite having these unique fusions, the restaurant's best seller is still the old favorites — their Kare-Kare and Oven Baked Crispy Pata and this is probably because traditionally cooked Filipino recipes taste better.
Our dishes are, thus, a telling of the Philippine history, as every household and even restaurants use foreign recipes as part of their everyday lives and celebrations. Lazat's fusion dishes totally made me realized that there are lots of ingredients from different cultures that work together when combined.
Well, the world may be filled with differences, but with my experience in Lazat Fil-Asian Restaurant & Bar, I also realized that the universal language is indeed love – or should I say, the love for food.