Data is all around us, but how do we make use of that data more efficiently?
Snippet MEdia provides an 'intelligent' news feed for users to stay up to date with anything and everything that is of interest, co-created by you, only for you.
This is your go-to mobile app available on both the Android and iOS platforms where you can easily access hundreds of the world's best news sources, choose stories and topics you fancy, and be ahead of local and global events.
The app collates online content from top news sources and displays them in one place for ease of viewing on mobile devices – a unique platform where you can read stories from the widest range of trusted sites and help you form your own opinion about local and global issues.
It combines machine learning and journalistic talent to deliver the most essential and entertaining stories about the world right at your fingertips from your phone everyday.
The more you read, the better it gets.
Intelligent news feeds – uses machine learning to learn what you like to read and personalize your news automatically.
360 View™ – Related stories not enough? Unique to SnippetMEdia is 360 View™, you get the whole picture from our team of local editors handpicks the best reports from trusted sources around the globe and combine them to tell you the full story behind today's trending news.
Offline Mode – No internet? No problem. Read the news and your newsfeeds while offline when you are out of coverage. Save articles for reading later.
Daily Snippets – Missed the biggest stories? Get a summary of all the important, need-to-know news locally and abroad from the day before.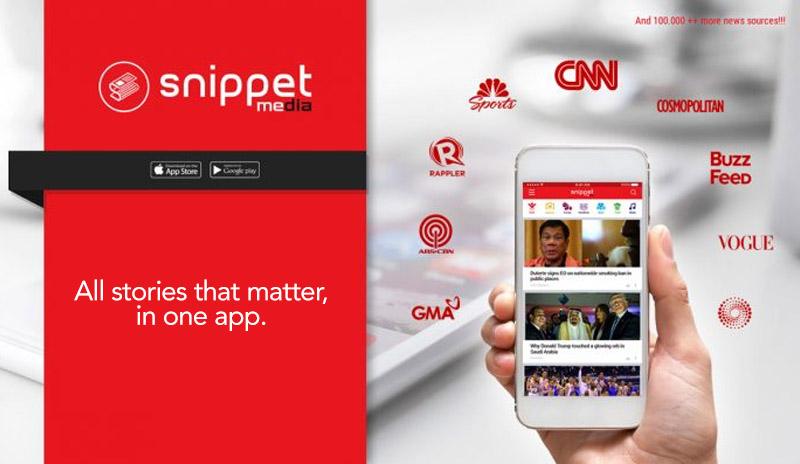 Why SnippetMEdia matters
SnippetMEdia matters because content is everywhere, easily accessible, overwhelming in scope and, alas, filled with a lot of junk. Our mobile app aims to make reading and discovering online content easier by saving users the time and effort to find what they want and letting them discover insightful or entertaining content without sifting through multiple sources.
While we can simply rely on keywords and algorithms, there is immense value in having a team of human editors with commendable journalistic talent in helping readers cut through the noise. In this way, readers can have a deeper and meaningful understanding of news topics as they piece together the story themselves with quality reportage from trusted brands.
DOWNLOAD NOW!
http://snppt.io/Download-App-Now
For more information, you may contact Liz Kavoosi or Shyne Ebue at +632 814 0484.