Nine years ago, a small group of like-minded PLDT executives banded together for an advocacy for teachers. With a common dream of being a catalyst of change in the lives of teachers, Gabay Guro was born and became the CSR arm under the PLDT-Smart Foundation.
A holistic approach that covers benefits for the teachers was anchored on Gabay Guro pillars – Scholarships, Trainings, Housing and Educational Facilities, Livelihood Programs, Broadbanding and Computerization, and Teachers' Tribute.
Gabay Guro continues to give high regard to teachers all over the country (and nearby countries) by bringing attention to their heroic deeds and at the same time, providing them with the necessary tools to contribute to the change in the lives of their students and their families.
Nine years after, Gabay Guro has now over 1,100 scholars in various state colleges and universities nationwide. There are over 300 LET passers, 496 active scholars as of August, 2016 and a projected 167 graduates in 2017. Gabay Guro CSR project of PLDT also celebrates the fact that 137 scholars graduated with honors – 112 cum laudes  and 25 magna cum laudes.  In addiution, the program has also partnered with local government units to further enhance teacher education.
The foundation has conducted trainings for over 16,000 teachers in the course of its nine years. Today, it runs eight training programs for teachers around the country namely: Teacher's Treasure Chest; English Proficiency Training; Computer Literacy; Emotional Intelligence; Teacher's Armor; Leadership Training; IT Sustainability and Literacy; and Unleashing Creativity in Teaching. At the same time, Gabay Guro answers to the needs of the times by doing grassroots anti-drugs trainings in schools.
Moving forward
With the realities that there are  shortage of educational facilities in some key areas in the country, Gabay Guro has taken the challenge to build new classrooms in the provinces, mostly those that have been hit by calamities. There are over 40 classrooms constructed and donated already in the following provinces: Cebu, Bohol, Leyte and Capiz.
Teacher's day
The Gabay Guro's 9th Teacher's Tribute this year, the biggest gathering of the country's celebrities, will happen on Sept. 25 at the MOA Arena. Stellar names set to give the teachers the time of their lives on this day are Regine Velasquez, Ogie Alcasid, Gary Valenciano, Pops Fernandez, James Reid, Nadine Lustre, Ms. Lea Salonga and Mega star Ms. Sharon Cuneta and more surprise guests.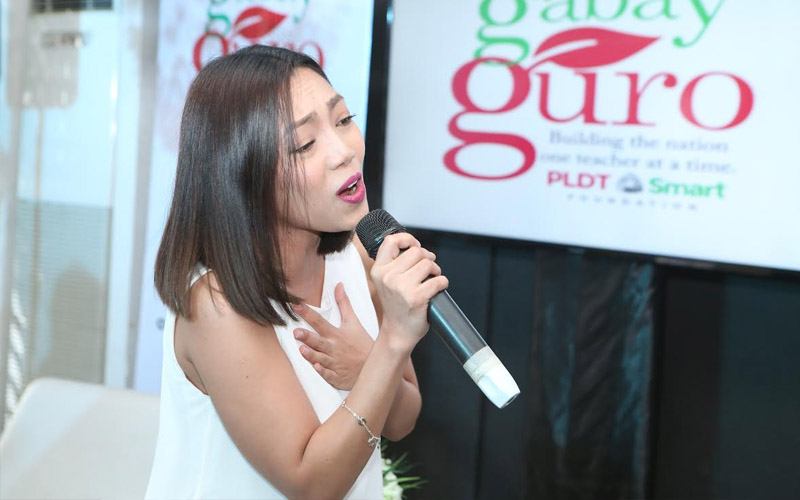 This is the day where our teachers get to let their hair loose, meet the biggest celebrities, be treated to a whole day of entertainment and huge raffle prizes beginning with house and lot and vehicles., anything to remind them of their invaluable presence in our lives.
This year's event is made possible through the help of the ff. sponsors: Perry's Group of Companies (for the house and lot), Foton for the (Gratour Van),  Intel, Devant, Motorlandia (for the Honda and Suzuki motorcyles), Ropali,  Penshoppe, National Bookstore, Enchanted Kingdom, Splash, Tempra, Flanax, Bonamine, Vivalyte, Mundipharma, Gardenia, Bic, Art Attack, Microsoft, Smart Bro, Ultera, Talk N Text and 51 Talk.
The PLDT Gabay Guro grand tribute event is exclusive for teachers only. Admission is free. Follow Gabay Guro on Facebook, twitter and Instagram at @PLDTGabayGuro or visit the Gabay Guro official website for more details.