SAP, one of the world's leading software providers, released the results of the Digital Experience Report for the Philippines, which revealed that half of consumers in the Philippines (54%) are delighted with the digital experience offered by top brands in the country. Moreover, 21% of respondents were unsatisfied, while 25% were characterized as ambivalent, giving an overall Digital Experience (DX) score of 33%.
The report surveyed more than 500 consumers and aggregated more than 1,200 interactions of digital engagements with local brands. In the survey, the digital experience is defined as how a brand digitally interacts with its customers during the discovery, purchase, delivery and support of a product or service. All of the five industries surveyed – banking, telecommunications, utilities, consumer retail, and media and entertainment – received a positive digital experience scores.
Understanding the Philippines Digital Experience Gap
The SAP Digital Experience Report serves to fill a gap in the market for the consumer-based insights into the Philippines' digital performance. In response to local organizations' strong demand for detailed understanding of the value digital transformation can deliver.
At the core of the study consists of 14 key attributes, ranging from functional aspects such as security and availability to emotional such as interactivity and engagement.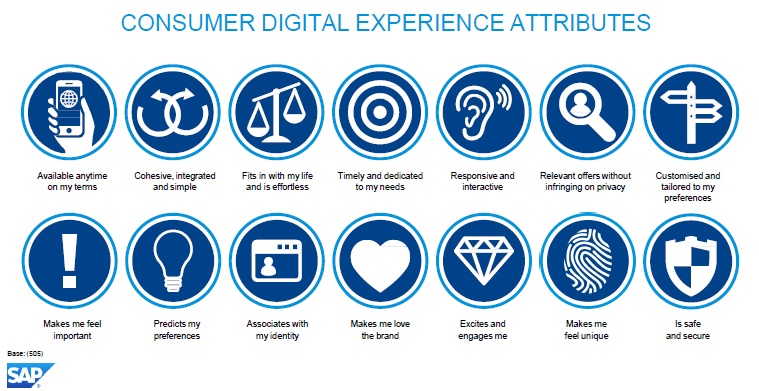 Consumers were asked to rate the attributes from top priority to least. The study revealed that being safe and secure about their personal information rated as the highest with a rating of 77 percent that attribute either 9 or 10 on a scale from 0 to 10. Experiences that are available anytime on consumer's terms came second with an average score of 63 percent and followed by being timely and dedicated to client's needs with 62 percent ratings.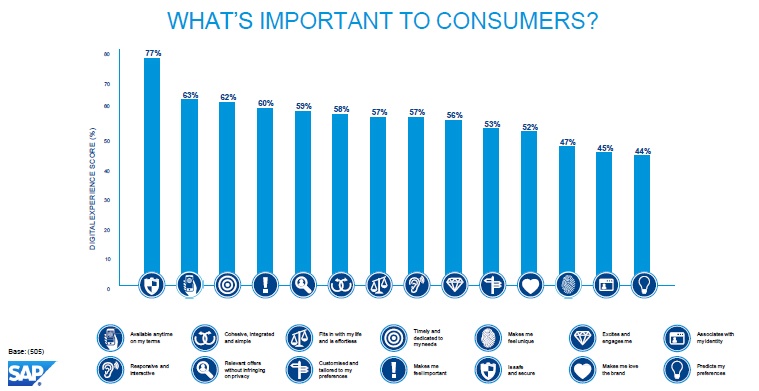 Why Digital Gap Matters
The survey veils a significant gap in performance among industries and individual brands even slightly more consumers in the Philippines are delighted with their online engagements with brands. This gap has significant implications for business outcomes, particularly for metrics around customer loyalty and advocacy.
Consumers delighted with the digital experience were over eight times more likely to stay with a brand than those who were unsatisfied. Furthermore, those delighted with the digital experience delivered a Net Promoter Score® (NPS) of 73 per cent, compared to an average of -64 per cent from those who were unsatisfied.
The findings also demonstrate that delighted customers are more emotionally connected to brands, which in turn will lead to greater brand affinity. Loyal customers are also more willing to buy more from brands for a longer period of time and will not hesitate to influence others to do the same.
Doing Digital Right
Among the top brands in the telecommunications sector and one of the leading five brands in the Philippines is Globe Telecom.
Said Albert de Larrazabal, Globe Chief Commercial Officer about the company's prestigious ranking as the brand with the best digital experience as rated by consumers in the Philippines, "Globe is continuously investing on its network to provide consumers with a superior digital lifestyle experience. This recognition from consumers in the Philippines only emphasizes our strength as a brand. We shall continue to lead the digital experience through greater partnerships, better offers and wonderful moments with customers."
Ryan Poggi, Managing Director, SAP Philippines, said, "A recent ITU (International Telecommunication Union) Facts & Figures Report for 2015 on the percentage of individuals using the internet stated that 41% of individuals in the Philippines leverage the internet for various uses. This highlights the explosive potential growth of digital in the Philippines in the near future. However, with all the complexity brought on by multiple device usage and digital apps to choose from, today's customers demand simple, seamless and personalized experiences across any channel, anytime, anywhere, and on any device. As evident from SAP's Digital Experience Report, brands that fail to realize this will see a drop in share of consumers' wallet."
He continued, "Brands can bridge the digital experience gap between them and their consumers by adopting a clear digital strategy that brings together marketing, sales, services, and commerce to ensure seamless digitization of the entire customer experience. SAP solutions for customer engagement and commerce powered by the SAP HANA platform facilitates a 360-degree customer view and help brands better engage with their customers."
Security an important attribute across Southeast Asia
SAP's Digital Experience Report offers detailed insights into customers' digital expectations and the ability of brands to meet them. Carried out across Southeast Asia, the report captures responses from across five countries, including Singapore, Malaysia, Thailand, Philippines and Indonesia, the results reflected the preferences of over 3,600 consumers who rated more than 240 brands resulting in 9,375 digital interactions against 14 attributes.
As Southeast Asia consumers increasingly turn to online channels for their needs, safety and security remains a top concern in their digital engagement across the markets with close to 60% rating this as an important attribute of a digital experience. The ability to engage anytime and on their own terms is also rated highly at 49% followed by having a cohesive, integrated and simple experience at 46%.
Scott Russell, President and Managing Director of SAP Southeast Asia said, "In the digital era, consumers are changing the rules, but technology is changing the game. The ability to delight customers with a desirable digital experience is a competitive differentiator. Losing out in consumer digital experience will directly affect a brand's bottom-line and its business value. Our research shows that while nearly half of consumers in Southeast Asia are satisfied with their digital experience, more can be done to enhance a brand's digital experience to create a lasting and sustainable relationship. What brands need for the future would be business software to meet market challenges and evolve new business models, to engage customers in the most digitally delightful way."
Engaging today's digital customer demands a transformation not just at the front end but throughout the organization. SAP's Digital Business Framework helps digitize the entire value chain for businesses with the end-to-end customer experience in mind. To respond quickly to customer needs, businesses must be able to run simple, and make live decisions aided by 'in the moment' intelligence and insight. A single platform that brings together commerce, marketing, billing, service and sales will ensure seamless digitization of the entire customer experience. It delivers a consistent and relevant experience to customers across every channel and on every device.