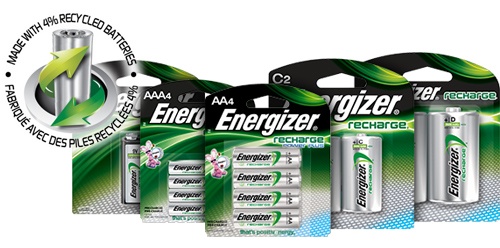 As a nature lover, you'll need to pack durable and dependable items that you can use to better enjoy your mountaineering and hiking experience. However, you can't choose which product can best complement your needs without compromising your interest in promoting your environmental advocacies.
Now, with Energizer's eco-friendly and longest-lasting rechargeable batteries, there's no more confusion.
"Energizer Recharge® batteries' are made with four percent recycled batteries from an innovative manufacturing process that further offers power-boosting performance," said Martin Luis Valenzuela, brand activations manager of Enegizer Philippines. "Its superior qualities make it perfectly suitable for your needs whenever and wherever you go."
You are assured there won't be any leaks that could be hazardous to your health and to the environment. This means a reliable and consistent product that can be used over an extended period of time.
Valenzuela emphasized, "The environmental impact is minimized because rechargeable batteries mean less batteries being disposed which, translates to less waste."
Energizer Recharge® batteries allow you to enjoy its longer-lasting performance because these are engineered with special additives and active materials that ensure superior product performance.
Its extended battery life is made possible by an advanced technology that minimizes both self-discharge and the battery's natural aging effects, which also reduces the risk of product malfunctions while it is being used.
Energizer offers 9V rechargeable batteries and Recharge Power Plus and Recharge Extreme that both come in AA's and AAA's. 
Recharge Power Plus charges up to 1000 cycles at 2000 milliampere-hour (mAh) for AA and 700 mAh for AAA batteries while Extreme is suitable for high power devices at 2300 mAh for AA and 800 mAh for AAA batteries. 
Valenzuela added, "Charging these batteries hundreds of times makes them even more efficient and does not compromise on safety."
Affordable Energizer Recharge® batteries are available in Ace Hardware, Handyman, True Value, DIY and other leading stores nationwide.
Valenzuela concluded, "Now you can equip yourselves with a durable and dependable companion for a more fun experience without adversely affecting the environment. Choose Energizer – where you can save money; you can save our planet; and you can make the best of your life journey."
For more details about Energizer's complete product roster, please visit the website. Follow Energizer Philippines' Facebook page to get the latest updates.